That's from Virgil, not one of the Greeks, but it captures the mood of the day. We visited the Athenian Agora and the Archaeological Museum, and in both places, it was the touch of mortality that brought the most significance to the day.
How amazing was it to visit the Agora, where the ancient writers, philosophers, and fathers of democracy (not to mention the sophists and the warmongers) tread and argued! The leafy grounds, the tumbled walls, and the Temple of Hephaestus, the largest and best preserved Doric temple in mainland Greece all made the Agora more remarkable to me than the Acropolis, which, at least in its current stage of reconstruction, is better from a distance than up close. And of course, it looms in the distance: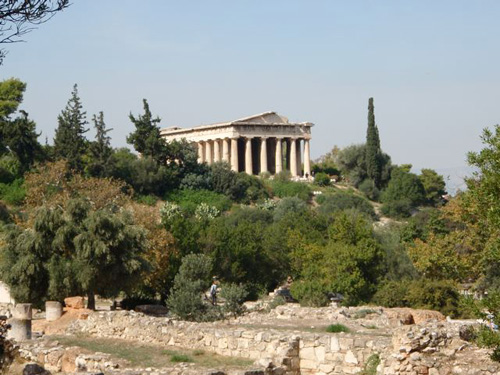 SUBSCRIBE AND FOLLOW
Get top stories and blog posts emailed to me each day. Newsletters may offer personalized content or advertisements.
Learn more