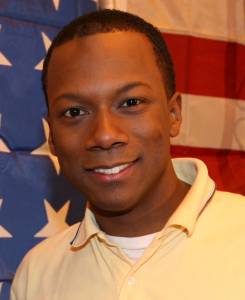 Jamail Larkins was always intent on spreading his wings and aiming for the sky -- literally. As one of the youngest people ever to take charge of an aircraft, Larkins chose to combine his love for flying and his gift for business. Creating Ascension Aircraft, this young, minority entrepreneur connects with consumers who are interested in buying and selling aircrafts. But before the business acumen struck his conscience, young Jamail was strictly at peace flying across the eternal blue, all while keeping his propellers afloat.
At the age of 14, Larkins became one of the youngest American pilots to fly a powered aircraft solo in the country of Canada. Since then, Larkins has become the first Ambassador for Aviation & Space Education for the US Department of Transportation's Federal Aviation Administration. Larkins' goal is to promote aviation career opportunities to America's youth, as well as the benefits of aviation to mainstream America. Larkins not only resonates as a role model for young fans of aviation across the globe, but he also serves as an example to African-American youths to explore the somewhat reclusive world of aviation. Currently residing in Atlanta, Jamail Larkins took time out of his busy schedule to talk about his Ascension Aircraft and his goals for the future. At only 25-years-old, the sky is truly the limit for this airman's ambition.
How'd you get started in the aircraft business?
Actually, when I was in college, I had the opportunity to meet a gentleman who was involved in commercial aircraft sales and leasing. We developed a relationship and I had another friend that was actually in the car business. He was looking for his first airplane and asked me if I knew of anyone he could talk to. I called up the gentleman and he said, 'Well instead of me getting one of my guys to do it, let me show you how it's done and see if it's something you're interested in.' Low and behold, I loved it and thought it was something I could do on a regular basis. So, after that first experience, I decided to get involved with commercial aircraft sales and leasing and ultimately started brokering airplanes. As time went on, I started to buy, sell and lease them.

So in addition to brokering and leasing aircrafts, what are some of the other services that your company, Ascension Aircraft, offers?
Basically, we're one of the core business lines in aircraft sales and leasing -- so we have clients that will come to us who are either in the process of buying an airplane or want to sell their airplane. They utilize our services to do that. If it's on the acquiring side, typically they're looking for an airplane. They don't really know what type of airplane is best for their mission profile and the trips that they take. So, we do full market evaluation and figure out what airplane would be suitable for what they want and go through the list of all the different types of airplanes that meet the requirements of what they want. Then we'll help with the financing of it, so we're kind of like a one-stop shop. They'll come to us in the very beginning with no knowledge of aviation and we'll find the right airplane for them. We'll get the airplane financed, set-up the flight department--unless they prefer to have the airplane managed on their behalf--and take care of all the details associated with it. It primarily comes down to about three lines of business which is: the aircraft sales, the finance side and the aircraft charter.
I remember reading that initially you had a difficult time getting the company off the ground with investors and banks seeing your age as a hindrance. What was your motivation for perseverance?
Basically, I knew that we had an opportunity to make something big happen and I wanted to do what was necessary to make that happen. I knew that the aviation industry was at a point that, despite what's going on in the economy, people are always going to need to fly. They're always going to need to travel for personal or for business. I also knew that there weren't very many companies out there that had developed a true brand name for private aviation services. When someone thinks about buying an airplane, there's not a single company out there that people think of as the go-to company. So, my goal with Ascension was to create that company. Everything that we've been doing has been very customer service-oriented to make sure that our clients have the best possible experience-- from acquiring to chartering and operating an airplane for the very first time.
Speaking of the economy, what are the pros and cons of owning your own company in this recession?
Well, all responsibilities start with you; if you don't make it happen, no one else will. That's probably the biggest con; but one of the biggest pros is that if you're creative enough and willing to work hard enough, you can make some pretty good things happen even in today's economy.
What advice do you have for aspiring entrepreneurs looking to get into the aircraft business or establish their own business in general?
The biggest thing I can say is do your research ahead of time, don't just jump into [business] without really knowing what's involved in it. But once you do know what's involved in it, just work as hard as you can to meet as many people as you can who are successful in that line of business. Then take advantage of the information that they've been able to provide you.

For more on Jamail Larkins and Ascension Aircraft, visit www.jamaillarkins.com
(Matthew Cooper contributed to this interview)

FOLLOW HUFFPOST