ETTA, A NOVEL, by Gerald Koplan
Genre: Faux-Biography
Length: 10 hours
Narrator: Kirsten Potter
Publisher: Blackstone Audio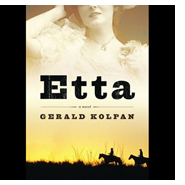 Etta Place can shoot a gun as well as Annie Oakley, ride a horse like Buffalo Bill and rob banks with the skill of an experienced outlaw. In this imaginative and fictional biography, Etta, a Novel, she actually is Annie Oakley for a while, does ride along-side Buffalo Bill Cody, robs banks and shares her bed with Harry Longbaugh, aka, The Sundance Kid of The Wild Bunch, or, it's other name, The Hole in the Wall Gang. Before you get an image of some hardscrabble, course cowhand, this Etta is also a Philadelphia debutante, the daughter of a rich businessman and a courteous young woman who talks with the perfumed subtleties of her upper class background. Oh, and she's also drop-dead gorgeous.
If this is not the 'reel' woman you remember from Butch Cassidy and the Sundance Kid that's because it was Newman and Redford's story and Etta, played by an appealing Katherine Ross, was just a supporting player who shows up one day, fuses with the gang and Sundance, then splits.
The real Etta did exist. But aside from her photo with Sundance, she remains a big black hole to historians. Who, where and what she did before and after Butch & Sundance - nada, nothing, nobody knows anything for sure - which allows a first-time fiction writer like Gerald Koplan to fill in the blanks with an expansive saga that spans the 1890s to the 1930s, moves between the dusty trails of Colorado and Wyoming to the genteel salons of New York City, and includes Teddy Roosevelt, the Harvey Girls, Buffalo Bill, Annie Oakley, a 21-year old, lonely Eleanor Roosevelt, Leon Trotsky, The Pinkerton Detective Agency and, the pre-curser to the mafia, The Black Hand.
If this sounds a bit like something out of the E.L. Doctorow playbook, it is. Now add a few moves from John Dos Passos with a mixed-media format made up of newspaper articles, wanted notices, memos from the Pinkerton detective agency, letters, Etta's first-person journal and, occasionally, a third-person narrative and you end up with an American tall-tale that feels like legitimate and living history.
Inside this propelling format, is a chase story. Everybody's after the woman. Some want her dead like the ruthless outlaw Kid Curry and The Black Hand. Others, want her locked-up for life like the police and The Pinkerton 'We-Never-Sleep' Detective Agency. And this is where the novel loses some focus. While Etta is a fearless, resourceful, elegant and sensitive chase-ee, and the chasers appropriately evil and threatening, there are simply way too many of them. They diffuse and impede the arc of the story. The Pinkerton's were the 19th Century's version of a domestic Blackwater operation, employing more operatives than the U.S. Army had soldiers. They, alone, would have been enough of an adversary. But this is just a deficit, not a deal-breaker. Actress and narrator, Kirsten Potter, adds back considerable value with a clear voice that glides seamlessly between Etta's different personas, Eleanor Roosevelt's romantic sensitivity and Kid Currie's crassness, plus she delivers authenticity to the various mixed-media voices.

BOTTOM LINE
In the right hands, Etta is the foundation for a first-class movie and a super star-turn for some twenty-something actress. House-number casting would be Ann Hathaway. For those who savor historical fiction, action and romance, Etta, is someone you should certainly get to know.