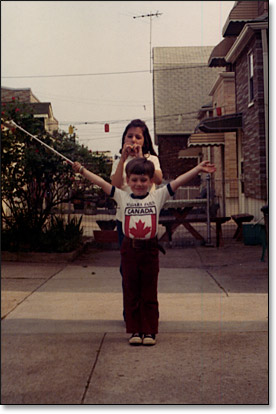 Growing up gay is tough. Isolation, bullying and threats will tear a child's soul to pieces. Surviving elementary school is just the beginning. American society continues to punish homosexuals through legislation for simply being born different. Even Barack Obama has yet to tear down the wall of America's last sanctioned hate.
James Arcuri's solo show, Becoming Butch, now performing at Los Angles' Acme Comedy Theatre, is an explorative enthralling catharsis of one gay man's childhood angst. From a stage flanked by video screens Arcuri shares his boyhood as a kid trapped in a persona that didn't whisper his homosexuality, but screamed it. Arcuri's story is tenderly empathic to everyone who swims against the tide while the rest of the world to wants to see you drown.
A real life dead ringer for Jack from Will and Grace, our hero recollects his life born into the "boisterously butch" world of Queens NY where boys were raised to be boys -- rough, tough and rugged. Arcuri strips back the years taking us on his journey to find his own brand of manhood. In one photograph the seven-year-old Vince is poised like a cheerleader, in the next he's a stiff eight-year-old little leaguer frightened of being labeled a sissy. In our comfy seats we squirm and squiggle while Vincent uncomfortably crawls and climbs through the straight world in search of his own childhood sense of self.
It's a smartly written tour de force across the life of a young boy forced to hide his light. Vincent loved his secret clothesline where he would hang out his sister's dolls' outfits after he had meticulously washed them in the bathroom sink. His burly construction-foreman dad tried everything - including dreaded Little League - to make his only son the tough kid he envisioned. Occasionally mysterious Uncle Vito would stealthy arrive in a plain white van accompanied by his latest lady friend, a bodyguard, and throat full of phlegm.
Arcuri reflects:
"I don't think Uncle Vito knew any of our names. He invariably referred to my father as "Bro," my mother as "Sisa-in-Law," my sisters simply as "the girls," and I was always "Nephew," or "Neph" for short."
What Vito thought he knew was that how to make Vince a man. Throughout Becoming Butch the audience roars at Vito's plots and ploys to make Vince a burly boss of the streets on the Italian side of Queens.
Vincent's perfect afterschool TV cocoon became his haven from the daily onslaught of pokes, insults, belittlements, physical threats and mental abuse he was subjected to at school. Suicide was a fantasy, but never an option for the optimistic kid who hoped one day he would find some peace.
Today psychotherapists use "Gay Affirmative psychotherapy" to help bring patients out. Alternative therapies called "Reparative therapy", seek to change patients sexual orientation through even more psychological torture for homosexual kids. To any child who has been beaten, persecuted, or traumatized reliving the pain, even years later, is horrific.
Large numbers of young men and women have undergone psychotherapy to cope with the demons of being born a square peg in a straight hole. Faced with parent's illogic brought on by ignorance and the growing Religious Right, in 1992 the APA came out with the statement:
"The American Psychiatric Association opposes any psychiatric treatment, such as "reparative" or "conversion" therapy, which is based upon the assumption that homosexuality per se is a mental disorder, or based upon a prior assumption that the patient should change his/ her homosexual orientation."
For Arcuri reparative therapy came years later when he tried to "butch-up" his voice. It alone is a bittersweet but empowering story worth the price of admission.
As America faces her financial and philosophical demons it's imperative to embrace our successes and repair our shortcomings. The treatment of gay children shouldn't be left to therapists but to understanding parents, an evolved society, and engaging teachers.
Manhood, as finally Vincent learned, wasn't how you threw a ball or took a punch, but rather how honestly and empathetically you live you life. Bravo.

Becoming Butch, plays on Thursday nights only through April 9, click here to purchase tickets.