A few weeks ago ICOMOS' recommendation against the registering of 19 buildings designed by Le Corbusier in the World Heritage List provoked heated discussion in the architecture world. ICOMOS, an influential advisory body of UNESCO, claimed that the 19 nominated buildings do not clearly 'demonstrate remarkable universal significance of the modern architectural movement' and that 'Le Corbusier was not the only architect who promoted the modern architectural movement, in which many architects participated.'
Among the 19 nominated buildings is the National Museum of Western Art in Taito Ward, Tokyo, completed in 1959. It is an architecturally and historically significant building, so ICOMOS' announcement surprised and prompted me to take a closer look at what happened. Researching the way the World Heritage List is being managed made me question whether history and politics had a play in ICOMOS' rejection.
In the meantime, to get you in the Modern architecture appreciation mood, click through this slideshow to view key buildings of Modernism from around the world, some of which have already been recognized by UNESCO as such.
The Museum of Western Art is Le Corbusier's only building in Japan and the most complete and architecturally significant example of his concept of 'an infinitely growing museum'. For more information & images, CLICK HERE. Image: Wikipedia

The Guggenheim Museum along with 9 other buildings by Frank Lloyd Wright have been on the tentative list of UNESCO for 3 years now. However, the museum's significance has spread as far as The Cremaster Cycle of Matthew Barney and even American Pie 2. For more information & images, CLICK HERE. Image: Tomatoes From Canada

Although widely recognized as one of the finest examples of skyscrapers in the International Style, the Seagram building hasn't been considered as a heritage up to now. A true deviant for its time, the building suffered harsh criticism, but Mies Van Der Rohe honestly believed that architects should educate the society, which translated into his remarkable disregard for public opinion. For more information & images, CLICK HERE. Image: Fotopedia

Recognized as World Heritage in 1996, the Bauhaus building in Dessau not only incorporated the international, slightly futuristic style of Walter Gropius, but became a legend in promoting progressive architectural education. Nowadays it houses the Bauhaus Kolleg, a post-graduate program for professionals whose work involves aspects of urban research and design. For more information & images CLICK HERE. Image: Great Buildings Online

The official workplace of the president of Brazil is one of the key buildings in Brasilia, a semi-successful urbanist experiment of creating a city from scratch. Although the complex of Oscar Niemeyer has been recognized for its outstanding architectural qualities, the city itself turned out to be a dysfunctional alien in its context as a monument to the failure of utopias. Brasilia was inscripted in the World Heritage List in 1987, only 31 years after its completion. For more information & images, CLICK HERE. Image: Wikipedia

The house and workplace of the prominent avantgarde Russian constructivist Konstantin Melnikov is curious for its towers resembling a honeycomb lattice shell made of bricks with hexahedral cells. Because of the socio-political conditions in Russia at this time, the project had actually not much of a chance to happen, but the tale goes that a working class commissioner supported him, saying that "we can build public buildings anytime and anywhere, but we may never see this unusual house completed if we reject Melnikov". For more information & images, CLICK HERE. Image: mimoa.eu

The architect is anonymous, but this World Heritage Site is not really about architecture. In the years after WW2, 67 nuclear tests were carried out on the island of Bikini, including the explosion of the first H-bomb (1952). According to UNESCO, the atoll symbolises the dawn of the nuclear age, despite its paradoxical image of peace and of earthly paradise. For more information & images, CLICK HERE. Image: UNESCO

Only one structure in the Hiroshima Peace Memorial Park is inscripted in the World Heritage List, the Hiroshima Peace Memorial, the only structure left standing in the area where the first atomic bomb exploded in 1945. Kenzo Tange's Hiroshima Peace Memorial Museum is a part of the beautiful park ensemble, dedicated to the legacy of Hiroshima and the memory of the victims. For more information & images, CLICK HERE. Image: fotopedia

The White City of Tel Aviv was under construction until the 1950s, based on a masterplan by Sir Patrick Geddes. The city has the largest concentration in the world of buildings built in the "International Style". However it went through local changes thanks to continuous open discussions among architects. This created a building style which was a combination of modern movement principles and an integration of local cultures and influences. The White City was acknowledged as World Heritage in 2003. For more information & images, CLICK HERE. Image: Wikipedia

The Unite d' Habitation in Marseille, France was the first large scale project for Le Corbusier and one of the finest examples of another concept of his, based on communal living in a 'city within a city'. The building's interior features garden terrace with a running track, a club, a kindergarten, a gym, a pool, shops, medical facilities, and even a small hotel. The "housing unit" became the basis for several other buildings designed by Le Corbusier and in spite of its significance, is not officially considered a World Heritage Site. For more information & images, CLICK HERE. Image: Archdaily/Flickr
UNESCO is a specialized agency of the United Nations, and among its main priorities is "promoting and supporting an international movement for identifying, protecting and managing the intangible and tangible heritage of the world." For this purpose, an official World Heritage List was established which currently includes 911 properties considered by the World Heritage Committee "of outstanding universal value." Its legislative frame is set by the 1972 Convention which has been ratified by 187 state parties to date, outlining key issues such as criteria for inclusion in the list, rights and duties of state parties and access to the World Heritage Fund. For those selected, this offers as much as $4 million per year, architectural prestige and increased popularity.
Modern heritage that is from late 19th century onwards, according to UNESCO's most recent list includes 27 properties and sites, 80% of which are in Europe. It disturbing that Asia, Africa and the Arab States have no modern heritage listed. Has Modernism passed them by?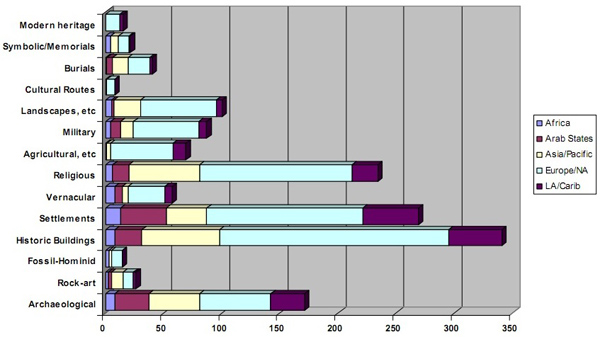 World Heritage List, totals by category (Figure A2, "The World Heritage List: Filling the Gaps - An Action Plan For The Future")
The horizontal numbers represent the number of properties of each category featured in the List.
Those facts represent ongoing tendencies in the World Heritage List, such as the obvious underrepresentation of certain regions compared to Europe, and categories, including Modern heritage. Both of them concern the case with Le Corbusier's museum as an example of Modern architecture in Japan.
The National Museum of Western Art is Le Corbusier's only built work in Japan, but also arguably the most complete example of his concept of an "infinitely growing museum," a museum which has the potential to expand according to its usage and the collection it houses. The nomination considered the property 'of outstanding value' according to three of the UNESCO selection criteria:
i. to represent a masterpiece of human creative genius;

ii. to exhibit an important interchange of human values [...];
iii. to bear a unique or at least exceptional testimony to a cultural tradition [...];
It is not hard to speculate that ICOMOS' rejection of Le Corbusier's National Museum of Western Art as a move of political correctness. Featuring it as the first modern building in Japan in the World Heritage List would be hitting where it hurts: ignoring Japan's own contribution to the Modern Movement and praising a building which was created through Europe-based manipulation (the building was commissioned post WW2 and the architect forced to be from the allied nations).
In the
fifth issue
of World Heritage Papers, dedicated to Modern heritage and its preservation, Prof. Shin Muramatsu and Yasushi Zenno argue that the last few centuries have imposed a (not so) subtly Eurocentric vision on architectural history and concerning modern heritage,
so many buildings created in non-Western countries during the nineteenth and twentieth centuries were in fact built, politically, economically and culturally speaking, in order to support the Western construction of colonies, and thus it is difficult for the once-colonized nations to evaluate such buildings today without an ideological understanding of their often bitter past.
For me it is clear that this building should have been included - architectural heritage should not be influenced by political correctness. Do you think it should be on the list? Why do you think it was rejected?
Follow Tom Mallory on Twitter: www.twitter.com/clippings_com