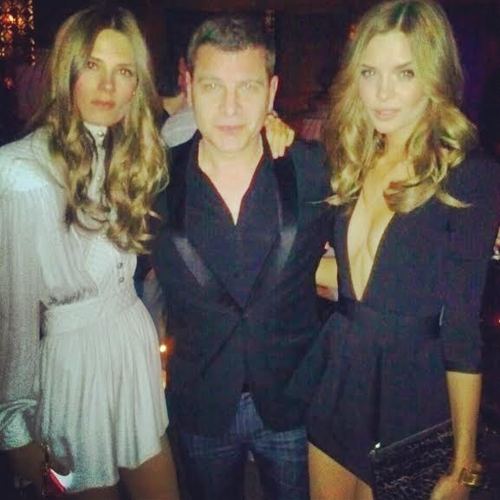 Rough day at the office
This year I was lucky enough (after a little begging and groveling) to attend the 2013 Victoria's Secret Fashion Show at the Lexington Avenue Armory in New York City.
Here are some of the highlights of the evening:
Actually getting an invite to the show.
Watching a somewhat star-struck Adam Levine approach a very, very, (Did I say very?) tan designer named Valentino to say hello and pose for pictures with him.  I didn't know who he was, but thought anyone with a tan like that has to be important, or Julianne Hough.
Fake snow, which I'm sure was the only fake thing in the room.
Taylor Swift's legs (The Union Jack in the form of a dress never looked so good).
Taylor Swift's everything else (And I'm not just saying that so she won't write a scathing breakup song about me).
Taylor Swift performing I Knew You Were Trouble with a quick high five to Adam as she left the stage.
Mini PINK flashlights to better see the models not so mini headlights.
Michael Strahan.
Meeting Mr. Valentino who willingly left his seat to pose for pictures with every single person who asked (He stood up and sat down more than a catholic at Christmas mass).
The Victoria's Secret runway fashion (By that I mean ,Karlie Kloss, Adriana Lima, Lily Aldridge,Taylor Swift, and Cara Delevingne could have been wearing polyester housecoats covered in cat fur + frosting for all anyone cared).
Fall Out Boy's performance of Know What You Did In The Dark.
After-party at the new TAO.
Meeting Basketball legend Kareem Abdul Jabbar in the VIP area at the after-party. (He once fought Bruce Lee in a movie you know?).
Chatting with the Giraffe sized beauties at the after-party (No, I'm not still talking about Kareem).
Free booze (Which thankfully didn't turn me into a Fall Down Boy).
Lowlight
Meeting Adam Levine after the show and hearing him say "Can I say no?, I'm tired and need a break" as he was asked to pose for a fan pic. Maybe someone with a bedazzled bra, pouty lips, and hair extensions would've been given a different reaction. Being the 'sexiest man alive', watching hot angels parade on a runway, and posing for fan pictures must be so exhausting.
Weird light.
Standing next to Adam Levine downstairs in the restroom listening to him sing a few bars of a song I didn't know as we relieved ourselves in the urinals before heading out.
Don't worry, If you didn't finagle a front row seat to the show in NYC, you'll probably enjoy it more from the comfort of your own couch when it airs on CBS on December 10th.