On December 1, 2006 the Chicago Park District signed a contract with the Latin School of Chicago to build an artificial turf soccer facility in the heart of Lincoln Park. This was a deal negotiated in secret and signed without any public scrutiny.
This secret deal wasn't reported until May of 2007 when Greg Hinz wrote a column, "Latin Lessons" for Crain's Chicago Business. Mr. Hinz summarizes the deal:
I heard about the contract early this spring. The district was slow to part with a copy, but the wait was worth it. Under the contract, Latin will spend about $900,000 to build an artificially surfaced field of at least 330 by 195 feet, plus fences and bleachers. The district will spend $250,000 for lighting.
For its money, Latin gets first dibs on the field almost every ice-free day in Chicago for 10 years. Specifically, between March 1 and Oct. 31, Latin will be allowed exclusive use of the field 20 to 49 hours a week. During the school year, Latin gets the field from 3 to 7 p.m. every weekday in April, May, September and October. It also gets the field from 8 a.m. to 5 p.m. weekdays for the "fall pre-season" in August, and regular weekend use.
Latin's cost works out to less than $100 an hour over 10 years -- not bad, considering nearby DePaul University has spent years fruitlessly seeking land it can afford for a new soccer field. Latin also gets to renew the lease for a minimum of 10 years if it resurfaces the field. It gets to install advertising signs from corporate backers. And it gets to "sponsor" its time to others, a clause that some (not the district) say means Latin may be able to effectively sublease public land.
The Park District? It gets to use its own property at other times, pick up trash, provide security and maintain the field in what the contract terms "broom clean condition." Nice. Latin isn't saying much about all this.
I learned about the deal in the November 9, 2007 column by Felicia Dechter in the Skyline Newspaper, "Latin field moves forward." I got real mad. Here's why.
The Latin School was founded in 1888 and in 2005 had a budget of $28 million. According to the school's web site "Latin's three academic buildings house modern classrooms; state-of-the art science, language, and computer labs; a performing arts wing including a 500-seat theatre; gallery space; two fully on-line libraries; three gymnasiums; a rooftop playground; a dance studio; a swimming pool; an extensive photography lab; and four art studios."
This unprecedented deal would've made money for the Latin School since they could sell sponsorships, fund raise and give donor recognition in the second most used park in America AND they could sublease or re-sell the field to paying users when they were not using it.
The general public (read, you and me and public school kids) could use this proposed facility without regard for the Latin School's schedule only during the winter - so dress warmly.
How could this happen?
Aren't major projects impacting the lake front supposed to be subject to hearings and review? I learned that the Park District and Latin School had proposed a similar project for the same site in 2002. There were protests, editorials against "the land grab," and even a citizen's group fighting the deal. This documentation is preserved online.The deal died. Or so everyone thought.
It also turns out that Park District Commissioner Laird Koldyke, a partner in Winona Capital, had a child in Latin School at the time the deal re-surfaced and was consummated.
In November of 2007 I joined a group of pissed off neighbors. We educated ourselves about this project, park district regulations, the Lake Front Protection Ordinance, and Chicago power politics. We learned how clout and cash drive public projects here, regardless of rule of law. We met weekly in the Starbucks on Clark Street across the street from the Latin School. We became the Committee to Keep Lincoln Park Public and launched a web site containing our research.
Who, we wondered, was protesting this new land grab?
Not the Lincoln Park Advisory Council , a group of volunteers who love their park and do a wide range of support projects for the park every year. LPAC was visited by two Park District employees in September of 2006 and told that an artificial turf field was being planned but were not told of the Latin School's involvement. Personally, I would've raised a number of questions about building an artificial turf field in the last open meadow in the south park, but they raised no objections. After the Latin School deal became public, LPAC remained silent.
Where, we wondered, was Friends of the Parks, Chicago's champion of open park land and fierce defender of the public's unrestricted access to their parks. They were taking a wait and see stance - having being seriously burned by spending hundreds of thousands of dollars fighting the massive Soldier Field rehab project, - http://www.chicagobusiness.com/cgi-bin/news.pl?id=2042 - they were waiting to see what the Lincoln Park community would do before they got actively involved. Eventually Friends of the Parks voted to support our work and made a donation to our legal fund.
As we called around in November and December of 2007, we could find no civic group vocally opposing the secret deal that we called the Latin School Lincoln Park Land Grab.
So our committee of neighbors moved forward. We were, and remain, an odd assortment. A college teacher, a stay-at-home-mom freelance writer, a retired stewardess, a Lincoln Park neighborhood activist, a grandmother, a young computer programmer, three attorneys (this proved to be very fortunate!), a real estate salesperson and few other others made up our core team. But remember the famous saying by anthropologist Margaret Mead, "Never doubt that a small group of thoughtful committed citizens can change the world. Indeed, it's the only thing that ever has." Boy, I can tell you we've lived to see the truth of that quote!
Construction started on the soccer facility in early November.
Here is our earliest pronouncement on the negatives of the Latin School land grab (from a December 10, 2007 flyer):
Is Lincoln Park for Sale?

Are you Aware?
The Chicago Park District signed an agreement granting a small, wealthy, and private school nearly exclusive prime-time after-school usage (and a great deal more) of a soccer field to be built in one of the busiest, most-frequented and priceless locations in Lincoln Park. A similar (not identical) proposal in 2002 met with such public outcry that the plan was scrapped.

Why did the public only learn of this deal after-the-fact? Were the many nearby public schools offered the same opportunity to usage? We'd like to know. Wouldn't you?

Are You Aware?
The private entity is paying to build the field, and is allowed advertising at the location for the generous sponsors supporting them. Your tax dollars will go toward installing lights (up to $250,000) and electricity at this field as well as keeping the field "broom clean" at all times. In addition, there may be full-time security at the site - at whose cost?

We would like to know what we're paying for ... and why. Wouldn't you?

Are you Aware?
In the past, thousands of dog owners petitioned the city with a plan to pay for and maintain (at no public cost) a smaller dog park in a similar section of Lincoln Park - open to all dog owners. Yet, their plan was rejected as it was deemed to be a private interest.

Are the needs of thousands of public citizens more of a "private interest" than the needs of a small private institution? We don't think so. Do you?

Are you Aware?
The heat generated from the proposed artificial turf could generate heat upwards of 160 very dangerous degrees. The land is used to stage many fundraising events, raising millions of dollars for important causes every year. These organizations may be asked to look elsewhere. And, every day, the area is filled with cars, children, dogs, and bikers who may be endangered by play.

Is this really the right place for a soccer field? Is an artificial turf field safe? Should the public have a right to ask questions ... before a deal is made? We think so. Do you?

Who are we?
We're your friends and neighbors. We're moms, dads and grandparents. We're business people and retirees. We're runners ... and walkers. Yes, we're soccer players, too. We're neighbors of the park ... and not-so-far-away friends. We're all taxpayers who chose not to sit back and watch our public land taken away without true public input.

Would you like to join us? Go to www.cklpp.org and join our email list, sign our petition and volunteer to help!

The Committee to Keep Lincoln Park Public.
We attended board meetings of the Chicago Park District to protest the deal. We sent the Park District and the Latin School a "Cease and Desist" letter in February, 2008. We were told by all and sundry that this 'was a done deal" and this was a "binding contract." Alderman Vi Daley , whose 43rd Ward includes the construction site, claimed not to have known in advance of this project. She met with a few of the concerned parties in late 2007 and proclaimed that the best she could do was recapture a few hours per week for the public back from the Latin School's usage schedule (this give-back proved to be a lie as no amendment to the original contract was ever produced).
Our group organized a public meeting at the Lincoln Park Library on February 28. Over 200 people showed up. It was covered by the Tribune, Fox TV and Channel 7.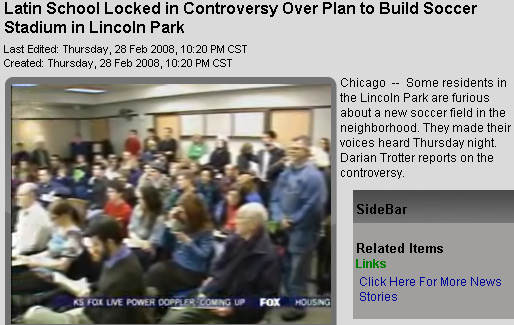 We had a number of inspiring speakers. Herb Caplan, the volunteer chair of our legal team, got the crowd cheering when he said:
"Like you, when I heard about the soccer field I felt impotent. What is going on? Why are these things happening. We're citizens. We're tax payers. We're users of the park. I felt like I counted for nothing. I expect that many of you might feel the same. But this is the wrong approach. The fact that we had this meeting and you're here - the fact that over 1,000 people have signed our petition shows us that as a group we have the power to achieve the ends we want to achieve. Our project is to stop the construction of the soccer field immediately and to force the Park District and the Latin School to submit this back to the community to examine, to discuss, to evaluate and then to control what happens in our park that we are accustomed to using. As everyone has said the park doesn't belong to the Latin School. The park doesn't belong to the Mayor. The parks belong to the people. We're not going to allow the city administration or the Latin School to change what has historically been our use of the park. You're not powerless. Together as a group we are a power and we're going to exercise that power and we're going to get the result we want."
Norman Siegel, the retired Executive Director of the New York Civil Liberties Union, spoke to the meeting via speak phone. He was picketing in front of Mayor Bloomberg's house at the time. He had volunteered his services as a litigator and recently halted the construction of a number of private soccer fields on Randall's Island by a consortium of private schools. He urged us to fight city hall:
"Our public campaign focused on privatization of public park land. There were times when I sang Woody Guthrie's song, "This Land is Your Land" and despite my bad voice, it went over well. The whole concept of paying to play, that public park land is precious, that public park land is the people's land, that we should not give it to 20 elite private schools that are overwhelming Caucasian when the public schools are 85% students of color. Continue to stress that the plan stinks. We should be fighting for our precious park land. On the legal front, in New York City whenever there is a major change in the use of the land we have a Uniform Land Review Process which has to go through the Community Board, the Borough President, City Planning Commission and the City Council. The city and parks department in this deal giving access to the fields they never went through this process so we talked about the rule of law and we maintained that everyone has to follow the rule of law, including the city of New York. Second, we found out they were going to change some of the fields to from natural grass to artificial turf and that kicked in environmental concerns about hazardous toxins being emitted from the artificial turf and we found that they had not done an environmental impact study that is required. They didn't follow the rule of law. The agreement between the city and the 20 private schools should be voided and the judge bought that argument.. Sometimes the Davids of the world beat the Goliaths. It's a good fight. It's a fight that has to be fought. It's an issue not just in New York and in Chicago, but all over the country. You've got to draw a line in the sand and fight back. And sometimes you get lucky enough with a good argument and a good judge and you win. But my experience for almost 40 years now is that the fight is equally important. The fight is important to put people in power on notice that they can't abuse our rights and that public property is for the public and can't be given away even for large amounts of money. And that's a fight you have to fight because if there's no fight and no resistance then this stuff will increase. If you fight back at least they know there's a fight. I learned long time ago that you can be bright but stamina outlasts the bastards."
We took heart from Herb and Norman and we fought on.
We established a nonprofit organization in March, calling our group Protect Our Parks. We started on an online petition and circulated petitions in the park. Eventually over 3,000 people signed these calls for a stop to the construction and the returning of the site to a grass meadow. Many of the online signers were quite eloquent.
-
-
We raised money. This proved to be a major difficulty. None of us are expert fundraisers. I had raised over $1 million as a former nonprofit director - mostly through grants. This was a different sort of cause. We found that it required a grass roots approach plus a tree tops approach. That is - we wanted many small donors to help - but the truth of legal fights is that they are quite expensive so large donations from wealthy neighbors were also solicited and received.
We tried to find free legal assistance but no major law firm would touch our cause. It turns out that the city and park district do business with quite a few firms and they can't bite that hand that feeds them. Our legal committee interviewed lawyers and hired the firm of Thomas Ramsdell and we filed suit in Late April in Cook County Court. Our suit called for the halt to construction while the case was being heard and, ultimately, the voiding of the Latin School contract and a return of the site to its former grass state - open to all uses and users.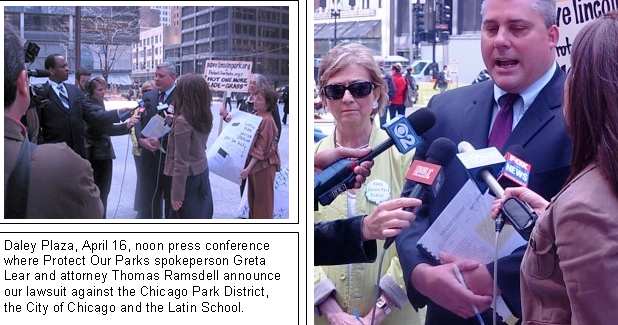 In court we found a total of 12 lawyers arrayed against us! All but two were being paid for by us (and you, if you live in Chicago) as they were on the city payroll or were hired just for this case from outside firms. The lead litigator for the city was John Simon, a partner with the clout-heavy firm of Jenner and Block (Mr. Simon must've brought in some impressive billings from this case as he continued to represent the city in court, at meetings of the Chicago park District and before the Chicago Plan Commission).
Mr. Simon argued that we had no standing to complain before the court. He was saying that a citizen's group such as ours had no basis in legal fact to even appear there and so the case should be dismissed without any further arguments. The judge, the Honorable Presiding Judge Dorothy Kirie Kinnaird of the Chancery Court, was surprised by this line of reasoning. She asked with some surprise, "If this deal is a bad one - then who has standing, if not these guys?" The answer from Mr. Simon struck me as amazingly arrogant and goes to the heart of why we were in court in the first place. The answer as to "who has standing" to complain, he said, was that the city of Chicago alone has the power to enforce the Lake Front Protection Ordinance, even when its own agents were breaching it.
The way I interpreted his response to the judge's question was: "The city is in charge of policing ourselves and we are fine with ourselves."
At that moment I saw a few big dots being connected in the saga of lousy services and screwed citizens.
There's NO ONE watching the store in Chicago. The City Council isn't watching out for us. The Park District is dealing away land to insiders. The Chicago Plan Commission rubber stamped the Children's Museum request to build in Grant Park. It took a small group of determined citizens to bring the city to account before the bar of justice and we were all very fortunate to have a learned, well prepared and honest judge to arbitrate the matter. "It's worse than we thought" was the headline of Chicago Reader political reporter Ben Joravsky's April 24th column covering the revelations brought forth from our case.
On April 25 Judge Kinnaird granted us a limited temporary restraining order stopping construction of the soccer facility in Lincoln Park. She said:
"There is something very troubling about this case. And it involves secrecy, lack of public hearings and lack of available information, even lack of sufficient information after hearing on a fully briefed motion for a temporary restraining order. Defendant The Latin School has cited numerous public meetings which have taken place after the agreement was signed. It confuses, however, public hearings required by law and public relations meetings to improve the school's image in the community. This Court is well aware that a temporary restraining order is an extraordinary, drastic measure to be used sparingly, only in exceptional circumstances and only for a brief duration. It is designed to preserve the status quo until a hearing can be held on a preliminary injunction. In my fourteen years in this division, I have been very careful not to enter a temporary restraining order unless I believe it is absolutely necessary. In this case I believe that the entry of a limited temporary restraining order is necessary in this case... There are other issues here that haven't even been addressed. Apparently, the popular trend nowadays is for public-private partnerships. How far can such partnerships go? How many other schools along the lakefront will get to do what the Latin School is doing. When a public-private partnership is created, does the public body throw out public building requirements?"
Read the full transcript of her opinion.
So construction was halted until such time that the Chicago Plan Commission could hold the requisite public meeting after giving nearby property owners proper notice.
Protect Our Parks even got a settlement of $40,000, which covered about half of the legal fees generated by our suit.
On August 19 the Park District sent trucks and a crane to the construction site to remove the scoreboard, in violation of the court order that forbade any work on the site.
The Chicago Plan Commission met on August 21. "The current 18 commission members are appointed by the mayor and must approve, disapprove or defer any proposal by a public body or agency "to acquire, dispose, or change any real property within the territorial limits of the city" on the basis of whether or not the referral complies with the city's long range planning goals and objectives. The commission also reviews land use proposals in Tax Increment Finance Redevelopment Plans, Planned Developments, and Lakefront Preservation matters. The commission does not have the statutory power to enforce its decisions, but its recommendations have always had an unofficial and usually effective sanction." (from the city's web site)
Based on the show trial that had rubber stamped the application to build the Children's Museum in Grant Park, we were not optimistic that our case would get a serious hearing. We were not wrong.
What a farce. The city's lead off witnesses were given unlimited time to speak while members of the public was given three minutes and told not to repeat any previous testimony. These meetings are called for the middle of the day and it's extremely difficult to get to them if you hold a job. Nevertheless, our supporters filled up one section of the City Council chamber. One so called expert witness was the Vice President of Marketing for Field Turf, the company selling the city the synthetic turf for the project. Alderman Vi Daley testified for the project because "thousands of people play soccer." We placed a one inch thick filing on the desk of each commissioner that refuted the Park District's application point by point. No one looked at it. Not one commissioner asked our speakers a single question.
One of our co-founders, Peter Zelchenko, proposed an alternate site, a soccer field located at Larrabee and North Avenue. This was a site we had proposed months before with Chicago Park District board president Gery Chico. Peter brought a large aerial map showing the site. He was interrupted and told to address the application. Peter scolded the commissioners, accused them of playing politics and asked them how they could sleep at night. His mike was turned off and finished his remarks as two policemen approached him. He walked off the City Council floor and he was standing quietly in the back of the chamber watching my remarks when the police told him he had to leave. He refused and was hustled out of the hall and arrested for disorderly conduct. He was held for seven hours and will return to court in mid October.
The Chicago Sun-Times reported that only one commissioner expressed any indignation about the way the project came to them.
"But Holleb and other Plan Commission members chastised the Park District for what she called "the deficient, round-about way in which the issue came to the Plan Commission. After all, it is our role to look at the usages of the lakefront area. We are trusted with that role. We have a final say ... about whether the uses are appropriate or inappropriate," Holleb said. "What was inappropriate was for it not to come to the Plan Commission initially. We need to have these kinds of things come directly to us before any of the contracts or any other things are made by the Park District. That message should become very clear to the Park District."
The commissioners voted unanimously to approve the project, including Holleb who said she was thrilled with the field in that location. Chicago Park District General Superintendent Tim Mitchell-, who is also a commissioner, abstained.
Protect Our Parks responded, in part, with this statement:
The Community watchdog group, Protect Our Parks, POP, that successfully sued to stop the secret and illegal deal to construct a soccer field in Lincoln Park for the primary use of the private Latin School, today condemned the Plan Commission decision approving a renewed version of that Latin School plan and vowed to file new litigation to protect the park and the community from what they describe as a corrupt misuse of the park. POP member Pat Monahan said "This is a rerun of the shocking Children's Museum Grant Park land grab that came before, and is further evidence of the total failure of the Park District to perform its fiduciary duty to protect and preserve the park from private interests taking over. The Park District should be using its resources to create new park land not take away and destroy the limited lakefront open space." POP volunteer attorney Herb Caplan, commented: "If the Park District thought the battle over construction of an artificial surface soccer field in Lincoln Park is now over they will soon discover that Protect Our Parks, POP, has just begun to fight. This not just an issue of an inappropriate soccer field".
Next, the Chicago Park District called a special meeting for September 3 where the soccer field project was the only item on the agenda. POP went to court that very morning claiming that the special meeting violated the court order for public meetings and proper notice. The judge allowed the meeting to go ahead.
At this meeting eight of our members spoke against the project for one last time. We even offered to raise the money needed to return the site to a grass meadow. Here's what I said:
"My name is Tom Tresser. I live in Lincoln Park and I'm opposed to the soccer field construction in Lincoln Park.

My remarks are directed to the person truly responsible for this fiasco.

Congratulations Mr. Mayor, your lap dogs at the Park District and Chicago Plan Commission have sullied public process and honest government once again. Your appointees to these bodies have shown us that clout and law breaking is what drives policy decisions in your administration. You have appointed hacks and cronies to every agency that is supposed to serve the public. Instead, they are fleecing the public. Your way of governing looks more like Stalinist Russia and Communist China than main street America. This body and the Plan Commission are stacked with your minions who vote in lock step after zero true public debate. This very meeting was called early to cut short public protest. You worked on the site on August 19 without permission and in defiance of a court order. We are allowed a few minutes before the mike in the middle of the day when it is difficult to get ordinary citizens to attend these show meetings. At the recent charade of a Plan Commission meeting, the city's witnesses had unlimited time to talk and one so-called expert was the vice president of marketing for the company selling you the synthetic turf for this project. No commissioner asked opponents of the project a single question. One of the dissidents was arrested after he dared scold the commissioners.

But, Mr. Mayor, this is OUR city. These are OUR parks. If you need more money to improve our city - stop cutting these bad deals. Instead, sunset the 140+ Tax Increment Finance Districts that suck over $500 million in revenues out of the city's operating budget every year. So, despite pleas of poverty and a looming deficit - there ARE funds to run our city well. You should not sell our public assets to the highest bidder - including our precious and irreplaceable parks. Don't destroy them, don't partition them and don't lease them to private leagues that gobble up all the use of them and which freeze the neighbors out of them.

We will continue to protect our parks from you and your minions - from land grabs, privatization and other shady deals which keep neighbors out of their parks. This includes putting up a big STOP sign for the wholescale destruction that threatens a number of our major parks promised by the 2016 Olympic bid.

So, Mr. Mayor, if you need funds to run the city properly, just put our property taxes to work properly and stop TFing everything in sight and then using that money for private deals that do not advance the common good. If you want a world class city, please ditch your Olympic schemes and instead pledge to have every public school student read at or above grade level by 2016. Pledge to have every high school student graduate with honors by 2016. Next year we celebrate the centennial of Daniel Burnham's vision for Chicago. Pledge to double the number of park acres per 1,000 Chicago residents by 2016 - from the paltry 4 that is now the case to at least 8 - which is still short of the ten acres of park land per thousand residents that Mr. Burnham called for.

Clout and cronyism represents the Chicago of the last century. Making Chicago run green, lean, honest, open, smart and super literate - that's the ticket to a 21st century Chicago we can all be proud of."
The Park District commissioners vote unanimously and without debate to approve the construction of the soccer facility, to assume the work contracts for the project and to repay the Latin School for costs it had incurred. Our law suit DID NOT compel the city to repay the Latin School. We intend to fight this.
Where, we wondered, will the city get the money to pay the Latin School almost $2 million? The city is running a $400 million deficit and the Park District's own deficit is reported at $24 million and looking to lay off 300 people.
On the same page that the Chicago Tribune reported "Planning commission greenlights soccer field" ran an article headlined "Inspector in bribe case gets 3 years in prison." A week earlier the Tribune had reported "Despite budget deficits, 50 Streets and Sanitation superintendents to get raises."
By the time you read this construction will have re-started and a swift completion is expected.
This experience has shown a pattern, a series of connections between how our city is financed, how it is governed and how it is misgoverned. I'll try to connect these dots in upcoming posts.
Next: No money for improving our parks? How does the city justify $8.5 million in taxpayer subsidies to help Grossinger's Auto move to the hottest retail section of the near north side?

FOLLOW HUFFPOST