From factories to runways, showrooms to sample sales, fashion is woven into New York City's cultural DNA. The heart of the industry is in the Garment District, the cluster of blocks spanning 34th to 40th Streets between Broadway and Ninth Avenue. Currently the City of New York is considering a proposal to change the zoning in the Garment District that protects manufacturing uses, and to move some existing businesses into a single building -- decisions that would transform the industry and the neighborhood.
The Design Trust for Public Space, a nonprofit devoted to improving New York City's public realm, has partnered with the Council of Fashion Designers of America to create Made in Midtown, a study of how the industry works and why it's an integral part of the City's economy, identity, and sense of place. The project website, www.madeinmidtown.org launches in May. Each week until then, we'll post a short profile that provides a behind the scenes look at the fashion world, and reveals how an industry inseparable from New York continues to thrive.
Shelly Steffee's storefront boutique on Gansevoort Street, one of the prime addresses of the Meatpacking District, is all at once a physical manifestation of her aesthetic, a place to sell her clothing, and a living catalog of her various enthusiasms (one can buy a exquisitely structured reversible jacket, or, say, the Taschen edition of The Stanley Kubrick Archives).
But it is also a laboratory of sorts, an environment in which she can prototype new designs and gauge customer interest firsthand. A black fur collar, for example, began life in her studio as an idea three years ago. "Usually when you work with leather or fur you outsource that to people who specialize in that, with the right equipment, the right needles," she says. "This was something more organic. The design team and I cut it on the mannequin, we wanted to see what we could do with it. We just put it right in the store, to see, first, do people like it -- and second, is it something that we can produce?"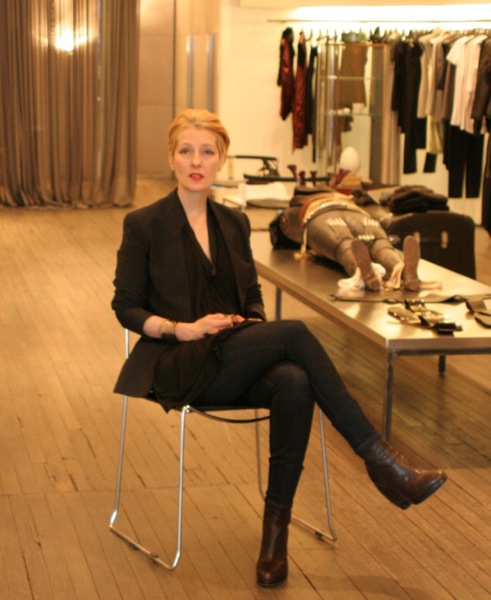 Having her own store, as well as her own pattern-maker and sewers in the same building a few floors above, enables Steffee to test -- and act on-- new ideas quickly. Not being tied to the long lead times and large production runs of overseas manufacturing also gives her the flexibility and speed to create spontaneous "accessory garments" or a custom style for a regular VIP client. "Someone wants a garment I already have, but in a different color, or they want the garment before I'm actually delivering [to stores]-- that's why I need fast turnaround." What she can't do in-house, she outsources to the Garment District, where she can turn concept into reality in a matter of a week, "if it's not during Fashion Week or in the middle of a production season."
Steffee, a Pennsylvania native, worked for a variety of companies, ranging from Liz Claiborne to Brooks Brothers, before launching her line in 2001. "I started with one design assistant," she says. "I did it all out of my apartment, and I was going back and forth to the Garment District, relying on pattern-makers there." Her boutique was one of a handful of businesses in the Meatpacking District. "Most people thought I was crazy," she says. "There's no traffic here. How can you open a retail store with no foot traffic?" Before she became established enough to lure buyers downtown, she rented showroom space in the garment district during market weeks. Buyers now come to her, but she still finds herself in the district, sourcing fabrics or looking for trims or hang-tags. "I'm there all the time even though I've left it, physically."
The biggest difference between being a designer at a corporation like Liz Claiborne and running her own line, says Steffee, is losing the in-house support. "The bigger firms are more segregated as to who does what," she says. "As you get smaller, as a designer you get more involved in the whole production process." She views her manufacturers as virtual partners. "Especially because you don't have a large production team, and someone sitting right on top of the process, you need to count on them," she says. "We have a kind of language together." Going it alone, in other words, means relying on other people. "It takes a lot of people to get something made, even if it's twelve garments," she says. "There are so many people that touch the garment."

Find us on Facebook to connect with project updates, events and photos.
FOLLOW HUFFPOST