THE BLOG
Roundup: Climate Change, Arctic Drilling And Prairie Chickens
TOP READ: A new study suggests that there's still hope for avoiding the worst impacts of climate change -- but only if nations act quickly to sharply reduce greenhouse gas emissions now. Easier said than done, of course. -- Reuters
In other news...
British scientists unlock the mystery of ozone depletion over the oceans -- attributing it to a "previously unknown marine source." Such ozone depletion, among other things, might play a role in diminished capacity of oceans to act as a crucial sink for atmospheric carbon dioxide -- as well as contributing to ocean acidification. -- ScienceDaily
Kate Galbraith of the Texas Tribune looks at how wind farm developers, as well as oil and gas companies are facing off against a potentially formidable opponent: the lesser prairie chicken. Officials are weighing whether to put the bird on its list of threatened species, which would curtail energy development ambitions in some areas. -- Texas Tribune, via NYT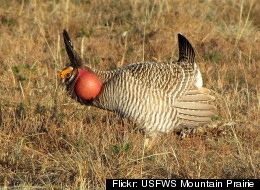 Will this guy stand in the way of energy development in Texas?
After a series of mishaps and fumbles in Shell Oil's foray to plumb for oil in Arctic waters, federal officials have launched an expedited inquiry. But critics are wondering if both Shell and the federal government that granted controversial permits for the work are guilty of incompetence as they embarked on what environmental groups and other experts long warned would be some of the most challenging conditions for oil and gas development on the planet. Last week several groups called for a end to drilling in the Arctic. -- Anchorage Daily News
From the silver lining department, China's staggering levels of pollution are driving increased investor interest in stocks in wastewater treatment, air pollution abatement and other environmental companies. -- WSJ
Stakeholders on both sides of the gas tracking debate have long squared-off over the now-iconic image, first brought to widespread attention in Josh Fox's film Gasland, of ordinary homeowners lighting their tap water ablaze -- a by-product, critics of the gas industry say, of methane migration into drinking water wells after nearby tracking operations opened up pathways for methane to move underground. NBC reports on a family in Ohio -- relatively new to gas development -- who are the latest to see their faucets light up. -- TODAY/NBC
ENVIRO-VIDEO ZEN: DePaul University's art museum hosts a new exhibition, "Climate of Uncertainty." Enjoy: