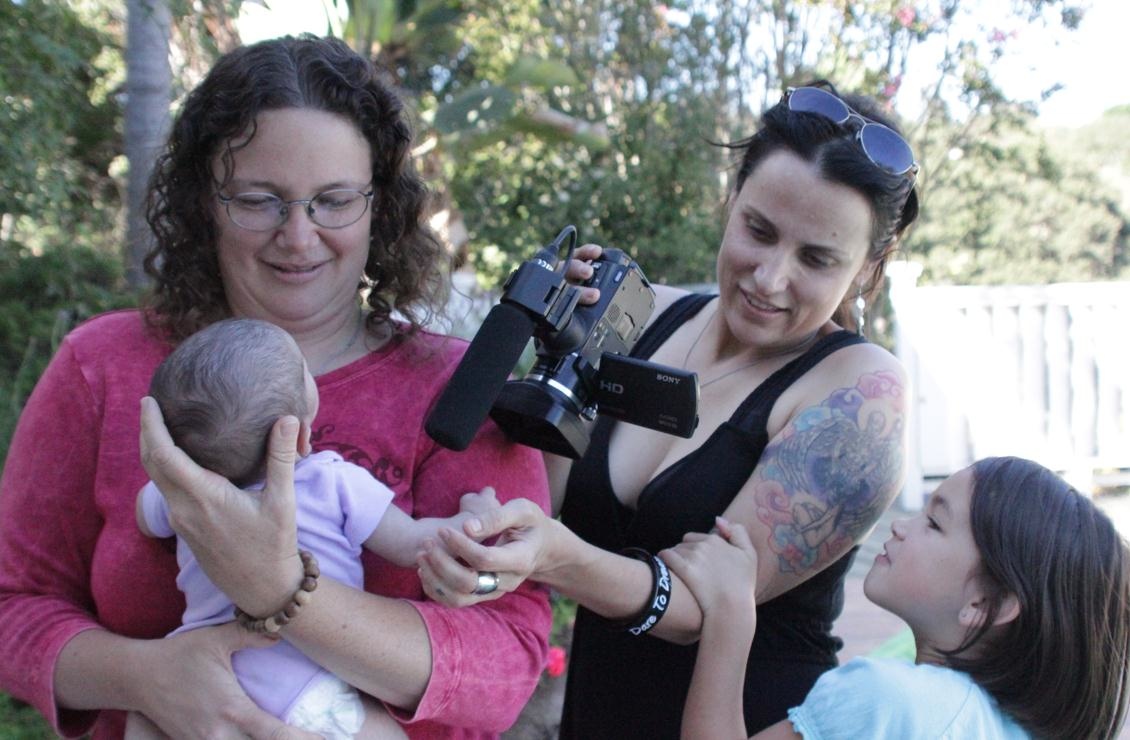 I had no intention of watching Katherine (Kat) Brooks' new documentary, Face 2 Face. I'd requested a different screener (preview) from OUTFest but soon figured out they'd misburned the DVD. Watching it, I thought, "Wait, this isn't the film. What the fuck is this? Is this even in the festival? Oh... she's dying? I've gotta watch this. Maybe it's about what happened to her after she died?" I kept watching and realized, "Wait! She's survived her overdose! And she's alive!" And from then on I was hooked. My reaction to Face 2 Face was an emotional rollar coaster: bafflement, impatience, emotional devasatation, discomfort, and, finally, a sort of peaceful resolve.
Intrigued, I sought out Katherine Brooks' biography and filmography, and reading them, I realized I'd stumbled upon one of those mythic L.A. creatures: the Power Lesbian. Brooks' TV credits start with three seasons of the Emmy-Award-winning The Osbournes and 28 episodes of The Real World: San Diego. She also produced and directed MTV's Meet the Barkers, starring Blink-182 drummer Travis Barker, and two seasons of The Newylweds, starring Jessica Simpson and Nick Lachey, and she directed The Simple Life, starring Paris Hilton and Nicole Richie.
Before Brooks established her Queen Bee status in reality TV, she made films: Dear Emily (a seven-minute short that led to the Osbournes gig), Loving Annabelle, and Walking Madison. With the crowdsource-financed Face 2 Face, Brooks turns the camera on herself, traveling across America to meet 50 people who had responded to a Facebook post, including her lost love, Emiline, the inspiration for Dear Emily.
When I spoke with Kat, she was by turns sweet, funny, and deeply empathetic. A remarkable film, Face 2 Face pulls no punches (and doesn't duck any); Brooks' personal journey of transformation becomes a comment on what it means to be human in our hyperconnected digital age. Much like Lesbian Nation, Ariel Levy's infamous New Yorker piece about '70s lesbian separatists who hit the road in search of something better than patriarchy, consumerism, and heteronormative culture, Face 2 Face serves as a reminder that there's a reason "L" is the first letter in LGBT. OUTFest screens Face 2 Face Saturday, July 14 at 2 p.m. at the Harmony Gold Theater.
In Face 2 Face you show your agent and attorney advising against showing your struggle with prescription medication. How valid were their arguments?
I've since changed agents. The truth is, I know my industry very well. Most of us medicate. It doesn't even have to be this industry. Somebody's on an antidepressant. Someone's taking Adderall. Someone's doing cocaine. Someone's smoking weed. It's just this thing where everybody pretends [they're not]. Believe me, I've worked with celebrities my whole life, and I don't know if I've ever met one that isn't on something.
Did you use reality TV tropes in making Face 2 Face?
Reality TV was training for me to be able to tell stories that are raw, and real, and organic. The first reality TV show I directed was The Osbournes, and they were so refreshingly real it felt like shooting a "real" documentary. Reality TV taught me how to make people feel comfortable in front of the camera to show their innermost secrets.
How much footage did you capture for Face 2 Face?
Over 700 hours of footage. It's crazy. We shot constantly.
How do you wrap your head around 700 hours of footage?
You kind of go insane first. And then I had six loggers. I had six people who logged each story and kind of wrote down a synopsis so I would remember it. I hung 50 pictures on my edit wall, and we narrowed it down to 20. My first cut was four and a half hours long to 110 minutes.
What if Emiline hadn't rejected you?
I would never had left high school, I would have never moved to Los Angeles, and I would probably never have made that short film, Dear Emily, which is what got me the job on The Osbournes.
When you posted on Facebook looking for 50 people to film, how did it feel when you saw Emiline's name?
Why did she get involved?
Off camera, I asked her, "Why did you say yes?" And she said, "I just happened to be on my computer at that time." I just thought, "This is meant to be." She just said yes.
How did you feel seeing her 20 years later?
I didn't think she was still going to be so pretty. A lot of people from high school let themselves go. But with her, she was really beautiful, and personable.
What most surprised you about meeting her?
I expected her to be angry, because I'd sent Dear Emily to her mother. Every time I watch with an audience, they crack up when she says, "Yeah... you sent it to my mother."
What would have happened to you if you'd stayed in your home town?
I would probably be dead. I think I went through so many horrific, traumatic things growing up, I don't know if I would have survived. So, in a way, Emiline kind of saved my life, even though, at the time, I felt like she ruined it.
The film upends the notion that being gay is caused by trauma, but how coming out is more likely a trigger for rejection and violence. Were you conscious of that?
No. During this process, I tried not to be conscious. I mean that in the sense of being mindful, and being present, but not allowing my head to start messing with me and start to overanalyze and overthink, because I felt like then I would be worried about what the audience was thinking. Instead, I went the other way, and was like, "Fuck it. I'm just going to be me and not think about anything but do this. I'm going to be in every moment, and do it to the fullest."
When I was a kid, there were no gay role models, there were no movies about gay people that I knew of in my small town. Now, gay films are in small-town libraries. Gay films will continue to be more and more mainstream.
That means taking more great characters who just happen to be gay, and putting them in situations that are normal and everyday.
More specifically for Face 2 Face, do you see a film slotted in the gay/lesbian niche being received by a broader audience?
Gay-themed material is mainstream material now, and Face 2 Face is proof of that, because it has the universal elements that all of us feel. We all feel disconnected sometimes, we all feel lonely, we all have something in our past that might haunt us and might be something that contributes to our issues. And the fact that I'm gay, I don't think it makes it not universal anymore; I just happen to be a gay person going through them. But it kind of shows it doesn't matter what your sexuality is: Sometimes you feel alone, sometimes you feel depressed and you question your life.
And personally, what was your takeaway from Face 2 Face?
I've always been drawn to unavailable straight women, a pattern started with Emiline. After I resolved my relationship with Emiline, I ended an eight-year, unrequited love connection with a straight, unavailable woman. My takeaway from Face 2 Face was being able to say, "I deserve to be with someone who wants to be with me."
SUBSCRIBE TO & FOLLOW TRUMP'S FIRST 100 DAYS
How will Donald Trump's first 100 days impact YOU? Subscribe, choose the community that you most identify with or want to learn more about and we'll send you the news that matters most once a week throughout Trump's first 100 days in office. Learn more