My dad, Frank Hawk, died of lung cancer in 1995. He was my biggest fan. He supported me when I chose skateboarding over all other sports, and even helped to sanction skate competitions when the industry seemed to be drying up completely in the early 1980s. I was thankful that he got to watch the very first X Games before he passed away. For him, seeing skateboarding on ESPN was the ultimate validation of how far we had come. He had no idea of how much bigger it would eventually get with videogames, endorsements and other opportunities. But he saw the spark before he left us, and he was very proud to have played in a role in skateboarding's rise to mainstream popularity. I could not have made it this far without his undying support.
One in two men will be diagnosed with cancer during their lifetimes. This Father's Day, let's stand up for all those fathers we've lost and all those who are currently battling cancer. Launch a star in honor of a father you love at su2c.org.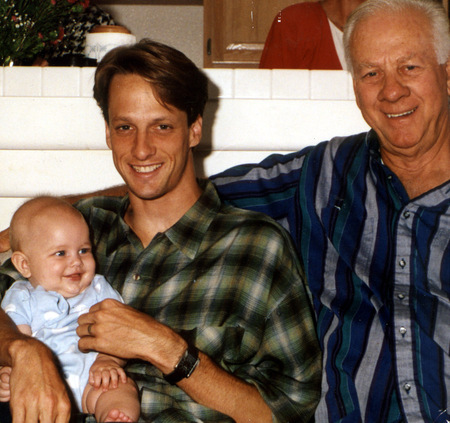 Riley, Tony and Frank Hawk (Photo courtesy of Tony Hawk)
This Blogger's Books and Other Items from...
SUBSCRIBE TO & FOLLOW PARENTS
Get top stories and blog posts emailed to me each day. Newsletters may offer personalized content or advertisements. Learn more