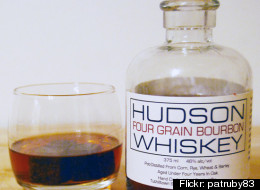 When I was a kid, I always wondered why the traditional, clichéd Father's Day gifts -- things like ties or cologne -- were so popular. "Why would Dad want this?" I'd ask myself as I'd hand over another uninspired gift that my mother had helped me pick out (they were divorced when I was six, so perhaps that added to the lack of inspiration on her part). Most years, my dad managed to feign at least a little excitement as he unwrapped his new paperweight or cufflinks. I surmised at the time that, well, maybe adults just like boring gifts.
Now that I'm older than my father was when I was born, and I'm about to celebrate my second Father's Day as a father myself, I know that adults do not like boring gifts. In my own dad's case, he simply never bothered to tell me what he wanted. Well, I'm not going to make that mistake, and I'm not going to let Dad Nation make that mistake for another year, either. Hear me now, wives and children, and hear me clear: Put down the tie. Step away from the cologne. What we want this Father's Day is whiskey. And not just any old rotgut, either. We want the good stuff.
Now, you can't go wrong with a good Scotch or rye, but I'm going to keep things simple. After all, we don't want the wife and kids to have to traipse through multiple aisles of the liquor store looking for that perfect bottle of hooch, do we? (Actually, don't answer that question.) For this particular day, I'm going to stick with bourbon. As a spirits reviewer, I have to drink a lot of the stuff. As a dad, I need the occasional glass of distilled, corn-based goodness at the end of a day spent running around with my daughter. And there are dozens, if not hundreds, of very fine bourbons made all over this great land of ours (contrary to what many believe, bourbon does not have to be made in Kentucky in order to be called bourbon), with more new brands making their debut every month.
What follows are eleven bourbons that have been floating my boat of late. If you like bourbon, whether you prefer it sweet, dry, smooth, spicy, high-proof, or what have you, at least a few of these brands should appeal to you. If you want more choices, check out this bourbon round-up I wrote a couple of years ago for the Kentucky Derby. Hey, if it's good enough for the Run for the Roses, it's good enough for Dad, right? As always, feel free to add your own favorite brand in the Comments section in case I missed it.
And wives and children, don't forget -- the gift of bourbon isn't worth the paper in which it's gift-wrapped if you don't give the father in your lives a little quiet time to drink it. No matter how good the bourbon is, he'll probably appreciate that most of all. I speak from experience.
Father's Day Bourbon-Picking Guide
BOOKER'S BOURBON (61-65% ABV, aged up to 8 years, $50). Back in the Spirits & Cocktail Dark Ages of the 1980s, a visionary named Booker Noe -- who just happened to be the grandson of Jim Beam, and the head distiller of the company that bears his name -- decided to make a bourbon unlike any other on the market. He hand-selected barrels aged in the optimal spot of the Beam warehouse. He aged them up to eight years, an eternity for that time. And then he bottled the whiskey without first filtering it or cutting it with water to dilute the alcohol. Because it was the '80s, he must have assumed there was no market for the stuff, so it was generally reserved for friends and family, who raved about it. Finally, in 1992, Booker's Bourbon hit liquor store shelves en masse, and the world of bourbon -- hell, the whole world of spirits -- has never been the same. If that story isn't enough to get you to buy a bottle of Booker's for dear old Dad, well, I just don't know. But rest assured it tastes as good as the story. Since it's damn near two-thirds alcohol, Booker himself (as well as son Fred Noe, who now occupies his late father's position at the distillery) recommended cutting it with a little distilled water, though it's surprisingly drinkable neat. Either way, you'll get big notes of vanilla and brown sugar, a little maple and cinnamon, and just a touch of leather and smoke on the finish. It's not one of those bourbons where you get hints of 37 different fruits, spices and natural fabrics -- it's simple, straightforward and powerfully elegant.

HIGH WEST AMERICAN PRAIRIE RESERVE (46% ABV, aged 6-10 years, $40). Be warned: if you're going to get this one for Dad, you'll have to celebrate Father's Day late, because it's not scheduled to hit the market for a couple of months. (Blame me if you must; I was too excited to keep mum about it.) Based in Utah, High West is one of my very favorite makers of whiskey. They specialize in rye, although they've blended it with bourbon in their tremendous Bourye and Son Of Bourye bottlings, and most recently they've blended rye, bourbon and peated Scotch (?!) in their outrageous Campfire Whiskey. Now, at long last, the first High West straight bourbon makes its appearance. It's a blend of whiskeys aged between 6-10 years, but it tastes younger -- a little hot-tempered and unbridled, like a wild stallion, if you're an analogy fan. Behind the alcoholic tingle lies notes of leather, cinnamon, caramel and sweet oranges, with a pleasing burnt sugar finish. I'd recommend settling it down (taming the stallion?) with a splash of water first, but that caveat aside, this bourbon is a comer; I've tried it three times and enjoyed it more each sip. (For environmentally minded dads, 10% of the profits from each bottle sold is going to the American Prairie Reserve, an organization which aims to restore a huge chunk of land Montana -- the size of Connecticut! -- to what Lewis and Clark would have seen.)

HIRSCH SELECTION SMALL BATCH RESERVE (46% ABV, age not stated, $35). I'm not sure of this bourbon's provenance, but I can tell you that Hirsch Selection whiskeys are NOT the same as the long-gone A.H. Hirsch bourbons which are now fetching zillions of dollars (well, a few hundred, at any rate) a bottle on eBay and in a few high-end liquor stores. That said, this is damned good stuff, and at $35 a bottle it's a damned good value as well. It's a ridiculously smooth, almost gentle bourbon that will elicit gentle murmurs of pleasure rather than a full-throated "Wow!" It opens with delicate caramel and vanilla notes, followed by delicious raisin, raspberry and grain flavors with just a bit of woodiness, and a super-smooth, honeyed finish. One of the easiest bourbons that'll ever slide down your gullet, and a nice way to make it up to Dad if you made his life hard during your rebellious years. (If money is no object and your father likes his bourbon dry and woody, consider the Hirsch Selection Small Batch 28 Year Old, a dark, oaky concoction which will run you a mere $445).

HUDSON FOUR GRAIN BOURBON (46% ABV, aged less than four years, $50/375ml bottle). A bourbon has to be made from a mashbill containing at least 51% corn; after that, distillers can get creative. Bourbons generally include some rye, whose spiciness offsets the sweetness of the corn, and malted barley to serve as the middleman of sorts. Wheated bourbons replace the rye with wheat, which is somewhat softer. This bourbon, made in upstate New York, is a rare animal in that it includes rye and wheat. So how does it taste, you might ask? Pretty damn good! The wheat tones down the rye's spiciness somewhat, resulting in a very smooth, slightly sweet and almost creamy bourbon heavy with notes of vanilla and nuts. This unusual whiskey may not be to everyone's liking, but if your dad is a non-conformist kind of guy who likes stuff that's off the beaten path, he'll appreciate a bottle. (Also recommended is Hudson's Baby Bourbon, made from 100% New York State corn.)

McKENZIE BOURBON (45.5% ABV, aged 18 months, $50). McKenzie doesn't have the pedigree of some of the other bourbons mentioned here. It's made by a company (Finger Lakes Distilling) that's only been selling spirits for a few years. It's aged a very short time for a bourbon. And it's hard, if not impossible, to find outside of New York State, where it's made. But dammitall, it's made with love, care and expertise by guys who are passionate about what they do. The taste belies its scant 18 months of aging (as does its dark color) because it's aged in 5-gallon barrels as opposed to the standard 53-gallon jobs, which really speeds up the aging process. It's finished in used Chardonnay wine barrels, but don't worry, it doesn't taste like bourbon soaked in white wine -- all it did for my taste buds was add a little richness and a slight buttery vibe on the finish. It's very smooth, on the dry side, with notes of maple, dried fruit (especially raisins) and a little grain. An excellent everyday bourbon, good for mixing or for drinking straight. If your dad's a New Yorker or he just likes to root for the little guy, McKenzie is the one to buy this year, if you can find it.

WILD TURKEY RARE BREED (54.1% ABV, aged up to 12 years, $35). Rare Breed is a barrel proof bourbon, bottled straight out of the barrel without a drop of water added to dilute it. As a result, this baby -- a healthy 108-and-change proof -- packs quite the alcoholic wallop. That tingle on your tongue tells the tale. But behind the booze lies smooth, sweet flavors like honey, licorice, dark chocolate and oranges, with a healthy helping of spicy rye to offset the sweetness, and a long but clean finish. You might want to add a little water or an ice cube to soften the boozy kick and let the flavors open up a bit, and I wouldn't blame you. But I should mention that Jimmy Russell, a Bourbon Hall of Fame inductee and the man who created Rare Breed, told me that he keeps it in the freezer so he can drink it chilled without having to dilute it. And if it's good enough for Jimmy Russell, by golly, that's good enough for me (whether it's good enough for your dad I'll leave up to you).

WOODFORD RESERVE DOUBLE OAKED (45.2% ABV, age not stated, $50). I gave this one a Father's Day dry run by recommending it for a friend's father-in-law's birthday last month. He's generally a single-malt Scotch guy but knows his way around a bottle of good bourbon. The verdict? Smoothest bourbon he's ever had. And his daughter said, and I quote, "I never liked bourbon... until now." Yes, it really is that good. Not that your standard Woodford Reserve is bad -- bourbon-quaffing dads from Maine to Madagascar already know and love it. But this brand extension, introduced earlier this year, takes an excellent whiskey and turns it into a masterpiece. The secret is in the double oaking. It's first aged in a standard charred oak barrel. But it's then finished (for nine months or so) in a second barrel that's deeply toasted, and then much more lightly charred than the first barrel. The result is a big, sweet, complex bourbon heady with vanilla and butterscotch notes on the intro; cinnamon, honey and banana in mid-palate; and a long, woody/tobacco finish. It still tastes like Woodford, but it's (even) better. Buy two bottles -- one for Dad and one for yourself.

FEW SPIRITS BOURBON (46.5% ABV, aged less than four years, $60). FEW's name comes from the initials of Frances Elizabeth Willard -- the founder of the Women's Christian Temperance Union, who lived a mile from FEW's distillery in Evanston, Illinois. For that alone you've got to love this brand. But their bourbon is an even better reason. This sucker is so dry and spicy that you may mistake it for a rye at first, and the barley's up-front flavor will only serve to confuse matters more. But whether or not it tastes like a classic bourbon, it tastes like a classic whiskey. It's rich and smooth with incredible depth -- the three grains play off each other beautifully. If Dad likes a bourbon with strong vanilla and caramel notes... well, this ain't it, but buy a bottle for yourself anyway. (FEW Spirits' products are currently only available in a handful of states, but they're expanding their market as quick as they can make the booze. If you can't find it in your hometown this Father's Day, keep it in mind for next year.)

FOUR ROSES 2012 LIMITED EDITION SINGLE BARREL BOURBON (50.3-57.2% ABV, aged 12 years, $85). Four Roses was the most popular bourbon in the USA after Prohibition, but by the '80s it wasn't even sold in the States anymore. In recent years, it's made a comeback -- it's not at the Maker's Mark/Wild Turkey level, but it's well known among bourbon fans who take their drinking seriously. Four Roses' superb limited edition bottlings have cultivated a rabid fan base over the last few years, and this one is no exception. Made in a limited edition of 4,000 bottles from one of ten different recipes employed by the Four Roses distillers, this is a big, robust whiskey, full of pepper and cinnamon spice without the heat you might expect from such a high alcohol content. It's got a lot of vanilla and toffee, some honey, a little bit of char, and I detected just a touch of brandied cherry and candied orange peel. It's elegant like a perfectly tailored three-piece suit in a big-and-tall men's shop.

MICHTER'S 10 YEAR OLD SINGLE BARREL (47.2% ABV, aged at least 10 years, $100). The Michter's you'll find on liquor store shelves today bears no relation, save the name, to the stuff that was distilled and bottled in Schaefferstown, PA from 1753 to 1989 (the legendary A.H. Hirsch 16 Year Old is the last original Michter's bottling). That said, the pedigree of the brand name matters a whole lot less than the bourbon in the bottle. And this is an excellent bourbon. It's a big, dark, intensely flavorful whiskey that's obviously made the most of that decade in oak. Sweet brown sugar dukes it out with dry wood and leather notes, with hints of corn making a cameo as well. It's got a little alcoholic heat that can be tamed with a bit of water, but doesn't need to be. Spicy rye makes an entrance mid-palate, and it finishes off dry, robust and long. If your dad's a cigar smoker, pair a bottle of Michter's with a flavorful, top-of-the-line stogie or two. Expensive? Yes. Classy? Hell yes.

WILLIAM LARUE WELLER UNCUT & UNFILTERED (63.3% ABV, aged 13 years, $80). "Got any interesting bourbons for me to try?" I asked one of my favorite bartenders at one of my favorite watering holes, Eleven Madison Park. This is what he poured me, and that's why I like him. I'm not normally a fan of wheated bourbons (meaning bourbons that use wheat instead of rye in the mashbill; Maker's Mark is the best-known example). But if you added spicy rye to a bourbon packing this much alcoholic heat, your ears would probably melt, so in this case the milder, softer wheat is a good thing. A great thing, actually, considering how delicious this is. A member in good standing of the limited edition, damn-near-impossible to find Buffalo Trace Antique Collection, it's a sinfully rich, sweet bourbon redolent of honey, caramel, dried fig, vanilla and oak. The depth of flavor is powerful enough to hold off the alcoholic onslaught, but I'd still recommend cutting it with just a few drops of water -- even if Dad is one of the macho types who likes to slug his whiskey neat, in this case it's wise, not wimpy. And when the flavors open up and the alcoholic heat cools down... wow. As I mentioned, Weller is going to be a tough one to find, but it's worth the search.
Promo image from Flickr: patruby83
Follow Tony Sachs on Twitter: www.twitter.com/RetroManNYC