I always greet the arrival of a new spirit from a venerable old distillery with a mixture of anticipation and dread. Will the spinoff live up to the reputation of the original? Or will it taste less like the alcoholic version of Law & Order: SVU and more like Joanie Loves Chachi?
So it was with mixed feelings that I read about two new spirits, from Beefeater and Maker's Mark respectively, hitting your local bars and liquor stores just in time for summer. Beefeater's appropriately named Summer Edition promises a lighter, more floral take on their classic London Dry gin, with elderflower, hibiscus and black currant in the mix along with the traditional juniper and other botanicals. It's the second new Beefeater product in as many years, following up their tea-infused "24" gin. Maker's 46, on the other hand, is the first new product from Maker's Mark since the original, wax-sealed stuff made its debut back in 1958. It's essentially your standard Maker's Mark bourbon taken one step further (more on that later).
Beefeater's London Dry gin has long been my go-to brand. It's everything I think a gin should be. The juniper is predominant without overwhelming the other botanicals; it's refreshingly spicy without too much alcoholic heat; and it really shines in a martini or gin and tonic. If you don't like Beefeater, you probably don't like gin. On the other hand, you can not like gin and still like Beefeater Summer. It's much lighter and less challenging than traditional Beefeater, right down to its lower proof -- traditional Beefeater is 47% alcohol, while Beefeater Summer stands at 40%. The first time I tried the Summer edition, I found it downright unsettling. It's as if my eyes, having seen the Beefeater logo, bypassed my brain and told my mouth to prepare for the Beefeater to which I've grown accustomed.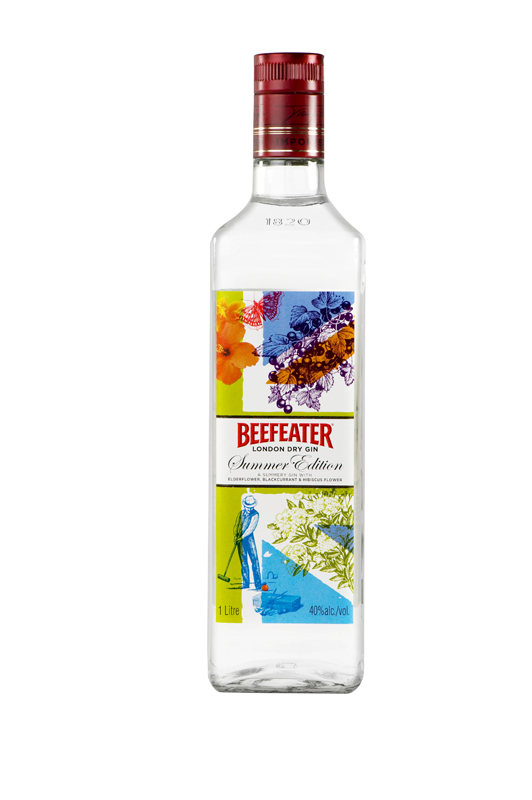 Its floral and citrus notes, and the more lightly applied juniper flavor, makes Beefeater Summer a great starter gin for those who haven't yet become accustomed to the real thing. It also puts Beefeater in the unenviable position of trend-hopper; over the last couple of years, less gin-like gins, also known as New Western Dry gins (like Hendrick's, New Amsterdam and G'Vine, to name a few), have become all the rage among the cocktail set. Do we really need another gin that doesn't taste like gin?
In this case, I'd say yes. I grew more impressed with Beefeater Summer each time I tried it. It makes for a delightful if unorthodox martini or gin and tonic, and it's also great in a spritzer of sorts with fruit juice and club soda, or on its own with some ice or a squeeze of fresh lime. It may not fit my empirical notion of What Gin Is Supposed To Be, but it's good going down, and that's what's important. Beefeater Summer won't be around after the leaves start to turn, but I hear that Beefeater is already working on a Winter edition.
Before telling you about Maker's 46, I should mention that I'm not a big fan of standard Maker's Mark. Because it's a wheated bourbon (it's distilled using corn, barley and wheat rather than the more common combo of corn, barley and rye), it's got a unique flavor that I've never really "gotten." I don't taste much of the buttery caramel and vanilla notes that Maker's fans rave about, and I find it to be rather harsh and astringent, especially on the finish.
Maker's Mark has been around for more than half a century, becoming one of the world's most consumed bourbons in that time, and until now, it's been the only product the distillery has released. Maker's 46 is the same Maker's Mark bourbon you know and love (or in my case, don't love), aged in American oak barrels for 6-7 years. What makes it different is that it's aged an extra several months, with seared oak staves (planks) inserted into the barrels. Sporting a retail price that's $10 higher than standard Maker's (expect to pay about $35-40 for a bottle), Maker's 46 is making its debut in a poor economic climate for higher-end spirits. The added ballast of being Maker's first-ever spinoff brand puts even more pressure on the distillery to succeed with the experiment.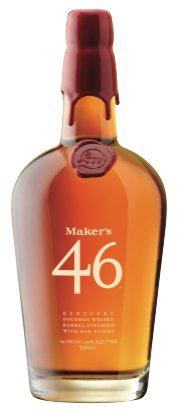 But the results justify the price, and the hype. The difference between Maker's Mark and Maker's 46 is, to my taste buds, astonishing. The seared oak unleashes a bevy of flavors, most notably cinnamon; but there are also cherry, almond, toffee and licorice notes that I don't notice in regular Maker's, along with a more pronounced vanilla undertone. The finish is still a little hot and overly alcoholic for my tastes, but when mixed into a Manhattan or a Sazerac, the other ingredients dampen down the burn quite nicely, without dulling the flavor of the whiskey. On the whole, it's beautifully balanced and complex.
To sum up, Beefeater Summer Edition didn't make me embarrassed to be a Beefeater fan, while Maker's 46 has given me a new appreciation for a distillery I was never that fond of. Congratulations to you both. I just hope your marketing departments, inspired by your successes, don't start messing around with the brands too much. The world doesn't need pomegranate-flavored bourbon or bottled sparkling gin coolers. I'm just saying.