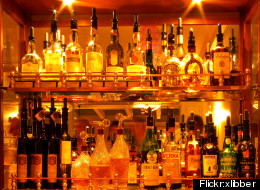 The first couple of weeks after Labor Day are a doozy. It still looks like summer. It still feels like summer. But all of a sudden the rules change. The douchebags who so graciously departed for the Hamptons in June have returned en masse. Kids are back in school. People have to start paying attention at work again. Football makes its violent, militaristic reappearance. Those awesome seersucker and linen suits? Back in the closet for nine months. Sure, it's still warm and lush and green outside. But the waiting game has begun. When are the fall clothes going to come out of mothballs? When's the first frost? When are you going to look around and say, "Holy crap, how did it become winter?"
In a nutshell, I hate this time of year. But good booze always helps mitigate the crud factor of autumn, and this autumn there's a ton of very fine new bottlings out there. Most of them should be on your liquor store shelves by now, and the few that aren't will be launching within the next few weeks. There's something for just about everyone here, from bourbon to rum to liqueur to absinthe, and at price points ranging from $20 to $5,000. Try one or, as I did, try them all -- just not in one night. Autumn unfolds slowly, so take your time.
Photo from xlibber, Flickr.
APPLETON 50 YEAR OLD JAMAICA RUM - JAMAICAN INDEPENDENCE RESERVE (45% alcohol by volume, aged 50 years, suggested retail price $5,000). According to the good folks at Appleton, when Jamaica first became an independent nation in 1962, a few barrels of rum were laid down with the express purpose of aging them for half a century, and then bottling them to commemorate the 50th anniversary of independence. Now, I can see how this could be done in Scotland, which has a fairly chilly climate. But in the tropics? How can a rum survive in oak for that long without either tasting like a piece of wood or evaporating completely? Apparently, 11 of the 24 barrels laid down did indeed suffer that fate -- careful monitoring and double chill filtration at the end of the aging process helped the others survive. Limited to a mere 800 bottles worldwide, the rum comes in a very swanky crystal decanter with a brass and cork stopper finished in gold. And inside the bottle is a very fine spirit -- oaky for sure, but you don't feel like you're licking the inside of a barrel. It's got strong notes of honey, molasses and caramelized banana, with a ridiculously long and smooth finish. If you're enough of a connoisseur/collector to consider spending $5,000 for a bottle of rum, you won't be disappointed.

ATSBY AMBERTHORN VERMOUTH & ARMADILLO CAKE VERMOUTH (both 18% ABV, $37). Vermouth has always been a blind spot for me. Yes, it's a crucial ingredient that can make or break your martini or Manhattan or Rob Roy or what have you, and yes, I get excited when I read about a good new one (hello, Dolin!). But I've got to admit that, for my palate, there's not that much difference between a mediocre vermouth and a really good one in a cocktail. And while devotees claim to love drinking it on its own, chilled or on the rocks, I've always found it a little clunky and heavy. Which is why Atsby's two new vermouths threw me for such a loop. You can really taste the wines which, of course, form the base of these babies. And the botanical combinations -- 32 in Amberthorn, 21 in Armadillo Cake -- are outrageously complex. Straight outta downtown Manhattan, these may be the most distinctive vermouths I've ever tried. I'm sure creative bartender types will do great things with them in short order; in the meantime, I'm loving the Amberthorn in a half-gin half-vermouth martini, and the Armadillo Cake makes a hell of a rye Manhattan.

BALBLAIR 2001 HIGHLAND SINGLE MALT SCOTCH WHISKY (46% ABV, aged 10 years, $50). Balblair is one of those whiskies that escaped my liver until quite recently -- despite being around since 1790, it's only starting to gain a presence in the States. Rather than age statements on their bottles, Balblair bottles vintages, meaning that all the whisky in a bottle was laid down during the same calendar year. As with wine, there can be big differences from vintage to vintage. I've tried about a half dozen different Balblairs, and each one has some element that distinguishes it from the others. Given its relatively young age, the '01 is, as expected, on the light and fruity side, with a nose redolent of cereal, candied orange peel and just a little something tropical (maybe coconut?), with lots of tasty lemony notes on the palate. Most people don't think of Scotch whisky as clean and refreshing, but that's what this baby is.

BANKS 7 GOLDEN AGE RUM (43% ABV, aged up to 7 years, $35). I love, love, love Banks' 5 Island white rum, which burst on the scene a couple of years ago and promptly won praise from just about every critic with a tongue and a liver. 7 Golden Age rum is, like its pale sibling, a mix of lots of different rums from many different islands -- in this case, it's 23 different rums from 8 distilleries on seven different islands. The ones most obvious to my taste buds are the full-bodied Jamaican rums; the dry and elegant Barbados flavors; and the sweet, fruity notes (think a dry, slightly earthy apple cider) of Guyanese rums. Perhaps the secret of the mix is Batavia arrack from Java, which lends a slight spicy earthiness to the whole affair. It's a very different rum, obviously, from the 5 Island, but what they both have in common is excellence. Very highly recommended.

BRUGAL ESPECIAL EXTRA DRY RUM (40% ABV, aged up to 5 years, $20). Why have vodka when you can have... well, anything else, really? Nothing against the bottled water of alcoholic beverages, but the tasteless/colorless/odorless combo is not always that thrilling. The latest offering from Brugal, the Dominican-based producer of many a fine rum, is designed to be a vodka replacement. Especial Extra Dry is aged in oak from 2-5 years, so it's not harsh like many unaged rums, and then it's triple filtered to lose the color. The result is a very clean, light and, yes, dry rum that really does make a good stand-in for vodka. It's a little spicy, just a touch sweet, a bit woody, and a little fruity (I taste pear, primarily). It makes a good daiquiri, but I like it best on the rocks with a twist of lime and maybe a splash of soda. Perfect for those still-warm September evenings.

FOUR ROSES SMALL BATCH BOURBON (LIMITED EDITION 2012 RELEASE) (approx. 57.5% ABV, aged 11-17 years, $90). Four Roses uses ten different recipes to make its bourbons, none of which I can ever really remember. Any time I try one of their new bottlings, I find myself saying, "Wait, this has OBSK and OBSV? Or is it OBSV and OESK? And what the hell does that mean again?" Thankfully, you don't have to understand the recipes to enjoy the bourbon. This latest limited edition (which uses three of the ten recipes, for the record), blends whiskeys that have been aged up to 17 years and bottled at barrel strength, without added water or chill filtering. But while it may pack a pretty hefty alcoholic wallop, it doesn't taste that way. Sure, you'll get a tingle on your tongue, but it's not a burn and it certainly doesn't detract from the flavors on display -- vanilla, brown sugar, cocoa, orange peel, caramel... it's like dessert in your mouth, with vibrant woody notes to keep it all from getting too cloying. For a barrel-strength bourbon, this is one of the smoothest sippers I've ever tasted. Sure, you could add a few drops of water and let the flavors open up a little, but you really don't need to. Only a few thousand bottles are being made available, so get on board now.

GLENROTHES 1988 SINGLE MALT SCOTCH WHISKY (43% ABV, aged 20 years, $180). Like Balblair (see above), Glenrothes bottles by vintage rather than age statement. They age their whiskies until they're deemed ready to drink, which explains why they put out far younger vintages (check out the 1995 -- yum) before the 1988 hit the shelves. It was worth the weight. Hailing from Speyside, a region that produces sweeter, less smoky whiskies, Glenrothes is known for its strong fruit and vanilla flavors, but some of their vintages taste a little light to me, almost unfinished. The '88, on the other hand, is rich and luscious. Aged in Spanish and American oak, it fairly oozes marmalade, vanilla, apple pie and dark fruit notes, with enough wood to balance it all out. The finish is long and lovely, with just a little smoke. A classic Speyside malt that's worth the somewhat hefty price.

HILLROCK ESTATE SOLERA AGED BOURBON (46.3% ABV, age not stated, $80). The backstory of this new whiskey from upstate New York almost overshadows the whiskey itself. According to the folks who created it (notably master distiller Dave Pickerell, known for his work with Maker's Mark and Whistlepig Rye), the distillery is "field-to-glass" -- the rye and barley are grown on-site, while the corn comes from local farmers. The malthouse in which the barley is malted and smoked (using traditional methods, natch) is supposedly the first built in the U.S. since before Prohibition. And it's also the world's first bourbon to use the solera aging method, meaning that older bourbons are blended with younger, aged for a while, at which point newer bourbons are added, the whole thing is blended again, and ... repeat until ready for bottling. Got that? As for how the stuff actually tastes, I quite like it. It's finished in used Oloroso sherry casks, which results in a lot of rich fruity notes (raisins, plums) and oodles of spicy cinnamon. Hillrock Estate is quite a young distillery (in fact, it's only just officially opened for business) and I can see this bourbon improving over the next few years. But even now, it's one to try.

JADE C.F. BERGER, 1901 ABSINTHES SUPERIEURE & ESPRIT EDOUARD (65%, 68% & 72% ABV, respectively; $99 each). Back when the only thing most people "knew" about absinthe was that it turned you into a hallucinating psychopath, New Orleans' own Ted Breaux was in France, trying to recreate, via chemical analysis and old-school distilling techniques, several vintage absinthes that were made before the category was banned in the States and pretty much everywhere else in the early 20th century. Before the American ban was lifted in 2007, Breaux's Jade Liqueurs absinthes pretty much had to be smuggled into the States -- which only added to the illicit thrill of drinking something that would supposedly turn you into a hallucinating psychopath. Today, thanks in large part to Breaux's efforts, absinthe is once again legal in the States. But there are a lot more spirits geeks out there today than there were a few years ago, many of whom deride Breaux's efforts. Some don't even consider these three expressions -- finally available in America several years after they made their European debut -- to be real absinthe, because they only contain trace amounts of thujone, the chemical which supposedly induces the hallucinations. I'm no scientist, and I'm no absinthe expert either, but I do know what I like. And I like all three of these. Call Breaux what you will, but he is a master craftsman who knows what the hell he's doing. If I had to recommend one, it'd be the Esprit Edouard, which is a little more subtle and refined than the other two, but the full-bodied C F Berger and the herbaceous Jade 1901 are nifty as well. And to be honest, I don't really miss the thujone; psychopathic hallucinations are a little overrated.

MICHTER'S 20 YEAR OLD SINGLE BARREL BOURBON (approx. 61.9% ABV, aged at least 20 years, $450). What a difference a decade makes. Michter's 10-year-old is a serious, manly affair, with prominent notes of wood and leather segueing into spicy rye and a hint of corn. I was expecting the same only more so from the 20-year-old. But what I got was... well, not quite a whole different animal, but definitely a horse of a different color. The dryness of the 10-year-old is replaced by an absolutely lovely sweetness, opening with tons of brown sugar, toffee, and hints of caramel and vanilla, before opening up with cinnamon and pepper notes mid-palate. The finish is dry and lingering, with a slight caramel aftertaste. The woodiness of the 10-year-old is still present, of course, but it's definitely much deeper in the background. And while the 20-year contains significantly more alcohol (almost a third more, in fact), it doesn't overwhelm the other flavors. I still love the 10-year-old, but the difference here is like night and day.

PLANTATION 3 STAR RUM (41.2% ABV, aged up to 12 years, $25). Plantation has made its reputation from finding quality rums from Jamaica to Guyana and then finishing them in old Cognac casks. This is their first white rum, and it's a doozy. Blending unaged rums from Jamaica and Barbados with charcoal filtered 3-year-old and 12-year-old rums from Trinidad and Jamaica, respectively, this is one of the few white rums out there that's great for sipping as well as mixing. The first rum that came to mind when I tried 3 Star was Banks 5 Island Rum (the awesomeness of which I mentioned in the review of Banks' new 7 Golden Age above), also a blend of aged rums from various locales. But while Banks is complex and earthy, almost funky, 3 Star is a much smoother and easier -- it's got gorgeous vanilla and melon notes, sweet and floral without getting sickly sweet. If it has a flaw, it's that it doesn't stand out quite as much in daiquiris or other mixed drinks as I'd like. But along with Banks, Plantation 3 Star is an absolute top-tier white rum, at a very affordable price. I lift my glass to you, good sirs and madames.

SOREL LIQUEUR (15% ABV, $30). This new liqueur knocked 'em dead at the Manhattan Cocktail Classic a few months ago, and it's been garnering stellar reviews pretty much across the board since then. With good reason -- if you think liqueurs are all heavy and syrupy, then you haven't tried Sorel. Flavored with hibiscus, clove, cassia, ginger and nutmeg, it smells to me like a delicious, cinnamon-laden apple pie, luscious, fruity and spicy. And for lack of a better description, it tastes like an adult's version of the grape juice I used to drink in school, only less sugary and vastly more complex -- and of course with the 15% alcohol lurking underneath. I'll bet it tastes amazing in a Dixie cup. In a glass, at any rate, this stuff goes down ridiculously easy -- neat, on the rocks, or mixed with soda, it's addictive. I've also mixed it into a margarita instead of orange liqueur/triple sec, with interesting results. I don't know if I'd lose the orange all the time, but a Sorel-a-rita makes for a nice change of pace. I hope the hipsters embrace this made-in-Brooklyn liqueur before they declare the whole borough passé and move to the Bronx.
Follow Tony Sachs on Twitter: www.twitter.com/RetroManNYC