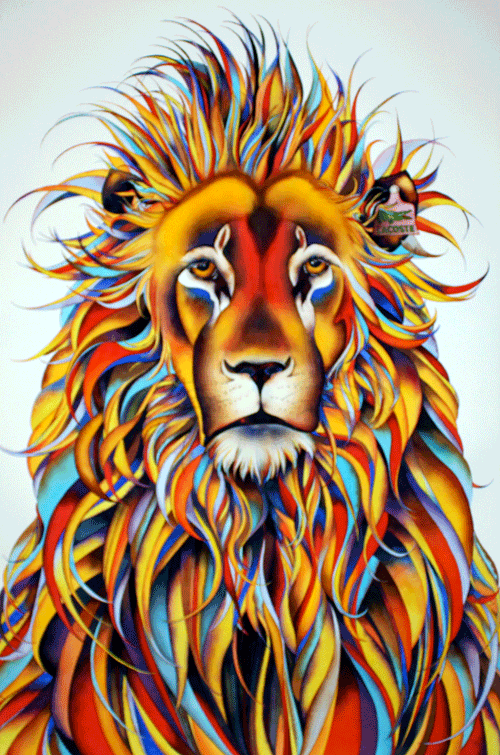 The Status Symbol of the Competent Sportsman, watercolor on paper, 40" x 60", 2011, Courtesy Frank Pictures
Lori La Mont's brilliantly colored large format watercolors are meditations on social identity and how appropriating animal imagery intersects with the collision of advertising in the wide world of sports. Each painting depicts vivaciously hued wild animals adorned with some kind of tagging or advertisement, the kind of logo emblem that is so common on the clothing of sports figures. Logos for commercial products have become such a large part of our visual landscape that we have come to identify ourselves by brands; for example, the person Michael Jordan and the image of the Nike brand are inseparable.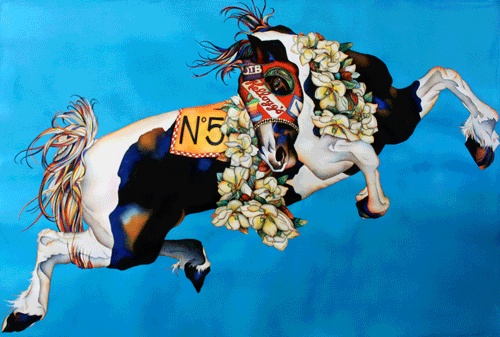 Horse No. 5, watercolor on paper, 40" x 60", 2011, Courtesy Frank Pictures
In two of La Mont's paintings we see birds either falling or rising in a fight. Falcons are hooded and cocks wear leg bands, both with bold branding. Our society has co-opted images of animals to represent team sports (think team names and mascots), attempting to tap into the wild and fierce attributes natural to the lion, horse, cock, falcon, and deer.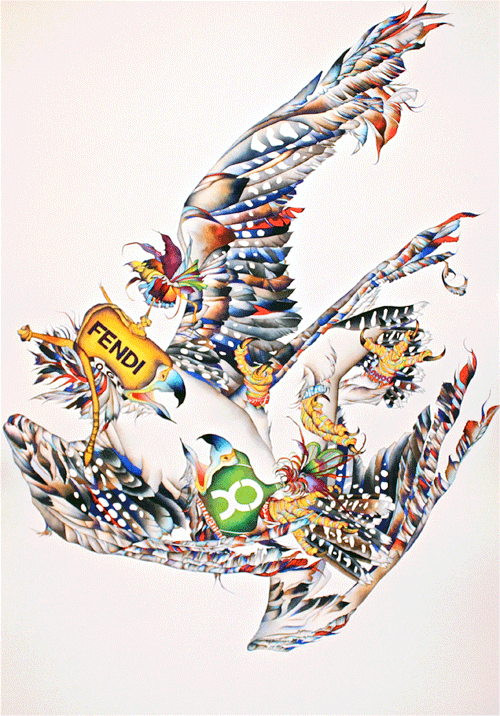 For Love or Money, watercolor on paper, 60" x 40", 2010, Courtesy Frank Pictures
While the symbol of animal as heroic merchandise is clear, La Mont's actual painting technique is captivating. The paper is saturated with color and each feather, each hair is sculpted in detail. Color is exaggerated to flamboyantly illustrate the wild characteristics of the creatures being depicted while in flight or cooly assessing us.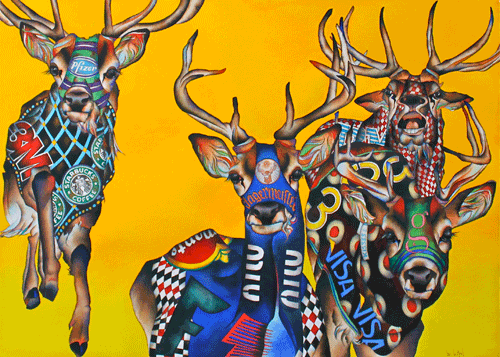 Camp Life in the Woods and Tricks for Trapping, watercolor on paper, 29" x 40", 2010, Courtesy Frank Pictures
SUBSCRIBE TO & FOLLOW CULTURE SHIFT
Every Friday, HuffPost's Culture Shift newsletter helps you figure out which books you should read, art you should check out, movies you should watch and music should listen to. Learn more