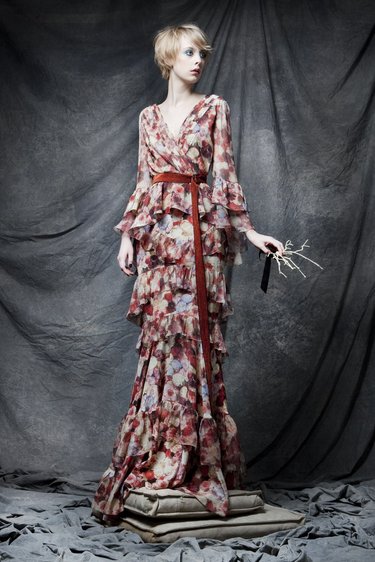 It's gonna be hot, hot, hot when the cool threads hit the catwalk at the eighth annual Riverfront Park Fashion Show. This summer's theme is "Classic" but don't expect anything in the Jill St. John mode. Where last year provided lots of oooohs and ahhhs over Betsey Johnson, Sue Wong and the fabulous Gabriel Conroy, fashion addicts are sure to be hooked on the three designers edgy enough to rival the Millennium Bridge. Denver retail partners Blush and Lawrence Covell present a fresh take on the American Classic look which promises accessible clothing and distinctive style.
First up is Ever, a "luxury travel collection" as they dub themselves. Creative Director, Jason Bleick, native of Huntington Beach, has the emblematic California surf culture tattooed all over his brand. A cut above skater chic, Ever is a well-crafted mix of luxurious fabrics and textures, layered together to create an effortless look of comfort and style. These are the clothes you live in; with their earthy shades, a few soft lines and some hard leather edges; they're perfect for the Colorado lifestyle or the effortlessly stylish world traveler. With my practical don't-look-like-you-tried-too-hard taste; I am already craving some Ever.
I spoke with fashion darling Chris Benz about his Fall 11 and Resort 12 collections; sure to be an OMG experience. His imaginative use of line, texture and the influence of time period lift him into the clouds. Inspired by time spent in Savannah, this sumptuous collection feels very environmentally influenced by the heat and the dripping Spanish moss. "I'd call my work instinctual design. I like to find the spirit of a piece that defies time, age and occasion. My clothes give the wearer the chance to develop their own voice within a wardrobe, and I think of them as curators of their personal style. I like to create an approachable line that goes beyond the cocktail dress. We call it dinner wear." Benz is right; each piece intentionally works alone or plays well with others, leaving the feeling that the designer's signature is easily adaptable to the wearer's self-expression. It's the kind of style you see on the page or the street and wish you'd been able to put together. The romanticism is funky, fun and feminine, featuring some exquisitely detailed pieces. A crimson floral dress, wrapped and tiered to the floor, gives a sultry elegance, the modern gothic cape worn over finely tailored black trousers and jacket offers old Hollywood glamour. Some pairings feel a bit Zelda Fitzgerald, with the soft drapes, ruffles and oversized bows. Others present clean shapes and oddly balanced configurations of classic and whimsy, reminiscent of the deliciously silly styles worn by those Hepburn girls when they weren't being so classically... Classic.
The popular William Rast trots his "New America" brand down the catwalk with a totally revamped look. Grounded in the iconography of American denim heritage and influenced by the biker culture, I found the 2010 collection to be a bit "Post-apocalypse Hollywood hipster"; too military with the olive pants and the combat boots. This year's line has been given a sleek and polished facelift, with a totally new fit, subtle detail in the stitching, premium denim and a series of unique washes. Initially conceptualized and founded by Justin Timberlake in 2005, William Rast designer and JT childhood friend, Trace Ayala, brings a contemporary context to the classic line. The mix of high style, denim and leather feels more fashion forward and if it looks as good on the runway as it does on the red carpet... I'm blushing.
Riverfront Park Fashion is known for gathering the turned-out crowd. Over 1400 came down to the riverside last summer and the luxurious affair of 2011 promises to be no different. Proceeds from the August 13th event benefit Denver Health Foundation: "The Denver Health Foundation supports Denver Health in its mission to sustain and advance the health and well being of Denver and the Rocky Mountain region." Tasty treats and tempting libations crafted by Zengo, Table 6 and Fogo de Chao, with desserts by Happy Cakes are sure to delight the cabana set et al.
Riverfront Park Fashion Show takes place Saturday, August 13th from 5-9pm. To purchase tickets click here.

SUBSCRIBE TO & FOLLOW THE MORNING EMAIL
The Morning Email helps you start your workday with everything you need to know: breaking news, entertainment and a dash of fun. Learn more