"Genius differs from talent not by the amount of original thoughts, but by making the latter fertile and by positioning them properly, in other words, by integrating everything into a whole, whereas talent produces only fragments, no matter how beautiful."-- Franz Grillparzer
Having Cindy Lou Who hair in the age of Farah Fawcett made the quest for flowing locks my personal Holy Grail. The power-perms and Cher-dos of my salad days sent me flitting from the hip to hippest of Hollywood salons. I've sported looks that rival Big Bird, been Bozo red, and a fetching mix of red/green that would rival Macy's window in August. All I ever wanted was a return to the beachy-blonde of my childhood, a can of mousse, and a set of hot rollers that would land me in Farrahville. The sassy "one name" egotist, the rock-n-roll stylist who cut me down to a Pixie, and the one-eyed Englishman (supposed stylist of Candice Bergen) who cut me in his kitchen, boozy from the night before, all serve to make my latest venture an act of sheer madness.
Watching Bravo's hairstyle smack down, Shear Genius, I thought "It's all good when you take a twenty-something model and turn her into Lady Gaga, but what happens when a grown up walks into your salon and says 'Just do me'"?
That was the challenge I set before Denver celebrity stylist and Shear Genius finalist Matthew Morris last month and as he took some well-deserved R& R basking on a Mexican beach. I cultivated a healthy dose of re-growth waiting for his first available slot.
To put yourself in the hands of another to create your image is an act of trust at the very least Like going to a psychic, I wanted to give as little information as possible. Stealth in a nondescript black t-shirt, jeans, strappy heels and my everyday pearls, I entered his kingdom only to find you can't out-fox the foxy. He looked me in the eyes and asked two questions; what was my lifestyle and what was my comfort level with change (God, if he only knew), and then he did something remarkable; he listened to the answers. Without the arched-brow, thirty second gaze that says you've been super-sized up, but honestly, and with a face like David Bowie and a James Dean style, he said "I think we should go 'sexy mess.'" I'm in.
The salon is serene but not self-consciously so and Morris is definitely in control but never "The Boss." He is kind, he is present and he made every decision along the way, softly instructing his assistant while giving me his full attention. We talked of the realities of a reality show; the long hours, politics and judges, the interpersonal relationships and the whack jobs. I asked if he'd made any real friends and when he felt he knew the outcome. "We knew at a certain point that if she were still here, she would win." "We?" I asked. "Janine and I, we hit it off from the beginning. I'm doing her hair for her wedding." After that it was all back to me.
A two step process brought my hair back to one color, three shades darker than the marquis blonde I'm used to, but Matthew inspires total trust, even through the limbo of transition. His confidence creates a sense of calm. Rather than the foiled highlights we "natural" blondes are accustomed to, he did a subtle lightening process called balayage, where baked potato wraps give way to saran and a softer effect. Once washed, fully conditioned and dried, my hair never felt so loved.
Next, the master cut a versatile, layered bob that pulled me out of "real estate babe," pushing closer to "sexy mess." Usually when I leave a salon I'm either bouffed into oblivion, running for the baseball cap in my car, or sent out the door in a style I adore but could never recreate. Morris carefully guided me through the subtleties of the round brush and extolled the virtues of hot rollers (hello Farrah!) while his fellow stylists stopped by to admire the transformation. He seemed happy with the results, they seemed impressed at the turn around. I was a bit in shock, a bit uncertain. Was I expecting more drama -- that stylish platinum pixie perhaps? I looked a whole lot better, yes, but where was the genius?
What Matthew Morris did in the finish was what sent me from hmm... to OMG! Applying warm tones on my brows and eyes, my head spun as blue became BLUE added simple products I had often shirked from, like bronzer. A quick correction in my use of color, he balanced my makeup with my hair, which sent my skin tones bouncing off the wall. Gone is the Cherry Creek blonde, replaced with a far more organic, elegant style that's garnered raves from my inner circle. I feel, not like "La Gag," but warm and beautiful, lines and all. And that my friends... is genius.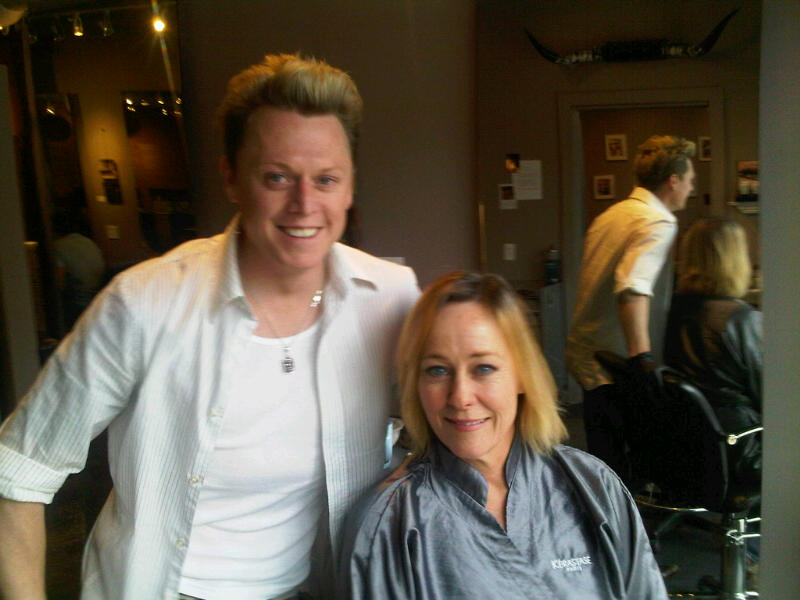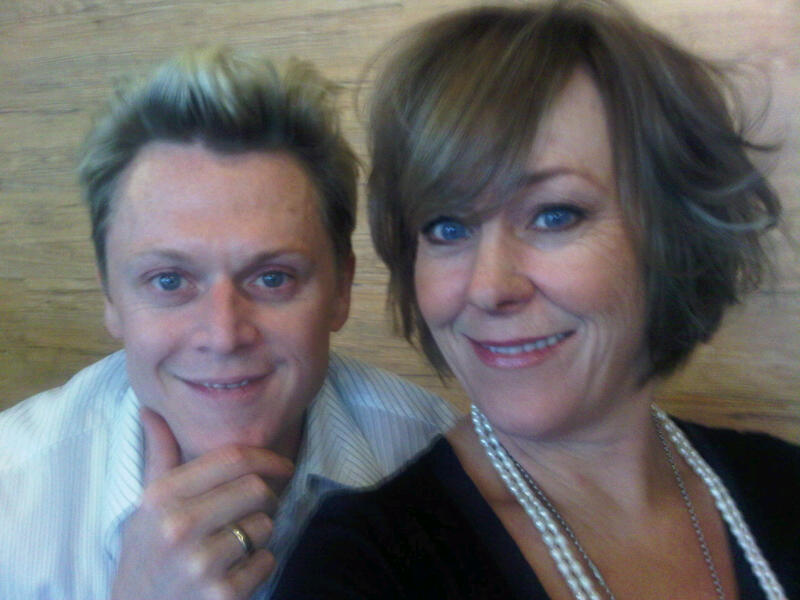 FOLLOW HUFFPOST