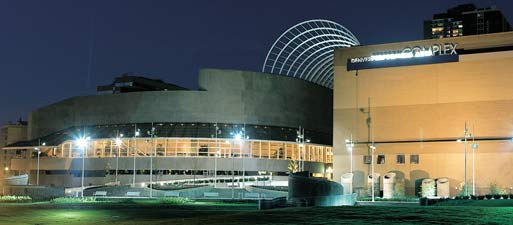 Courtesy of DCPA. Photo by Ed Blandon.
Writers are a solitary bunch and when those pens are poised toward playwriting, navigating terrain between the solo flyer and their public medium can be tricky. Before a script lands on the desk of a Broadway producer, the chances are good has landed on the coffee tables of trusted friends and colleagues, in the inbox of an insightful literary manager and in the hands of a skilled dramaturg. They are a distinct and integral part of the page-to-stage process; they are the bouncers and midwives of the American theatre. So what do they do, exactly?
In my experience, the literary manager is to the theatre what the gatekeeper is to the Emerald City and 'Nobody gets in to see the Wizard, not nobody, not no how' without him. They have the daunting task of sorting through an abundance of script submissions, dealing with irate agents and cajoling playwrights (or the other way around), and carefully crafting the ubiquitous rejection letter. As matchmaker to mission, they are the ones who sift and select which plays may be of interest to the theatre company and pass them up the ladder.
The dramaturg is a combination research scientist/therapist/spirit guide through the many drafts and revisions that it takes to ready a play for production. If they're good they help you tell your story clearly; if they're great they do so without making you feel they'd rather tell their own. Professional training is a must; protective gear is optional, as the job can be a dangerous one.
According to LMDA they are:
Working in theatres and playwrights' organizations, in colleges and universities, and on a project-by-project basis, dramaturgs contextualize the world of a play; establish connections among the text, actors, and audience; offer opportunities for playwrights; generate projects and programs; and create conversations about plays in their communities.
Denver Center Theatre Company plays host to the four-day event, and the city is front and center with plenty of time penciled in to explore our cultural landscape. I find the concept of dramaturg/literary manager as cultural ambassador an intriguing draw to the numerous breakout sessions, networking events and workshops presented by Buntport Theatre and Phamaly. The always clever and insightful Adam Lerner, Chief Animator of MCA Denver, will open weekend's festivities with a keynote speech, raising questions and perhaps a few eyebrows as he prompts participants to ponder their role as a link, not only between playwrights and theatres, but between those artists and the communities they serve.
The LMDA Conference runs July 7-10. Click here for further information, registration, or view the schedule.

SUBSCRIBE TO & FOLLOW THE MORNING EMAIL
The Morning Email helps you start your workday with everything you need to know: breaking news, entertainment and a dash of fun. Learn more