Here's what I like about the Denver theatre community... Once a year, we get all dressed up, gather, clap, drink, remember, celebrate, cluck and crow. The event is the Colorado Theatre Guild's Henry Awards ceremony, honoring the outstanding performances, productions, plays and people of the Denver theatre scene. Though the voting system seems to change its rules annually, the results are consistent: a couple of great musical numbers, a few shoe-ins, a few surprises and some well-deserved recognition for the unsung heroes who make all that theatre magic happen. Smaller theatres go head-to-head with the larger ones as the winners are gifted with a ceramic mask of Denver icon Henry Lowenstein to place on the mantle and the distinction that comes with acknowledgment from a jury of one's peers.
Last night's event was seamlessly directed by Josh Hartwell and Jim Hunt, hosted by the Denver Center Theatre and emceed by the amazing Erin Rollman and Brian Colonna of Buntport Theatre Company, all under the guidance of CTG's General Manager, Gloria Shanstrom. Though presenters were told to stick to the script, the hi-jinks erupted early with Paragon Theatre Ensemble's not-to-be-missed production The Real Thing's cast mates, Sam Gregory and Barbra Andrews, breaking rank in a passionate embrace, setting the stage for the love-fest to follow. (This is a room full of actors, designers, writers and directors after all)
The Henry Awards provide me with a theatrical hajj of sorts. I set my sights on the larger community, enjoying the show and the musical numbers I may have missed, and find a new pal or three to paint the evening with. It's the one time we're all in the room -- and the room was packed. In a few short years the event has outgrown its venue, the Space Theatre, with a standing-room-only crowd, and judging from the energy last night the success is bound to continue. Next year I'd really like a seat... and maybe an after-show dance? Congratulations to all!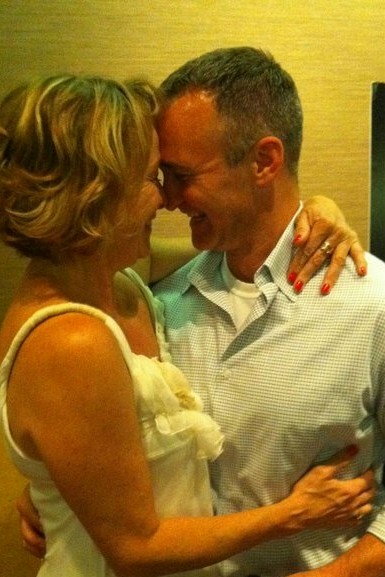 Scott McLean and I enjoy a moment at the Henry Awards
SUBSCRIBE TO & FOLLOW THE MORNING EMAIL
Start your workday the right way with the news that matters most. Learn more