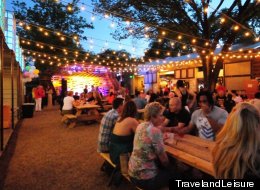 "Your outdoor bar is only good if your guests are still talking about it at work the next day," says Anthony Trester, assistant food and beverage director at Milwaukee's Yard, where couches, fire pits, and even a brick pizza oven spread out across a hillside.
After all, the basic ingredients are simple--sun, cold drinks, and a dash of atmosphere. But the best outdoor bars rise to Trester's challenge and make a lasting, inimitable impression. A fantastic view, creative cocktails, and comfort food help our favorite outdoor bars edge out the competition.
There's a great outdoor bar to match your mood, from a dolled-up night on a Chicago rooftop to a lazy Texas afternoon kicking back with beers and live music on a patio. And if the crowd makes a difference, so, too, does a bar's location and trappings. "Every place with a liquor license and a concrete slab tries to put an umbrella up and serve drinks; if you're going to be outside, be somewhere cool and fun," says Trester.
Plot your own escape to one of America's best outdoor bars and raise a toast to summer. We've got your beach bars and beer gardens covered, too. --Kayleigh Kulp
See More on Travel + Leisure:
America's Best Cocktail Bars
America's Best Happy Hours
Best British Gastropubs
America's Best Outdoor Bars
Zed451 describes itself as an "unconventional steakhouse," and its libations—poured on a rooftop with a killer view of high rises around Chicago's Near North neighborhood—are just as creative. Consider the Spiced Strawberry Margarita, made with El Jimador Reposado, house-infused habanero simple syrup, fresh strawberries, Cointreau, and housemade sour. zed451.com See More Outdoor Bars Photo: Mitch Tobias

Crowds do pack The Yard, but it has an open, spacious feel, spreading out along the hillside beneath the Sixth Street Viaduct with couches, tables, fire pits, even a brick pizza oven. Colorful shade sail canopies and twinkle lights add a festive touch, while other design choices reflect the historic, still active railroad and 1907 warehouse nearby; tables are made from salvaged wood and factory carts and the two outdoor bars from reclaimed original fire doors. theironhorsehotel.com See More Outdoor Bars Photo: Chris Bart

A former garage was reborn in early 2012 as this outdoor bar enclosed by industrial metal and decked out with picnic tables, four massive semi-truck trailers, and a stage constructed from wooden warehouse pallets. If watching live music while sipping southern brews like Dixie Lager or Southern Star Pale Ale makes you hungry, wander to the adjoined Chicken Scratch. It's the latest concept from acclaimed chef Tim Byres, and makes The Foundry likely the best outdoor bar anywhere for rotisserie chicken. facebook.com/TheFoundryDallas See More Outdoor Bars Photo: Photography by Elliott-Munoz.com

This rooftop bar delivers year-round panoramas of the Wasatch Mountains and historic downtown Park City. During the winter months, some guests cozy up under complimentary blankets around fire pits, après-ski cocktails in hand. After a few, they may be emboldened to shed their parkas and join the hardy souls in the Jacuzzi. Come summer, the rooftop benefits from the humidity-free weather, making it a true pleasure to hang out here. Take your pick among beers ($5 to $22), wines ($9 to Opus One), and a full, hand-rolled cigar menu. theskylodge.com See More Outdoor Bars Photo: Courtesy of Sky Blue at The Sky Lodge

Housed in the original 1841 General Post Office building, Poste's Parisian-style courtyard overflows with plants and herbs that are used to infuse vodkas for its Punch Bar. The outdoor fun continues in winter, when Poste sets up a hot cocktail and fondue bar outside with heaters, blankets and fire pits. Cocktails include This Little Piggy (bacon-infused Bulleit bourbon, spicy cayenne chocolate, milk and toasted marshmallow), and Mother's Warmth (hot mulled apple cider made with Pyrat rum, mulled apple cider, and brandied cranberries). postebrasserie.com See More Outdoor Bars Photo: Scott Suchman

This patio near Salmon Bay is plain, but the burgers aren't. There are 15 options—including the After School Special with peanut butter and bacon—to complement its 36 varieties of bottled and canned beer, among them, the Czech Staropramen and Montana's Moose Drool. Wooden tables, a brick enclosure, and a rustic, plywood-covered bar create a hipster-cool vibe. It's only natural as this is the city T+L readers rated best for hipsters (have we mentioned this bar hosts skee-ball?). If beer isn't your thing, opt for one of the classic cocktails, like the Sazerac: rye, Peychaud's bitters, simple syrup, and absinthe. kingsballard.com See More Outdoor Bars Photo: Courtesy of King's Hardware

Bypass Austin's better-known 6th Street, nicknamed "Dirty Sixth." You'll find this pearl-in-the-rough on Rainey Street in a wonderfully dilapidated house. With an old jukebox, Ping-Pong tables, and lounge chairs on a spacious gravel patio, it's a laid-back place to get a Black Eye—the drink, that is (Shiner Bock, a Texas beer, with a shot of Jack Daniels). The outdoor front porch is for people-watching and provides easy access to a food truck selling tacos, nachos, and other comfort foods for when the munchies set in. lustrepearlaustin.com See More Outdoor Bars Photo: Marco A. Ochoa Jr.
Follow Travel + Leisure on Twitter: www.twitter.com/TravlandLeisure