Sochi has been getting a bad rep when it comes to hotels, particularly since the #sochiproblems twitter madness, revealing yellow hotel water, stray animals occupying hotel rooms, etc., etc. But believe it or not, there are some very exceptional accommodations in Sochi (or to some -- the Russian Riviera), that border the region's stunning mountains and Black Sea waters. Hotel search www.trivago.com has put together a collection of five fine properties in Sochi that you would actually want to stay in.
1. The Rodina Grand Hotel and Spa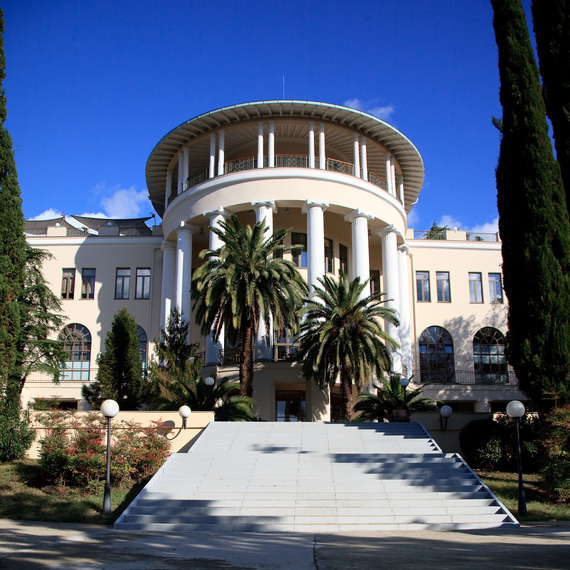 Source: The Rodina Grand Hotel and Spa
Why stay there? The property's located in a 37-acre park on the Black Sea. Interiors of the hotel are the creative work of Patrick Brugman and Suzanne Loggere, who are also the royal court decorators for Queen Beatrix of the Netherlands. Hang out at the luxurious spa, wellness center, swimming pool, restaurant, as well as the numerous bars, a 3D cinema or even at the children's playground. The property takes pride in its position as host for the presentation bid for the 2014 Winter Olympics.
2. Mercure Rosa Khutor
Why stay there? Situated atop the Caucasus Mountain, this hotel gives you the true mix of sea and mountains. The Mercure Rosa Khutor is equipped with 153 rooms and suites and six conference rooms, which makes it an ideal place for both work and leisure travel. The sizeable Barskyi Stol restaurant serves traditional Russian, Ukrainian and Mediterranean dishes against a modern, stylish backdrop with an open fireplace and a cozy terrace.
3. Grand Hotel Polyana
Why stay there? This fashionable, contemporary hotel in Sochi National Park--in the heart of the beautiful Krasnaya Polyana region and the stunning Caucasus Mountains -- has become a favorite among the new Russian elite. In a setting of waterfalls, rich flora and fauna, magnificent meadows, caves and canyons, it captures the spirit of the pristine Caucasus countryside. It's colossal -- 413 guest rooms and 16 separate wooden villas, as well as multiple bars and restaurants with diverse menus. Don't miss a trip to the Chandelle Blanche Medi SPA and beauty lounge salon.
4. Park Inn by Radisson Rosa Khutor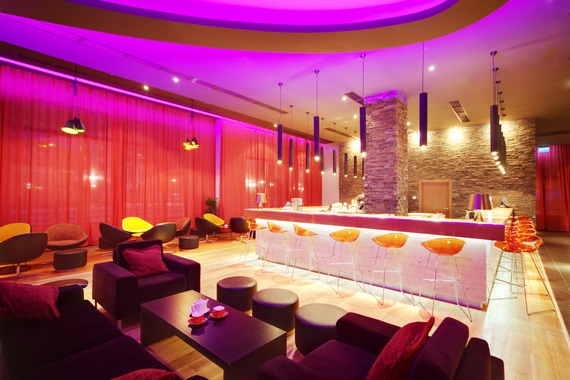 Source: Park Inn by Radisson Rosa Khutor
Why stay there? The Park Inn by Radisson Rosa Khutor is a ski resort located in Krasnaya Polyana village, just a five-minute walk from its own ski lifts. The Rosa Khutor's 16 suites, 12 business rooms and 183 standard rooms offer stunning views of the mountains and central embankment of the Rosa Khutor Ski Resort. It also houses a popular two-story German-style brewery, Bierkeller, which has a terrace bar that overlooks the mountain river, Mzymta. The hotel has superb leisure and fitness facilities, as well as ample ski equipment storage space.
5. Radisson Blu Resort & Congress Centre
Why stay there? The 508-room Radisson Blu Resort & Congress Centre offers its guests a prime beachfront location in the Adler district of Sochi, directly bordering newly built sports venues and the Black Sea coast. Decorated with soothing beige and green tones, each room offers killer views of either the mountains or the sea. The trendy, modern Mikado Sushi Bar serves fantastic fresh sushi in a designer setting. The spa center spoils guests with beauty treatments, massages, as well as hair and nail treatments. Finnish and Russian saunas, as well as a hammam (Turksih bath) with a large relaxation area and jacuzzi, are some of the other top-shelf luxuries available to visitors.