I'm not gonna lie. As I stepped off the plane in Montgomery, Ala., I was apprehensive. I was uncertain. Maybe I was even a little scared. It had been 40 years since I'd been there. Think about it. Forty years ago, Montgomery was an ugly place -- especially for a young black girl.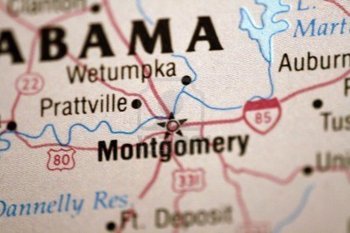 But there I was in 1973 with my friend, Shawn Cooper. She is the daughter of Gary Cooper, who at the time was the Alabama State Representative (and one of the first African-American brigadier generals in the Marine Corps) -- a pioneer in his own right. And a great man! And his daughter was my friend. Just as fathers take their daughters and their friends places today, he had taken Shawn and I with him from Mobile to Montgomery to serve as pages in the Alabama House of Representatives.
And guess what?
George Wallace was still governor. In fact, I have the picture that we took with him while we were there. Can you believe it? We took a picture with the very man who had stood on the steps of the University of Alabama and said that no blacks would ever be admitted.
But let me tell you something... the Montgomery, Ala., of 40 years ago is no more. It is an entirely different place now. And I could sense the difference within the first few minutes of stepping off the plane. It was truly amazing to witness.
I'd come to Montgomery to speak at the 6th Annual Montgomery Diversity Summit coordinated by the Montgomery Area Chamber of Commerce. And it was a sold-out event. More than 700 folks (equal number of blacks and whites) gathered to engage the conversation. To instigate authentic change. To eradicate fear.
It was an event to behold, to say the least. If you want a diversity summit to emulate, this is the one. In fact, there were those in attendance in hopes of doing just that... emulating and starting their own diversity summit.
In my observation, there were three overarching factors as to why this summit is so impactful -- "Summit Success Factors," if you will:
1. Dr. Cam Martindale, the brain trust for the design and delivery of the summit. She is a powerful and courageous woman. A true hybrid leader. Dr. Martindale uses ALL of her brain and connects everything that she does to the heart. She authentically cares that everyone has an opportunity to win no matter what their background. She has built a powerful and inclusive team that is equally dedicated to creating a Montgomery that is healed and poised for greatness.
2. Mr. Todd Strange, Montgomery's mayor. He truly believes in diversity and inclusion. And the leaders he has surrounded himself with do as well, specifically the County Commissioners, led by Mr. Elton Dean. It is not just lip service to them... they speak in problem solving together, in collaboration, in results, in action, in true and lasting change.
3. The Montgomery Area Chamber of Commerce (MACC) has courageous leaders, like Leslie Sanders of the Alabama Power Company and Chair Elect of MACC. These people are stepping out and advancing the conversation about healing race relations, about understanding differences and about using those differences for the greater good.
Notice that all three success factors for this event are based on people. And while there is not another Dr. Martindale or Mayor Strange, there are those who live according to the same belief system. Those who are courageous like the folks in Montgomery to engage in the conversation. Those with the strong leadership skills to see and understand the vital importance of understanding, celebrating and utilizing differences.
This summit CAN BE emulated around the country. Every governor, mayor, board member, corporate leader or any individual that cares about America's future should pay attention to what is happening in Montgomery, Ala. What they are doing is a source of hope.
I cannot explain what a blessed relief it was to be back in my home state and not be filled with fear, anxiety or other negative emotions. It was actually exciting!
No doubt there is still much work to be done, but they are well on their way. It is an awe-inspiring reminder that there are active pockets of excellence around our country. Because of Montgomery, we can believe that where we started from absolutely does not have to be where we end.
Who could have imagined that a city with such a sordid and sad history for African Americans' civil rights could become such a beacon of light and hope for all of us today?
Our past does not have to dictate our future.
Leaders all over the country, including Dallas where I live now, are beginning to realize and embrace this truth: winning requires togetherness. What about you? Are you engaging in courageous conversations about diversity and inclusion? Are you an open champion for healing race relations?
The time is now. Your role as a history-maker is waiting.