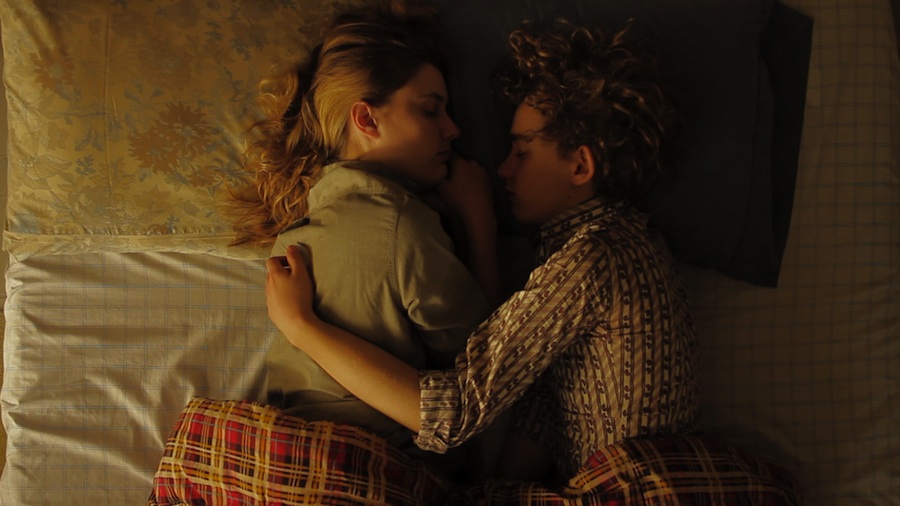 Publicity image courtesy of AFI Fest 2011
There's something to be said for a great title. It can frame coincidence, giving shape to the audience's expectations. The title Alison Bagnall gives to her second feature-- The Dish & The Spoon-- brings to mind the nursery rhyme "Hey Diddle Diddle" in which the dish runs away with the spoon.
The film stars indie mainstay Greta Gerwig as Rose, who from the first frame of the film is channeling what feels like every pent up ounce of betrayal born hurt she has in her body. Something like the keening of a banshee opens the film as Gerwig speeds her dumpy car through a tunnel, fleeing a disintegrating marriage. There are moments in the first reel of the film where Gerwig takes the emotional volume up to eleven, a potentially dangerous indulgence that manages to pay off by the end, as we come to understand the character fully.
Rose is the film's beautiful and understandably a little crazy Dish, reeling from the revelation that her husband has cheated. Her first stop is a connivence store where she picks up the better part of a six pack of Dogfish Head--proving that she has great taste-- using the change scraped together from her car's ashtray: proving she is completely unprepared for what has happened. Well, that and the fact that she's buying the beer in her pajamas. The store clerk, and the audience, can't help but root for her to get through this. We've all been Rose at some point.
Beer acquired she goes to ground in an old WWII watchtower on a deserted-for-winter Delaware beach only to find a shivering British boy (Olly Alexander) who is running away from heartbreak of his own. Dish has met Spoon and now the two should proceed to run away together. Instead Rose isn't ready to let go of her pain and anger quite yet, and she gets the boy wrapped up in her impulses. One moment she's pursuing the woman her husband cheated with on the brewery tour at Dogfish Head, the next she's opening up to the lost teen in her parent's dim beach house.
In less capable hands than Bagnall, and with actors less attuned to each other than Gerwig and Alexander, The Dish & The Spoon could be an awkward and uncomfortable journey. Instead we have a funny, warm and touching unlikely romance that is about how much we need people and how we're both rewarded and challenged for being honest with our emotions.
Gerwig's Rose is quirky with a capital "Q", but her performance is not a put-on or a sketch comedy act. There's an uncomfortable level of honesty as Rose's moods turn on a dime. There is some ambiguity as to whether Rose is disturbed or merely driven over the edge by her husband's betrayal. She is the kind of outsider who elicits strong emotional reactions from the people--especially the men-- in her life, which we get to see through the boy's eyes. I keep calling him "the boy" because we never do learn his name. It's not something the film draws attention to, but is telling nonetheless as this is very much Rose's story.
During the course of the film I fell in love with both characters, as Bagnall establishes a sweet, junior high kind of romance between these two wounded souls. The film's gray, wintery palette sets a visual tone for the film that keeps us grounded in the sense of loss and betrayal, yet this film is very much about the opposite. As Bagnall told me in an interview (which we'll have up early this coming week), the story is about how sometimes what should be the worst times of your life wind up, in retrospect, being the best.
No other film comes to mind that embraces the truth that a catharsis can actually be a lot of fun. Sure there will be great big messy tears, but there's also usually a fair amount of drinking and ill advised flights of fancy. Possibly all at the same time.
American independent film is going through a renaissance right now, and The Dish & The Spoon is one of the great lights of this era. We have to hope that audiences discover this film so that we get to see Bagnall run away with Gerwig and Alexander again soon.
The Dish & The Spoon, directed by Alison Bagnall, written by Andrew Lewis and Alison Bagnall (with additional material by Olly Alexander and Greta Gerwig). Exhibited as part of the AFI Fest 2011 presented by Audi.
Originally published on Turnstylenews.com, a digital information service surfacing emerging stories in news, entertainment, art and culture; powered by award-winning journalists.