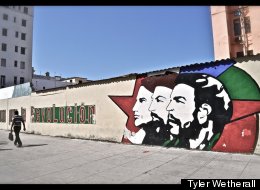 It takes a few days to notice. At first the barrage of colour and noise and sheer sensation is enough, but it will hit you eventually, an absence on your visual landscape of something that you have been bombarded with for your entire life: Advertising.
Here, there are no billboards with bursting pectorals and flash cars urging you to become thinner, richer, better, fitter, harder, faster, more beautiful and desirous of every impossible ideal. The Coca Cola red screen, the Starbucks' green siren and the yellow "I'm lovin' it" M do not form the color code of your city panorama.
What you get instead is equally prevalent: political, state-commissioned murals. They're both propaganda of a sort, working towards different ends through the medium of manipulation. They're in every barrio, in every town, along desolate back roads, weathered and lovelorn in empty fields and freshly painted on city signs.
They are a way for the state to communicate with the people and for the regime to reinforce the "triumphs of the revolution." But what would Che think now to see his face used in such a way? A commodity to be sold to the masses and a symbol of an outdated ideology?
Unlicensed graffiti however, has only really emerged on the streets in the last decade, apparently since some foreign street artists exhibited at the Biennial Art Festival starting a trend. Official bodies were quick to condemn any work created without State approval; these images were not art, but mere vandalism.
But the images persisted, as young people dared to stamp their voice over the state-smeared walls. Street art is like a mind map to the nation, where a surface engages in debate and another answers back. It is a medium of empowerment. Their spray cans are their voices, a weapon the state are just as quick to confiscate and silence.
Our Girl in Havana: Art on the walls of Cuba
The sometimes stunning, often monotonous, murals are commissioned by the CDR (Committee for Defence of the Revolution), which exist on every block in Cuba. These neighbourhood organisations promote social welfare implementing programs in education, health and such, but, most controversially, also report and monitor crime, including counter-revolutionary activity. They are the omnipresent "eyes and ears of the Revolution," a system of vigilance that uses the people against each other. The slogan of the CDR can be seen plastered on walls everywhere you travel: "¡En cada barrio, Revolución!" (In every neighborhood, Revolution!) Fifty years later amidst rapidly increasing social inequality, the irony of many of these slogans is not lost on the Cuban community.

"Fieles a nuestra historia," a wall declares outside the Museum of the Revolution. This was done by the UJC, the Young Communist League (Unión de Jóvenes Comunistas) of Cuba. Their newspaper is called Juventud Rebelde (Rebellious Youth); the different connotations of "rebellious youth" in Cuban and US society are interesting.

This, I believe, is a Jose Martí quote. You can't even begin to understand Cuban history or society without an understanding of this freedom-fighter, visionary, scribe and national hero. His poetry is beautiful.

It's always the same image; the iconic Guerrillero Heroico taken by Alberto Korda in 1960 at the memorial service for the victims of La Coubre explosion, which killed an estimated 75 and left over 200 injured. Moved by his "absolute implacability" Korda captured an image, which has become potentially the most iconic of the 20th century. Whether you agree or not, it is plastered on walls, posters, billboards, t-shirts, mass produced handbags and even shaved into young men's hair and tattooed on their skin. This one, however, with its stunning use of colour, particularly stood out to me.

Repainting these murals over the last half a century is quite a mammoth task, and just as often as you see men with paint pots carefully touching up their faces, you see walls like this: a perfect metaphor for the faded potency of a once vibrant ideology.

This is a common slogan: "Revolution is to change all that should be changed."

It would be impossible to talk about street art without including the explosion of colour and music that is Callejon de Hamel. Every surface has been utilised by Cuban artist Salvador Gonzáles Escalona at this hub of Afro-Cuban culture. Locals and tourists descend for a foot-stomping, hip-grinding Sunday rumba frenzy, but if it's art you're after it is better to come midweek.

This is a small section of a long wall of graffiti on Prado. I was particularly drawn by the naked boy in a Santa hat sticking his tongue out, the image of death in the skeleton and metaphors of the desire for escape in the land-locked boats.

I found this impressive 'tache around the corner from the Spanish Embassy opposite new bar Cafe Lucero.

It was rare I came across traditional graffiti like this in Habana Vieja. It is a sign of the 21st century fighting its way in, of irrepressible youth expression.

A very different sort of image around the corner from Plaza Vieja.

I was trying to get a photo of this little boy playing catch between the skeleton of this former building. It was only when I came back to it that I saw his hands reaching towards the Cuban flag, and there was something sort of hopeful about it.
Follow Tyler Wetherall on Twitter: www.twitter.com/tylerwrites