For college students, searching for scholarships seems like an impossible task. But, there is a way to make this task more bearable and guide you to some extra money for tuition and books.
The idea of applying for scholarships is something that nearly all high school seniors think about, but not usually something that college students plan. Think about it - once you are enrolled in college, your top priorities are receiving good grades on exams, surviving all-nighters, and balancing full-time work and volunteering work. There does not seem to be enough time - or energy for that matter - to hunt down the scholarships to ease your tuition. But, there are ways to assist you with this task.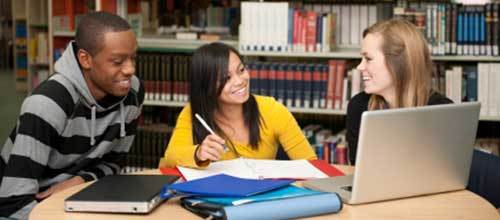 1. Office of Financial Aid
Every single school has a department called Office of Financial Aid, where students' financial bills and payments are processed. At the beginning of the year, you should visit the Office of Financial Aid, express your interest in seeking scholarships, and ask for a list of scholarships that you are eligible to apply in that entire college year.
You should do this early because as the semester picks up the workload, you will not have much time to work on these applications. Start early when you are free so you can write a good personal statement, obtain letters of recommendation, and even finish the applications aside to mail them out near the deadline. The more prepared your application is, the higher chance that you will receive scholarships over some other students, who typed up essays on the night before the postmark deadline.
From your high school to local businesses, there are always places that can offer college students some scholarships. Some will require you to write essays while others will require certain hours to volunteer during summertime. Most importantly, these scholarships will be smaller in scale (couple of hundred dollars usually), but at the same time, they will be less competitive because you will only have to compete against students in your town.
The best way to gather such a list is to contact your high school guidance counselor. You may dislike your high school, but when it comes to money, you need to set aside your personal discontent and instead think about books and other supplies that these scholarships may help.
3. Online Scholarships by Major
This is the toughest of all because now, you are surfing the Internet to compete against scams, other talented students in the same situation as you, and even stringent requirements. If your major is in humanities such as philosophy, history, English, and others, then you may not always find online scholarships that pertain solely to your major. On the other hand, for scholarships in economics, biology, chemistry, and engineering, there are abundant lists of scholarships that you can apply for a significant amount of money. This is much better than simply typing the word "scholarship" into Google or logging on to Fastweb. Keep in mind, however, that these scholarships will most likely require essays, letters of recommendation, internship experiences, and other meticulous requirements.
So, weigh your options, but the best advice for all three methods is to plan early.
SUBSCRIBE TO & FOLLOW LIFESTYLE
HuffPost Lifestyle is a daily newsletter that will make you happier and healthier — one email at a time. Learn more