After the long, bitter legal battle with Bravo, Project Runway Season 6 finally premieres on Lifetime next Thursday! What has two thumbs and is super excited, so much so that she has drafted a Project Runway Fantasy Team? This girl!
I have been a somewhat obsessive fan of the show from the start, and last year I thought it would be fun to recap the episodes on my personal blog. That didn't go so well, mainly because of the wine I consumed while viewing (leading to comments such as: "If Moonstruck-era Cher had a threesome with Ricky from My So-Called Life and one of those generic bodega bins of sherbet, this would be their love child." But really, it would. Look.) Also I tended to recap the show approximately 8 days later. But this year I am committed to being a good recapper, and so am starting early. I'm doing training exercises, like writing bitchy comments in shorthand and practicing pronouncing TRESemmé. Most importantly, I have studied the videos Lifetime has up on its site about the Season 6 contestants so that I can handicap their chances. There is a ridiculous amount online if you want to watch it, but I already did, so you don't have to. (FYI my "first impressions" were recorded before I watched any video, so are based solely on the photos you see here. And if you are a newcomer to the show and don't get my references to former contestants, educate yourself on Bravo or Wikipedia.)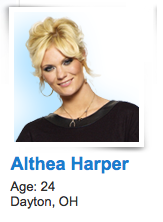 First impression: If Delta Burke, Dixie Carter, Jean Smart and Annie Potts had a baby....without the aid of Meshach Taylor.
Annoyance level: Low. Althea is bubbly and cute without being too ditzy and seems pretty self-aware.
Style: S&M Barbie. A lot of leather, but not Stella leatha. More like Forever 21 pleatha.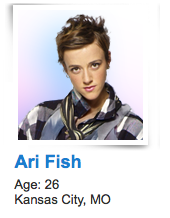 First impression: Why is Samantha Ronson on this show? Shouldn't she be DJing or filing restraining orders against LiLo?
Annoyance level: Low. She reminds me of basically every person that went to Wesleyan, my alma mater: artsy, smart, probably bi. You'd want to have dinner with her, but at a restaurant, not at her house. She'd make you eat spelt pasta and probably wouldn't serve booze.
Style: LL Bean Couture. Everything is reversible with this girl. Her life's dream is to make "a jacket that turns into a backpack that turns into a tent." Direct quote.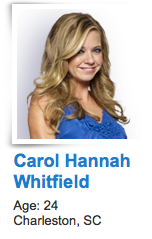 First impression: Never trust a girl with two first names.
Annoyance level: Medium. Has a tendency towards sorority girl inflections, not terribly articulate. Goes by "C.H." Also, no points off for this, but video makes it look like she is homeless and lives out of her car.
Style: Structured and girly. Pieces you'd immediately want to wear, but very mainstream.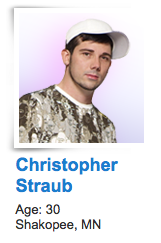 First impression: Token straight guy.
Annoyance level: So low! Midwestern gay (camouflage and gimme caps throw me off), exceedingly cute and witty. Shops at Walmart for fabrics, has partner named Ronnie with whom he collects adorable knickknacks.
Style: Pieces for young women with interesting details like inside-out pockets and fur. Not too daring but the recessionista vibe will win him points, as will his cute tee-shirts.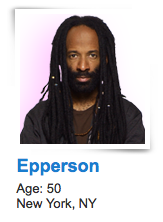 First impression: Be frightened of New Yorkers with one name.
Annoyance level: Very low. Has adorable family and is much less scary than his photo. Still goes by only one name, however, which is always annoying (but perhaps understandable since first name is Rodney?)
Style: High fashion. Had piece at Museum of the City of NY already; Tim Gunn and Laura from Season 3 think he's too good for the show. Gauntlet officially thrown down.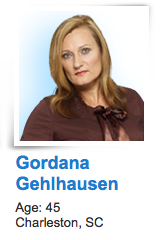 First impression: Best name ever. Am pronouncing both with a hard G no matter what. Take-no bullshit European.
Annoyance level: Low. From former Yugoslavia, lives in SC with two teenage children. Has boutique, obviously hardworking. Will be pissed when she is auf'ed in favor of a 24 year-old fashion school grad (Althea, "C.H.," I am looking at you).
Style: Very feminine pieces with a lot of detail.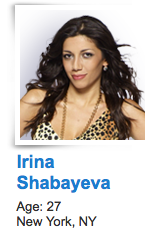 First impression: Kim Kardashian. Is that racist?
Annoyance level: Medium. Has a poodle named Princess, which is an immediate black mark. Also uses the word "Oriental." But seems capable, if a little JAP-y. Even though she's from Republic of Georgia. Do they have Jews there? I think so, it's a part of the former Soviet Union. I should have consulted Wikipedia before typing.
Style: Structured, feminine clothes, plus she makes hand-tooled leather handbags.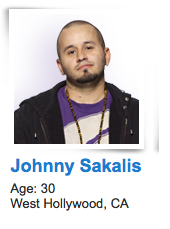 First impression: OK, no this is the token straight guy. Or the guy who lost the role of Turtle on Entourage to Jerry Ferrara.
Annoyance level: [First, DAMMIT, wrong again. Are there no straight men on this show? No Motor City Joe of Season 5?] Relatively low. Very earnest, has tried out for show four times already, seems like a nice guy.
Style: Lattice-work detailing and punk-rock damask silk jackets. Pretty cool.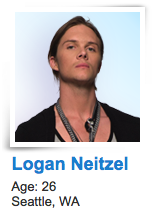 First impression: Asshatus Maximus
Annoyance level: High. I could barely watch his audition tape to the end because I had to fix my douchebag meter, which had exploded. Narcissistic, pretentious... Logan is, at least, a good foil for all of the relatively nice people we've seen so far. Think Santino but without the sense of humor. Ugh.
Style: Rocker chick, but retro and pretty. Although he did create an acid-wash denim puff skirt for his casting session. With elastic pockets.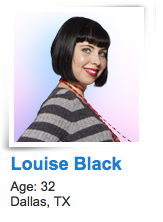 First impression: Diablo Cody meets Janeane Garofalo's character in Reality Bites, looks-wise. Let's hope her personality matches.
Annoyance level: Medium-high. She's quirky in a vaguely creepy way, like keeping tons of antique doll heads in her apartment. Her audition tape, which consisted of Louise awkwardly reading cue cards with her head sticking out of a homemade cutout, made me cringe.
Style: Vintage/retro (she loves the 17th century), but with her own couture twists. Based a really cool top (made of opera gloves!) on Winona Ryder's Beetlejuice character.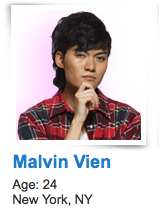 First impression: Fresh out of Parsons, likely obnoxious (pensive hand on face pose = dead giveaway)
Annoyance level: Medium-high. Definitely believes he "deserves" to be on the show at 24, and lists his favorite designer as "Myself." Is, however, well-spoken and cares a lot about social change and using fashion as a tool to reflect the changing culture.
Style: Loose, androgynous pieces (think slouchy hoodies and shapeless dresses). Very of-the-moment but not terribly memorable.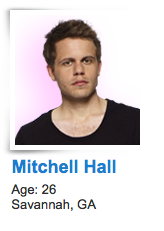 First impression: Dexter meets Emmet from Season 2. Either gentle giant .... or psycho killer.
Annoyance level: Low. Neither gentle giant (he's a charismatic Southern boy, like Kayne from season 3, but if Kayne were on Xanax and stopped dyeing his hair) nor psycho killer (fox-pelt rug notwithstanding), Mitchell is polite and well-groomed and the kind of boy you'd take home to Mom (but only if you also are a boy as Mitchell is gay as the day is long).
Style: Ethereal tops and dresses in neutral colors (he's red/green colorblind). Interesting textures and great workmanship. So far Mitchell's are the clothes I'd most want to wear.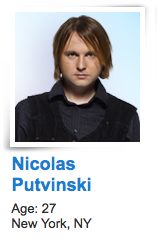 First impression: John Hodgman with a very bad wig.
Annoyance level: Low verging on medium. He's actually pretty likeable and charismatic, but definitely thinks highly of himself and his work (albeit with good reason: he's had pieces featured in W magazine and does "featherwork" for Marchesa). Faint Euro accent (he's Russian, and lived in London for years) could swing Nic either way on my annoyance meter. Only time will tell.
Style: Sequins! Sparkles! Feathers! It's part old Hollywood glamour, part disco flash, and it's really rather fabulous.
First impression: LOVE. HER. Look at that punim! Could you die?
Annoyance level: Low. She's just what you'd think from her photo: Bubbly, down-to-Earth, easy to like. Plus, her name is QRISTYL.
Style: "Plus-sexy." Qristyl has designed for Queen Latifah and tends towards colorful fabrics in classic shapes like A-line swing dresses and sheaths. Sadly, I have a feeling that the plus-size specialty won't serve her well, unless she gets a plus-size model.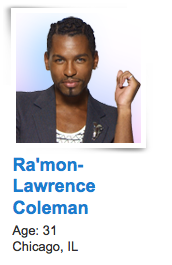 First impression: Oh, black Clark Gable, you are fahhhhhbulous, darling.
Annoyance level: Low with a chance of medium. His throaty voice and flamboyant wardrobe make Ra'mon-Lawrence someone you want to watch. He seems poised to be Jerell-esque, only more fierce, but could turn out to be a dick. It's hard to tell.
Style: With the most range of the group (at least judging from what he showed during his casting), R-L can pull off everything from a simple white shirt to an evening gown with panache. He loves prints and embellishments, like dyes and texture treatments.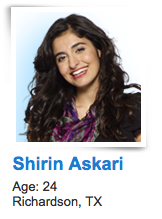 First impression: Looks kind of like Irina. I know it will take me weeks to tell them apart. Shit.
Annoyance level: High. Uses air-quotes, wears tiny Peter Pan hats, brags about excelling "at this stage" in her career (she's 24). If only she had a tugboat captain father and a bunch of tulle, she could give Kenley a run for her money.
Style: Cute multi-use pieces with crafty details, but at casting the judges commented that she wasn't pushing herself enough (I volunteer to push her ... off of something high).
The show is set in L.A. this year, which should make things interesting. Maybe instead of designing for Olympiads they'll have to craft costumes for the girls over at the Spearmint Rhino! Or instead of the Gristedes challenge they'll have to use In N' Out burger buns and Roscoe's chicken and waffles! A girl can dream. Check in for my season premiere recap next Friday.

SUBSCRIBE TO & FOLLOW ENTERTAINMENT
HuffPost Entertainment is your one-stop shop for celebrity news, hilarious late-night bits, industry and awards coverage and more — sent right to your inbox six days a week. Learn more