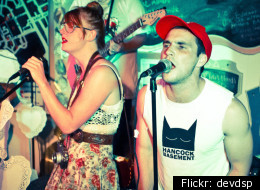 This is it. Look no further -- you've found the definitive list for colleges with the most hipster culture in America! Only a few lists remaining in the 2013 Unigo College Rankings, we'll be back on Monday with the next installment...
Top 10 Colleges Whose Students Knew About This List Before You Did
<
Top 10 Most Hipster Colleges
See everything students are saying about Colorado College on Unigo.com While a lot of colleges find themselves isolated culturally or politically from their surroundings, Colorado College may take the cake: while its student body may be overwhelmingly liberal, the school shares a home city with the Air Force Academy and the headquarters of conservative group Focus on the Family. While the location may be less than ideal for some students in that regard, its proximity to the outdoors will keep the rock-climbing, biking, hiking hipster happy. In similarly eco-minded style, the college has a student-run farming program and two-acre garden that contributes its crop to the dining hall as well as the local farmer's market. (In the hipster spirit of contrariness, of course, there is also a meat appreciation club.) Colorado also sets itself apart academically, trading semesters for eight "blocks" a year, in which students take only one class for a month before moving on to the next course. Thanks to this structure, students get to go on the kind of week-long field trips -- to study volcanic rock formations or traditional Native American ceremonies, for instance -- that other students and professors only dream about.

See everything students are saying about Vassar on Unigo.com Students at Vassar love the air of creativity on campus, and as the sheer amount of student organizations dedicated to literary, dramatic, comedic, and artistic work show, there's good reason. Beyond your usual a capella groups and dance teams, though, Vassar's clubs include juggling troupes, all-female theater collectives, erotic journals, and punk music enthusiasts -- these are the kind of niche activities that should appeal to any student who felt alienated in high school because of an interest no one else shared. Students at Vassar have noted that while there is certainly a mix of hipsters and more "mainstream" students, a prospective Vassar undergrad should think seriously about his or her tolerance level for indie music and artsy quirks. And while the school has its fair share of "trustafarians," they say, you won't find many students flaunting gaudy Gucci bags, as the hipster style crosses all the socio-economic levels at this college.

See everything students are saying about Sarah Lawrence on Unigo.com If any school has a motto that sounds like a hipster rallying cry, it's Sarah Lawrence: "You are different. So are we." And while you might expect the school to be similar to all the other small liberal arts colleges in the northeast, Sarah Lawrence gives its students an amount of academic freedom that is unusual: the school eschews grades, majors, and even exams. The lack of structure encourages a kind of self-reliance and individuality that students say allows a Sarah Lawrence attendee to satisfy their intellectual curiosity and allows them the free time (if they can manage themselves well) to delve into their quirky non-academic interests as well. Students are also quick to point out the pervasive air of sexual fluidity and gender progressiveness -- it would be blasphemy, some say, to express anything but the most advanced views on such matters. And while the school can find itself to be somewhat isolated in its suburban community, many students take advantage of nearby New York City on weekends, allowing them access to a larger hipster scene than most small liberal arts colleges can provide.

See everything students are saying about Kenyon on Unigo.com While Kenyon is another small liberal arts school, in many ways it differs from the rest of the hipster schools of similar size: not only does it have a Greek system on campus, but many students say that the fraternities and sororities play a major role on the social scene. But Kenyon comes by its hipster status in more academic ways. Noted for its prestigious literary journal, the Kenyon Review, the school provides a great amount of opportunities and venues for students to engage in the creative side of academia. Even with an undergraduate class of only 1,600, the school boasts five different publications of student-made literary and journalistic work. (As a saying on campus goes, "football is to Ohio State as writing is to Kenyon.") And if writing isn't your thing, you can help out with the Horn Gallery, a student-run art gallery and performance space on campus. Think of it as "intellectual hipsterism." Of course, everyone needs to blow off steam, so the hipster-oriented Kenyon undergrad can always take some time off to pal around with the juggling club or study up on your knitting and woodworking at the Kenyon Craft Center.

See everything students are saying about Hampshire on Unigo.com The most hipster-friendly school in the five college consortium around Amherst, Mass., Hampshire is another school on the list without grades -- in fact, its whole academic system is out of the ordinary. The school splits students' time into "divisions" that build toward a final project instead of years, and this kind of unorthodox style -- along with the encouragement of professors -- allows students to pursue the kind of off-beat academic interests that may be more difficult at other schools. And though the workload can be intense, Hampshire students also emphasize the recreational traditions of the school, many of which have their own hipster bent. There's Hampshire Halloween, which features not just crazy costumes, but burlesque performances. There's an annual Drag Ball at which students get decked out in their best cross-dressing style. And there's even an "Easter Keg Hunt," in which students tap kegs out in the woods on Easter morning -- preparing students for years of drunk brunches at their local hipster eatery.

See everything students are saying about USC on Unigo.com Like the other large school on this list, the University of Southern California is large enough to provide a scene for almost any kind of student. And while the school was once dominated socially by its Greek system, students say a change of administration has moved USC away from its party-school reputation -- now, they say, students who aren't into frat parties can ignore them and still lead a robust social life on campus. And even if football games get most of the school into a frenzy, USC is a great school for all those sporty hipsters who want to get involved with skateboarding, ping-pong, quidditch, climbing, and surfing. (And after burning all those calories, they can refuel at the club for self-identified foodies.) But perhaps the biggest draw for any hipster is the location of its campus, right in the center of Los Angeles. Like the students at NYU, Trojans can supplement their school-sanctioned activities with everything Los Angeles has to offer, including the hipster hive of Silver Lake, located a short drive away.

See everything students are saying about NYU on Unigo.com With the East Coast epicenter of hipster style a few subway stops away, students at NYU don't have to worry about the bubble effect found at many other school, where going off campus means getting strange looks. With the city at their fingertips, NYU students can frequent clubs, bars, and whole neighborhoods that are directly suited to the hipster ideals of vintage clothing, record collecting, and adult dodgeball. A school this large doesn't have the same homogeneously hipster population as Oberlin or Reed -- there is a fraternity system, which can't be said for many of the other colleges listed here -- but its size allows students to pursue activities that would be impossible at other schools. At NYU, you can join clubs that train for the event of a zombie apocalypse, encourage an obsessive love of Korean pop music, or provide a forum to celebrate your love of cheese. Anything a student can't find on campus is bound to be little more than a subway ride away, which makes this an unbeatable location for matriculating hipsters.

See everything students are saying about Reed on Unigo.com Many of the schools on this list have a student body full of both hipsters and hippies, but at Reed College, the two groups seem like one and the same -- which is fitting, considering the stereotype of its home city, Portland. It's not unusual to encounter students involved in projects like constructing fixed-gear bicycles, brewing their own beer, or "buildering" (which involves climbing buildings in addition to natural rock faces, for those not in the know). Not only does Reed have a wealth of student organizations that would be attractive to any hipster-inclined student -- think groups for skateboarding, pie-making, and electronic dance parties -- but the school also has a fund specifically set aside to subsidize events on and off campus. At most schools that would mean only academically inclined speakers and museum trips, but Reed provides money for dance parties, surfing trips, and concert tickets as well. And while the average school celebrates the end of the year with keggers, barbeques, and dances, Reed goes out with the Renn Fayre, a three-day celebration that involves seniors burning drafts of their theses, a parade, and a "glow opera" -- a concert in the dark, accompanied only by the light of glow sticks.

See everything students are saying about Oberlin on Unigo.com Oberlin may be located in a rural area that lacks a true "college town," but in many respects the tight-knit campus is surprisingly like a transplanted section of Brooklyn. Famous for its progressive politics and quirky student body, Oberlin doesn't disappoint if you're looking for a student body that takes the idea of hip so far it nearly becomes unrecognizable. (Not many colleges can boast recognizable around-campus fixtures like "Flashdance girl" or "Guy in a onesie made of leaves.") And while most liberal arts schools have their fair share of characters in the student body, Oberlin's hipster bona fides goes beyond people's clothes: its list of student organizations includes a bike co-op, a slow food group, and a quidditch league. The school even boasts a collection of co-ops called the Oberlin Student Cooperative Association which function as an alternative to fraternities and sororities -- though with a stronger emphasis on local foods, recycling, and compost than you'll find in your normal Greek row.

See everything students are saying about Bard on Unigo.com If one sign of being a hipster is an obsession with something that would have made you one of the weird kids in high school, then Bard is the kind of school where hipsters in training go to hone their skills. While the student body rejects the stereotype that they all wear skinny jeans and ironic T-shirts, it admits that the hipster aesthetic is a popular one around campus. Of course, it goes deeper than clothing choices; the pursuit of obscure interests in not just ubiquitous but encouraged among the student body. Bard is home to the second bike co-op in as many entries on this list, as well as clubs that focus on gluten-free and vegan baking, the construction of paper airplanes, and roller derby. While Bard has a more rigorous process for choosing a major than one might expect from such an aggressively eccentric institution, but unsurprisingly, the visual and performing arts are consistently the most popular choices among the student body.
Want to learn more about these schools? Click on the link in the slide to visit their profiles where you can talk to current students about what life is really like on campus!
Keep up with Unigo on Twitter at @Unigo
Get the latest news and offers from Unigo on Facebook at www.facebook.com/myunigo