Even a short break from the stress of everyday life is enough to trigger a renewed sense of health and well-being. But choose to spend your reprieve at a wellness retreat, and your mental and physical fitness will reach new heights. Resorts around the world offer health-focused programs for travelers looking to dine on waistline-friendly foods, tone up with fitness classes, relax the mind with meditation and indulge in revitalizing spa treatments.
These types of resorts span the globe, but deciding where to go shouldn't be stressful. To guide you to a healthy retreat, U.S. News Travel found 10 places -- from Austin, Texas to Koh Samui, Thailand -- to rejuvenate the body and soul.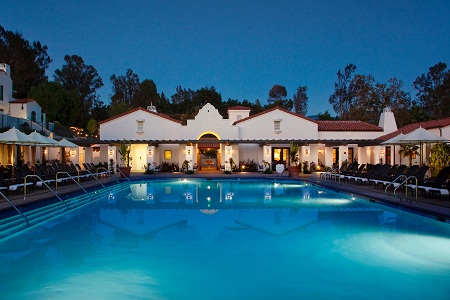 Courtesy Ojai Valley Inn & Spa
[In Pictures: Best Vacations for Health Nuts]
Ojai Valley Inn & Spa
Ojai, Calif.
For some health-conscious travelers, the ideal vacation offers the perfect dose of tennis, biking and golf to get the blood pumping. Those travelers will find plenty of opportunities to soak up the great outdoors at the Ojai Valley Inn & Spa, built into green rolling hills and nestled in the shadows of California's Topatopa Bluffs mountain range. Complete with luxury accommodations, golf academies and even custom aroma-blending classes, the Ojai Valley Inn & Spa has something to satisfy any active traveler. And there's more to experience: "We also offer three spiritual journeys -- astrological reading, creation of a personal mandala and card reading," added spa director Gloria Ah Sam. When it's time for a meal, Ojai Valley's team of 12 chefs offers meals prepared in part from produce grown on the property. And because no healthy vacation is complete without spa time, each Native American-inspired treatment at Spa Ojai aims to heighten your mental and physical wellness -- sample a service like a Detox Massage or an Organic Sea Mineral Body Wrap.
The BodyHoliday, LeSPORT
St. Lucia
A trip to the beautiful beaches of St. Lucia is enough to clear the mind, but The BodyHoliday at LeSPORT goes beyond a cliché Caribbean vacation with all the extras a health nut could hope for. And because the resort is all-inclusive, you can enjoy rest and relaxation without reaching for your wallet. Cycling, jogging and walking routes weave throughout the property and group exercise classes include everything from Zumba and spinning to tai chi and combat fitness. After getting your adrenaline pumping, wind down in the beachside breeze with daily yoga sessions that accommodate all skill levels. If yoga doesn't inspire inner peace, a staff of personal trainers will guide you through other on-site activities like waterskiing, golf, tennis and more. Of course, all that activity is bound to make you hungry. Thankfully, the BodyHoliday has four on-site restaurants, each serving calorie-conscious cuisine sourced as locally as the resort's own vegetable garden. But your path to wellness doesn't stop at diet and exercise; treatments at the on-site spa include an Aloe Vera body wrap and a rhythmic massage dubbed "The Saint Lucian Sizzler."
Shreyas Retreat
Nelamangala, India
If you're a practicing yogi, say "namaste" to the Shreyas Retreat, a tranquil resort nestled among nature just outside of Bangalore, India. Personal coaches and meditation huts make Shreyas any yoga enthusiast's paradise with daily yoga and meditation classes that will keep you busy between vegetarian meals. The resort's 25 acres allow you to commune with nature and alleviate the day-to-day strains that can take a toll on personal health. For a customized food menu and healthy living plan, Shreyas offers 14-night and 21-night weight management packages -- but keep in mind that the retreat aims to restore inner peace rather than outer beauty. Amid brushing up on your Sanskrit, take part in spa treatments, chanting classes and on-site farming. "Our guests can let go of the outside world and all the tensions and stress that it brings," said Shreyas Retreat CEO N. Balaji. "Our goal is to lead them down this pathway of self-discovery."
[See: 10 Affordable Spots for Summer Vacation]
Amansala Eco-Chic Resort + Spa
Tulum, Mexico
Twenty-four minimalist yet modern cabanas help Amansala Resort + Spa earn its "eco-chic" name. The stylish accommodations are designed to help you leave the hustle and bustle behind and immerse yourself in the resort's sandy, oceanfront setting in Tulum, Mexico. It's Amansala's well-regarded programs that distinguish this spot for wellness-seekers. Bikini Bootcamp, the resort's weight-loss vacation, packs each day with plenty of exercise classes, spa treatments and low-calorie meals. (Bikini Bootcamp's five- and six-night programs begin on specific dates throughout the year, so be sure to check the schedule at booking.) If you're in search of a body and mind getaway, Amansala offers a six-day Destination Detox program. The cleanse focuses on raw food, meditation, beach walks and spa relaxation. While the detox is available at any time, you can get support from other cleansers during seven designated group detox weeks each year.
Miraval Resort & Spa
Tucson, Ariz.
Feel like your hectic lifestyle means you have to move mountains to maintain your health? It turns out the trick may be moving yourself to the mountains. Miraval Resort & Spa, which sits alongside Tucson's Santa Catalina Mountains, boasts an idyllic 400-acre landscape perfect for relaxation and recreation. "Miraval is dedicated to helping individuals lead healthier, more balanced lives all at their own pace," said Carol Stratford, vice president of marketing. And one way guests take advantage of this flexibility is by personalizing their experiences. Before your stay, you can take an online survey used to measure personality and health goals and use those results to arrange every aspect of your getaway. Plan to listen in on "Floating Meditation" and "Intuitive Living" lectures and enjoy locally sourced meals at Miraval's on-site restaurants. Low-calorie takes on popular dishes like fish tacos, gnocchi and flatbreads are offered at Miraval's Cactus Flower Restaurant. At the Life in Balance Spa with Clarins, you can experience internationally-inspired restorative treatments like Abhyanga ancient healing massages or reiki stress reduction therapies.
Canyon Ranch in Lenox
Lenox, Mass.
Western Massachusetts may not immediately conjure images of a relaxing vacation, but at Canyon Ranch in Lenox the peaceful setting is a near-perfect complement to the all-inclusive health resort. For the fitness guru who prefers milder weather to the heat of popular Caribbean or southern U.S. spots, Canyon Ranch in Lenox offers activities like skiing, snowshoeing and climbing through a woodland ropes course. You can also exercise your mind through jewelry-making and painting classes or immerse yourself in meditation sessions. If you seek more structure in your vitality-boosting getaway, Canyon Ranch offers a number of specialized health programs that focus on weight loss, improved spirituality, life management and nutritious eating.
[See: Tasty Cooking Vacations]
Kamalaya Wellness Sanctuary, Luxury Detox Resort & Holistic Spa
Koh Samui, Thailand
Arriving at the Kamalaya Wellness Sanctuary in Koh Samui, Thailand marks the start of a meaningful, health-conscious journey. "Every stay begins with a wellness consultation, during which our guest meets with a naturopath to discuss their medical history and goals," said Kamalaya co-founder Karina Stewart. "Together they select the best program or services which can be tailored to meet individual needs." Those wellness programs abound; Kamalaya offers remedies for weight loss, detoxification, stress, fitness and sleep enhancement. But restful sleep should be pretty easy to find on-site: Villas and suites are built around a central cave that once served as a Buddhist monk retreat. Guiding principles of balanced, holistic wellness continue to inspire the resort's approach to healthy living through practices like acupuncture and Chi Nei Tsang abdominal massages.
Pritikin Longevity Center & Spa
Miami
The three-pronged Pritikin Program (nutrition, exercise and mind-body health) at Pritikin Longevity Center & Spa applies a medical approach to healthy living; guests begin their all-inclusive wellness trip with an hour-long physician consultation. The program is designed to have a lasting effect, according to Pritikin Center General Manager Hubert Wewer. "A vacation at Pritikin has true take-home value," he said. "Many describe their stay, set in a 650-acre golf and vacation resort, as one of the best experiences of their life." But before the experience can stick long-term, you must complete the program's exercise regimen, which includes water aerobics, spinning and Zumba classes. Between classes, you'll participate in the resort's heart-healthy eating plan with five daily meals and snacks. The program also includes mind-body classes like "Setting Yourself Up for Success" and "New Thoughts, New Behaviors," which teach lifelong healthy living skills. Set aside some time to focus on the here and now at the Pritikin Spa, home to massaging hydrofalls, cold-water plunges and a diverse menu of more than 100 treatment options.
Lake Austin Spa Resort
Austin, Texas
Breathe easy under the Texas sky at Lake Austin Spa Resort in Austin, where you'll be surrounded by lakeside views and plush gardens. An outdoor massage is just one way that the team helps guests achieve ultimate Zen. "Our lakefront location welcomes relaxation and many of our guests find that an afternoon nap in the hammocks under the trees is the best therapy they can find anywhere," General Manager Tracy York said. When you've had enough lounging around, creative fitness classes like "Nautical Noodles" (think water aerobics with a pool noodle), SH'BAM (a cardio pop-dance class) and countless others are offered around the clock to get you in motion. Refuel with Lake Austin Spa's on-site cuisine that's well-suited for thinking thin (dinner entrees at the hotel's restaurant rarely exceed 400 calories). Be sure to save time for the 25,000-square-foot spa -- the menu offers more than 100 treatment options, including an espresso-imbued "Jasmine Java" body scrub.

Red Mountain Resort
St. George, Utah
Health and wellness retreats aren't always about relaxation. The mountainside setting at Red Mountain Resort in St. George, Utah, lends an active approach. At this resort, rappelling and canyoneering top the list of aerobic fitness activities. The resort's General Manager Tracey Welsh cites that sense of exploration as a particularly appealing part of the Utah wellness destination. "Red Mountain is a getaway that honors our guests' healthy lifestyle choices by providing them with a place that supports their commitment to health, while providing them with the excitement of adventure," she said. But even if you choose to stay off the mountain, you can appreciate its contribution to the panorama. Enjoy the view while you work through customized fitness programs. Or spend your time learning proper food prep at "Eat Well, Feel Well" cooking demonstrations. When it's time to wind down from all the activity, venture to the on-site spa, where body treatments are infused with desert botanicals.
[In Pictures: Best Vacations for Health Nuts]
-- Allison Goldstein