By Miriam B. Weiner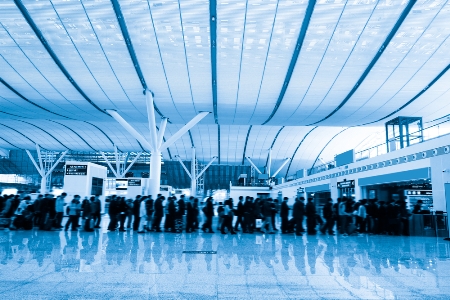 Flying is a feat of endurance: Not only do you spend long hours in the air, but also a hefty chunk of time at the terminal. Frequent flyers often recommend budgeting several hours for pre-flight prep to spare yourself the hassle of a longer-than-expected wait at check-in, or worse--a stagnant line at security.
For many travelers, facing the Transportation Security Administration (TSA) is one of the most frustrating aspects of air travel. The media often buzzes with tales of privacy violation and uncouth security agents. Couple that with long, slow-moving lines (especially during the busy holiday season), and airport security can feel like an absolute nightmare. However, careful preparation and a tactful approach can help you breeze right on through. Here are a few tricks to help you whiz through the checkpoint and carry on your way.
[In Pictures: How to Fly through Airport Security]
Check out PreCheck
Airlines have taken steps to shave hours off your terminal time by introducing an early check-in option, and the TSA has recently followed suit. The PreCheck program allows participants (identified by barcodes on their boarding passes) to clear security without removing their shoes, jackets, or belts. PreCheck also doesn't require travelers to remove laptops from their cases (note that no passenger is immune to random security measures like pat-downs or palm-testings). Although TSA plans to expand the program by the end of 2012, PreCheck is currently exclusive to frequent flyers on participating airlines--such as Delta, American Airlines, United Airlines, and US Airways--and members of the government's Global Entry program traveling from select U.S. airports. To find out if you qualify for the program, visit the TSA website; if not, there are several other ways to accelerate a screening.
Pack like a Pro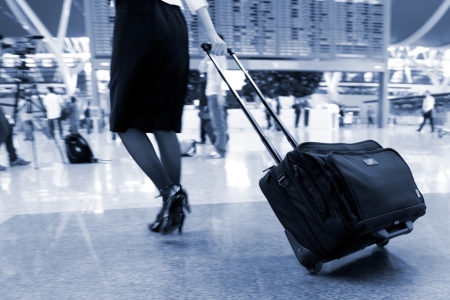 By now, you're likely aware of most Transportation Security Administration rules, like a required photo ID and a three-ounce limit on liquids, so there's no reason not to be organized when you approach the security checkpoint. As you're packing your carry-on, organize your items by order of need, with your travel-size toiletries (in zip-lock bags, of course) and your papers in easy-to-reach places. Doing so will help you avoid sifting through magazines, snacks, or clothes to find your boarding pass, not to mention a conflict with travelers waiting behind you. In terms of your documents--all too often we forget we put our ticket in our jacket pocket or our passport gets lost amid a sea of other items at the bottom of our purse or briefcase. To keep moving forward (and avoid that moment of panic), stow your identification, boarding pass, and any necessary medical documents in a secure and separate pocket of your carry-on.
[See: How to Avoid Thanksgiving Travel Disasters]
Untie for Time's Sake
Like the liquid restriction, the required removal of footwear is nothing new, and yet this rule still causes major delays at security checkpoints. The reason? Laces: Having to untie (or unzip or unbuckle) your shoes just increases the amount of time you spend with TSA agents. Instead, improve your screening time--and your level of comfort--by sporting slip-ons while traveling. And while you're at it, remove any belts, jewelry, or outerwear and stow it in your carry-on before you encounter the scanner. This will ensure you swift passage through the detectors without a high risk of a pat-down.
Coddle Your Computer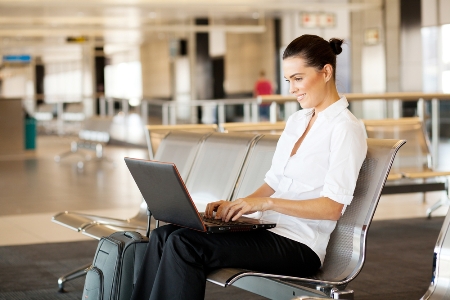 In order to make sure that your computer hasn't been tampered with, TSA requires an unobstructed view of your hardware. But while juggling your shoes, jacket, ID, and miniature shampoo bottle, keeping track of everything can get complicated. Throw a cumbersome--and fragile--laptop into the mix, and you could find yourself in disarray by the time you reach the scanner. To save yourself the annoyance of needing to take out your laptop in transit, splurge on a new, TSA-approved laptop bag. You can choose from three different styles: Butterfly, Trifold, and Sleeve. All three case types allow the X-ray machine a clear view of your computer as it coasts comfortably on the conveyor belt. While the TSA does not endorse any specific brand of bag, it does warn travelers against cases with metal zippers or buckles in the laptop section--you can find all the details on the TSA website. And since you're already thinking about gadgets, consider stowing any other electronics--such as camcorders--in your checked luggage, as those items need to be exposed for scanning as well.
[See: 11 Worst U.S. Airports for Layovers]
Scope Out Security
Contrary to popular belief, a shorter line does not always mean a faster line. As you approach the security checkpoint, take a look at your fellow passengers: long queues of business travelers will most likely clear the way faster than a line comprised of families with small children. Also, survey to see if these other passengers have prepared as well as you; if you spot a couple of 20-somethings sporting high-top sneakers or a set of parents juggling diaper bags and strollers, steer clear. Another tip: Try to maneuver your way to the agents at the far ends of the security area. It's human nature to take the shortest route, which usually leads to the center checkpoints; this leaves the scanners at the far left and far right free and clear.
Succumb to the Scan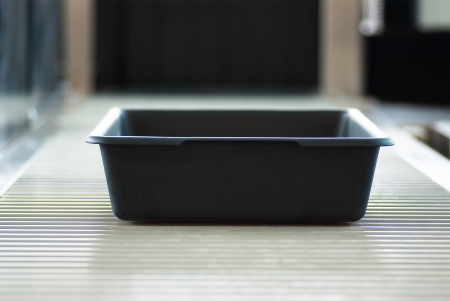 There has been a lot of backlash surrounding the recently introduced full-body scanner. While some passengers worry that the radiation emitted from the scanners could lead to medical issues later on, most travelers are simply uncomfortable with TSA's newfound ability to see through clothing. What's more, opponents of the full-body scan argue that--like strip searches without probable cause--this new security method violates our basic human rights. Our advice: Just go with the flow. Passing through the full-body scan is quick, painless, and much less nerve-wracking than a pat-down. If the actual imaging makes you uneasy, remember that TSA agents aren't interested in seeing what you look like in the buff, but rather preventing a possible terrorist attack.
Don't forget to Smile
It may not be your favorite aspect of traveling, but taking out your frustration on security officials is a surefire way to slow you down. Before you cop an attitude, put things into perspective: Just imagine how many grumpy globetrotters those TSA agents deal with on a daily basis. Airport security is certainly no walk in the park, but if you keep your cool and don a smile, you'll make the procedure more pleasant for yourself and everyone around you.
[In Pictures: How to Fly through Airport Security]
Related on HuffPost:
Best Photos From The Window Seat
Atomische:Wisconsin http://www.atomische.com/series/WinterRecon

skovachsc:I fly over 50,000 per year so I see a lot of sunsets as I'm heading home to Seattle.

Whydah1717:Flying out of San Diego, north to San Jose. March 2011.

Whydah1717:Flying over the Mississippi River enroute to St. Louis. Coming from the east.

schlegeldiane:

schlegeldiane:

Jamie Siegel:Enormous ice cap crater near the arctic circle over North America.

pegni:Turquoise waters!

shaug65:Hitting Chicago

jbennecke:

atingram:Early morning departure from Portland, Ore. (PDX)

atingram:Flying around a thunder boomer!

atingram:Westward Bound Looking Down

atingram:Catalina Island in the Background

atingram:103-degree August Departure from ATL

therealCGB:Chicago by air

wendyc:the great sierra nevada

therealCGB:Marsh Mellow in the sky

knippd:The Andes from LAN Perú - Arequipa to Cusco

Robert Waters:From a San Diego to Newark flight, window seat. Somewhere in the American southwest.

bored99:I was in awe as I looked out the window and saw this--I couldn't believe that no one else seemed to be giving it a second glance

Phil Cassidy:Flight to the moon—I mean Belize!

bigdawg55:

bigdawg55:Big Island

Jaz Mac:County Down, and the community of Downpatrick

Jaz Mac:Open up your Golden Gate!

Stephanie Kuwasaki:On our way to Africa on a 7am flight out of Seattle, Mt. Rainier waved goodbye!

Sachem515:Shimmo and Coatue from the Copilot's seat of a Cessna 402 (600 ft)

Dave Wade-Stein:Flying into Salt Lake City

groovicool:This photo was taken June 11, 2011

groovicool:This photo was taken while flying into Arizona June 11, 2011.

melisabuigues:

Robert Melusky:Rare flight path way up North from London to New York

Robert Melusky:Somewhere in Micronesia taken from the Island Hopper

Robert Melusky:Truk Lagoon ( now Chuuk in Micronesia) was the loaction of one of the most fearsome battles in WWII, Operation Hailstorm.

groovicool:Geometry lesson while flying over Arizona...

Pat Mumford:Flying in to Portland, OR. Hello Mt. Hood.

joan d:out of seattle flying over mt rainier

IAMAFLATA:

Topher2882:Morning sunrise after breaking through the clouds above Denver.

Amber Tidwell:I took this on a flight from Fresno to Dallas

FrankiFenty:Studied abroad in China and took this pic

ArchieFrink:Catching the final glimpses of the beautiful Amazonian rainforest on August 1, 2011 after conducting research.

Wingit:

jah4jethro:Flying home to Los Angeles.

Thomson Tong Man Ho:flying with Qatar Airways landing at Doha Airport wonderful city landscape

Thomson Tong Man Ho:Flying with Air Berlin, from Copenhagen to Berlin The bridge is connecting the third largest city of Sweden, Malmo and the capital of Denmark, Copenhagen

MajaZwolsman:Our beautiful Queensland from above.

splitemz:Taken with an iPhone.

Malcolm Waddy II:

BFunk88:Flying over the Swiss Alps on the way from Paris to Rome

candiceK25:

Patricia Kantrowitz:The first of many flights to my second home, Haiti.

candiceK25:Flying into Palma de Mallorca, Spain

candiceK25:Heading home from the UK

Ryan Lorenc-Haluska:Ore ship passing directly under Skyway Bridge (rare shot)

lola85:View over Nice, France

Monicalups :flying from Kabul to Herat, amazing rugged terrain for miles and miles

Robert Kalin:Sunnylands, the Annenberg Estate, Rancho Mirage

reynoljh:Volcán Llaima, the morning after an eruption that covered the summit glaciers with ash.

Mark Kroto:Decent into Charlotte, neat shot of the propeller.

Mark Kroto:The part of a window seat going into LGA is this...

Gregg Caruso:Mt Rainer

Gregg Caruso:Golden Gate Bridge

Eric Smith 1:

CL Smith:Several hundred miles from Oahu. Infrared.

TFDNYC:

Older Mom:

kjbeau:

atomic:

dwilkinsboise:Departing PAP May 2010.

jaclyn2311:

dwilkinsboise:Cite Soleil neighborhood under the flight path coming in from the bayside at PAP.

jaclyn2311:

J Manny Santiago:

NaturalBeauTTy:

hokiephile:The Las Vegas Strip.

nadvonrut:Flying to beautiful Antigua which has 365 beaches - one for each day.

Jim Taglauer:A perfect view of an imperfect city!

pstrawhat:

Abdulaziz Alarifi:

pstrawhat:

Mandamae:Taken near the Rocky Mountains over Colorado in late May.

leahmessina:Southwest New Mexico - just west of Las Cruces.

DMGBEL:

DMGBEL:I actually had to lean over another passenger to get this shot, but it was so worth the apology I had to give.

esalterman:Rio from the south, out over the Atlantic Ocean. Great view of Ipanema, Copacabana, Sugar Loaf, and the whole Guanabara Bay including some of the mountains further north.

Hardyman1966:Reluctantly returning to San Diego, California after 3 weeks in Athens, Mykonos and Santorini. Need sleep. A LOT of sleep. :)

Hong Huynh:Aerial view of glaciers en route from Anchorage, AK to Los Angeles, CA.

Gravitastic:

Marty Yawnick:It was leg 1 of a pretty long 4 leg trip. Flying from DFW to SFO was a pretty bumpy ride that day. As we were nearing SFO above the clouds towards the end of the day, the sun cast a perfect warm glow over the wing, engine and sky. This was the perfect moment where everything just seemed to burst into light. Shot and processed on an iPhone 4S.

neilt3d:

Traylyne:Maui Mahalo

prfaulkner:

KellyBermuda:

Hammond Egger:

Stacy Anderson:We were departing our gate to taxi and take off and outside the window I spotted some very lonely looking luggage sitting all alone on the tarmac.

dinaotearoa:

dinaotearoa:

Ana Sofia Almagro:

Ana Sofia Almagro:

Ana Sofia Almagro:

nictravels12:

nictravels12:

Kara Hammer:

Kara Hammer:

Kara Hammer:

pbrittiam3:Heinz Field on descent to Pittsburgh Int.

Informed Observer:Waiting in line on the tarmac.

Informed Observer:

Informed Observer:

Informed Observer:

Informed Observer:

Informed Observer:

Estrogenx:

Estrogenx:

melanth:I was working the flight from Charlotte to NYC

JacMMXII:

MOONSHADOWDEBBIE:Waves high and it is very windy here in Pensacola Beach but we are lucky this storm passed us by!

lp0920:

siroadrnr:

siroadrnr:

Percy Ahene:

kimmyyyy1223:Flying to Cusco, Peru, which is at an elevation of 11,200 ft.
Follow U.S. News Travel on Twitter: www.twitter.com/USNewsTravel