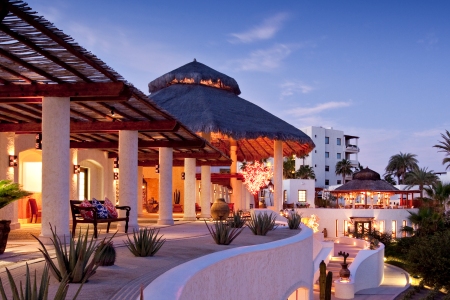 Courtesy of Las Ventanas al Paraíso, A Rosewood Resort
For most of us, a hotel with lavish décor, superlative amenities, and excellent service has the trappings of a luxurious getaway. But for superstars rolling off the red carpet, only the crème-de-la-crème of the lodging industry will do. After all, Hollywood's elite endures countless hours in the spotlight, and they crave nothing more than some peace and quiet. They're looking for a place to stay where they can go unnoticed as they stretch along powdery sands, glide down pristine slopes, and canoodle over romantic dinners.
And while well-heeled A-listers have their pick of top properties across the globe, it comes as no surprise to us that they're stealing away to some of the palatial retreats that hold top places on our Best Hotels in the USA and Best Hotels in the Caribbean rankings lists. Regardless of whether you're an adored Hollywood celeb or a discerning globe-trotter, as soon as you walk through the doors of these extravagant digs, we have no doubt that you'll feel like royalty.
[In Pictures: 13 Hotels Celebrities Love]
The Little Nell
Aspen, Colo.
Nestled at the base of Aspen Mountain, The Little Nell is the quintessential ski retreat, luring powder-loving celebrities such as Kate Hudson and Jack Nicholson for a variety of reasons. For one, stars can blend in with fellow snow junkies without being pestered by paparazzi. And for another, The Little Nell's intimate lodgings afford total privacy and stunning mountain views. Upon entering the 2,500-square-foot Paepcke Suite, guests are greeted with a crackling fireplace, a private Jacuzzi, and commanding vistas. Even if you're not rolling in the dough, you can still enjoy living in the lap of luxury at this Colorado hotel: The Little Nell's standard guestrooms are appointed with extravagant extras, like heated floors and a well-stocked mini-bar. The only thing to lure you away from these cozy digs is the tantalizing cheese fondue served up at The Living Room, a favorite après-ski bar.
Las Ventanas al Paraíso, A Rosewood Resort
Los Cabos, Mexico
Aptly translated to "Windows to Paradise," Las Ventanas al Paraíso goes above and beyond to tender its guests with an unforgettable resort experience. Here, luxury-seeking celebrities--like Brad Pitt, Harrison Ford, and Scarlett Johansson--can lounge along the isolated sands flanking the southern end of the Baja Peninsula in utter seclusion. Romantically inclined couples looking to create magic moments with their secret (or not-so-secret) paramour can arrange everything from a horse-drawn carriage ride to a privately chartered yacht trip to a specialty couples' spa treatment. Plus, amours on a budget can still take advantage of a wide range of activities available through Las Ventanas' Department of Romance. For $225, you and your sweetheart can enjoy your very own bonfire under the twinkling stars of Cabo.
Le Bristol
Paris, France
Sitting just two blocks away from the Champs-Élysées, this Paris hotel has been a magnet for artists, movie stars, fashion icons, and politicos since its opening in 1925. Actress Josephine Baker, designer Coco Chanel, and artist Pablo Picasso are just a few distinguished guests who have graced the hotel's hallways. And with Le Bristol's elegant 18th-century style décor, it's no wonder why Woody Allen chose the 1,725-square-foot Panoramic Suite as a main location for his 2011 film, Midnight in Paris. This elegant suite takes extravagant living to a whole new level with features like a private gym and terrace. But you don't have to stay in this palatial suite to feel like a star. Standard superior rooms are similarly appointed with Louis XV and Louis XVI furnishings and sumptuous marble bathrooms. Plus, just outside these regal digs, you'll find superb on-site facilities, including a lavish spa and acclaimed dining institutions helmed by Chef Eric Frechon.
[See: Vacation Like a President]
Waldorf Astoria Park City
Park City, Utah
When beloved Hollywood VIPs want to steal away from the paparazzi for a few days, they head to the Waldorf Astoria Park City. Cozying up to the Wasatch Mountains, this picturesque Waldorf retreat attracts tranquility-seeking celebs, including Academy Award-winning actress Hilary Swank. Catering to powder hounds, this Waldorf outpost offers private skiing and ice-skating lessons. After tackling 4,000 acres of soft powder, you can soothe your muscles with a massage at the 16,000-square-foot Golden Door Spa. And for those guests looking to stay completely under-the-radar, the hotel boasts well-appointed accommodations outfitted with fully-stocked kitchens, spacious gas fireplaces, and, in some residences, lofty balconies with stunning mountain views.
The St. Regis Princeville Resort
Kauai, Hawaii
Imagine it: Sugary sands cascade into foamy waters; steep cliffs wrap around a golden shoreline; and the sun sets over the Pacific, creating a vast horizon drenched in orange and magenta. With Kauai's spectacular scenery providing a picture-perfect backdrop, The St. Regis Princeville Resort lures Hollywood heavyweights like Jennifer Garner and Ben Affleck to its unspoiled oasis. The location of this St. Regis outpost--tucked away in a private corner of the island along the North Shore--affords exclusive vistas and total privacy. During your stay, you can hit the links at the Makai Golf Club, indulge in a treatment at the spa (which stretches across more than 10,000-square-feet), or stay put on the private grounds of the Royal Suite, which features its own "Royal Spa" and round-the-clock butler service. Talk about A-list treatment.

Parrot Cay by COMO
Turks & Caicos
Located on a private isle northeast of Providenciales, this alluring Turks & Caicos hideaway provides celebs with all the essentials of a lavish Caribbean vacation: isolated sands and indulgent services. At Parrot Cay, celebrities don't have to worry about being bothered by adoring fans as they unwind with a hot stone massage or indulge in a romantic candle-lit dinner. To truly experience how the other half lives, bed down in the palatial COMO Villa, which comes furnished with a sumptuous four-poster bed draped with white voile and a private sundeck. Parrot Cay's relaxed Caribbean charm has attracted the likes of Demi Moore, Ashton Kutcher, and Bruce Willis. Power couple Ben Affleck and Jennifer Garner even tied the knot along the beach before celebrating their honeymoon at the resort.
Le Meurice
Paris, France
If you're not rubbing shoulders with impeccably dressed supermodels and stars at Le Bristol, you can retreat to super-stylish Le Meurice. This iconic hotel has welcomed music legends like Beyoncé Knowles and Jay-Z. From above the rooftops on the seventh floor, the opulent Belle Etoile Royal Suite boasts sweeping views of the Paris skyline that extend from Notre Dame to the Sacré-Cœur. Still not impressed? For extra comfort, this well-appointed suite appointed in 19th century-style décor comes with a canopied master bed and a sumptuous Italian marble bathroom. And when you're ready to soak up all the splendors of the City of Lights, Le Meurice's enviable location (just across the street from the ambient Tuileries Gardens) affords easy access to beloved attractions.
Halekulani
Honolulu, Hawaii
Situated along the powdery sands of Waikiki Beach, Halekulani offers its A-list guests (including Cameron Diaz and Halle Barry) prime ocean views and luxurious extras, such as private butler service and en-suite spa treatments. Halekulani's 2,365-square-foot Orchid Suite boasts floor-to-ceiling doors that extend out to an airy lounge with all-around views of Diamond Head and Waikiki. But that's not to stay the other custom-designed rooms, like the Vera Wang-designed Halekulani Suite aren't worth checking out. And with alluring extras, like complimentary champagne and couples spa treatments, there are plenty of indulgent features to entice you to splurge on premier accommodations.
[See: Most Expensive Hotel Rooms in the USA]
The Brazilian Court Hotel & Beach Club
Palm Beach, Fla.
A mainstay for the rich and famous since its opening in 1926, the refined Brazilian Court Hotel & Beach Club lures movie stars (like Tommy Lee Jones) and music legends (like Jimmy Buffett) with its sophisticated ambiance, gorgeous surroundings, and delectable cuisine served at Café Boulud. Extravagance radiates from The Brazilian Court Hotel's elegant suites; for example; the 1,800-square-foot Poolside Lanai Suite touts star-quality accents like mahogany cabinetry, limestone floors, and plush 1000 thread-count linens. But the well-appointed accommodations aren't the only reason to bed down here. The Brazilian Court also boasts the 1,600-square-foot Frédéric Fekkai Salon and Spa, while lush outdoor courtyards surrounded by leafy palms create the type of serene atmosphere stars swoon over.
Eden Rock
St. Barts
Rising majestically over the shimmering waves of Baie de St. Jean on St. Barts' northern coast, this über-lavish hideaway appeals to high-profile stars looking for a reprieve from Celebrityville. Such legendary stars as Tom Hanks and Mick Jagger have spent the night at this Relais & Châteaux property. With its gorgeous scenery and serene atmosphere, Eden Rock caters to luxury-seekers of all kinds. If you're an audiophile, you'll want to stay in the 16,000 square-foot Villa Rockstar, which features its own music recording studio (not to mention two private pools). Or if you're an art aficionado, book the Villa Nina, which touts a private art gallery. And with the unrivaled views of Baie de St. Jean, there's hardly a reason not to spend your vacation in these posh digs ... unless of course you're planning on mingling with more glamorous glitterati on a private yacht.
Le Sirenuse
Positano, Italy
When it comes to choosing the perfect place to stay along the Amalfi Coast, it's hard to rival Le Sirenuse. Nestled amid the scenic cliffs of the quaint town of Positano, Le Sirenuse charms its star clientele with 18th century-style décor, gorgeous scenery, and lavish amenities. Here, celebs can canoodle on their private terrace or indulge in Neapolitan culinary delights at La Sponda restaurant, which oozes romance with its intimate feel. Just take it from author John Steinbeck, who after visiting in 1953, captured the aura of Le Sirenuse's Mediterranean charm when he described the property as, "an old family house converted into a first-class hotel." In more recent years, Reese Witherspoon and hubby Jim Toth spent their honeymoon at this retreat.

Gramercy Park Hotel
New York City, N.Y.
With its glamorous 20-foot ceilings, exposed wood beams, and Baroque Louis LV furnishings, this quiet Manhattan sanctuary is practically made for the likes of Humphrey Bogart, Bob Dylan, and John F. Kennedy. Famous guests of the Gramercy Park Hotel particularly enjoy savoring a decadent cocktail while clustering around the Andy Warhol paintings hanging along the walls of the Rose Bar. Branching off the Rose Bar sits the even more exclusive Jade Bar, which boasts delectable libations and extra touches like plush, velvet seating and sweeping views of Lexington Avenue. If you would rather steal away from the glitzy bar scene, retreat to the legendary 1,987-square-foot penthouse suite, complete with magnificent Gramercy Park views, sumptuous Italian linens, and a deep soaking tub that provide total luxury behind closed doors.

The Beverly Hills Hotel
Beverly Hills, Calif.
Behind the rosy-hued walls of the "Pink Palace," celebrities kick back in luxurious bungalows appointed with their own private plunge pool or private patio. This iconic L.A. hideaway has lured everyone from Academy Award-winning actresses like Elizabeth Taylor and Marilyn Monroe to legendary rock stars like Mick Jagger. With a dozen different types of bungalows to choose from--including the 5,000-square-foot Presidential Bungalows--stars certainly have their pick of indulgent accommodations. Perks of this ultra-luxe bungalow include a waterfall-edge plunge pool with its own underwater speakers, an outdoor seating area for six, and an outdoor fireplace and rain-shower. Need we say more?
[In Pictures: 13 Hotels Celebrities Love]
--Liz Weiss