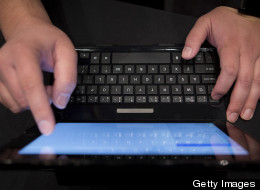 CIOs are being challenged to answer the question, "How will technology support growth of our business?" It is imperative that they find a way to harness the emerging megatrends (see Gartner: Top 10 Strategic Technology Trends For 2013) in the face of tight budget pressure. All these forces are coming together to dramatically change the role of the CIO.
To understand how CIOs in the different industries are adapting to this dynamic environment, and to separate the hype from the reality, I decided to poll thought leaders starting with higher education. CIOs in higher education are often out in front with new technologies and trends. Michael Krigsman describes how CIOs in higher education are finding innovative ways to foster growth within their organizations in his paper, Innovation & Transformation: Going Beyond the Social Campus [potential issue: this currently requires registration]. Now we wanted to see how these CIOs are implementing their strategies with their budget priorities. I recently presented at a higher education CIO workshop, developed to guide CIOs to strategically address social, mobile, cloud and infrastructure, and emphasized the significant importance of IT alignment with various lines of business. There are no IT projects, there are only business projects.
We will get into more industries in subsequent articles. For this article, we asked 16 innovative and thought-leading university and college CIOs, located worldwide about their spending priorities for 2013. Specifically, where are they putting their money this year? The CIOs also gave us a quick sentence about their top priority.
Our survey finds that 2013 is the year of infrastructure investment. Based on other surveys we've conducted, this is not surprising. Higher Education CIOs have seen the onslaught of both digital content and mobile devices and need to insure their infrastructure is ready. We spoke to some of the higher educational CIOs in the world.
After infrastructure and mobile, virtualization is still a priority for the CIOs who have not yet tackled that. The opportunity presented by big data may be coming for higher education CIOs, but it's not here yet, at least in 2013. Based on the budget priorities, these CIOs are not outsourcing services, although they are outsourcing apps: cloud gets significant attention; new application development is at the bottom.
Our poll included schools located both inside and outside the US. The priorities of these two groups are remarkably similar this year. The difference is that outside the US, virtualization is still a high priority, but big data is an even-lower low priority than in the US. Our guess is that by next year the International universities will have caught up on virtualization and will move on to Big Data.
The full poll results are below the key, including a list of the participants explaining their top priorities.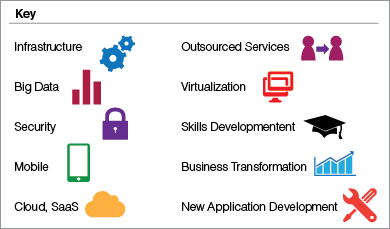 Here is a summary of all the results; 1 is the top priority for 2013, 10 is the lowest priority.



We asked our global CIOs to speak to their top technology spend priorities for 2013. These are the individual CIO priorities for 2013.
Joanna Young, University of New Hampshire


The opportunity and disruption in the education market requires business transformation at a swift time-to-market pace. The programs rising to the top are at the sweet spot of customer-focused innovation and fast delivery.
Jacir Luiz Bordim, Universidade de Brasilia, Brazil


Our university (Universidade de Brasilia) is expanding its campus and hence connectivity is our major concern for this year.
Lee Spaniol, Lake Land College, Illinois


We have pushed virtualization very hard for the past 5 years. We recently completed desktop virtualization for the entire organization. It's time to focus on the infrastructure for the coming year or two. Some of those things designed into the virtualization project need tender loving care. Security, speeds and feeds, disaster recovery, backup, storage management, all need to be tested, tuned, and retested. We've thrown a lot of change into the picture.

Dr. John Isenhour, Kennesaw State University, Georgia


Infrastructure requires periodic upgrade, and it needs protection. Economies of scale via virtualization and outsourcing can allow focus on emerging mobile technologies for our student population.
Dr. Samuel Conn, Southern Polytechnic State University, Georgia


Institutions of higher education today demand secure, available, reliable, and innovative informational technology and systems infrastructures and resources to offer high quality learning environments, increase access to education, manage the business of education, and meet the demands of global competition. Extending the reach of our institution to create new opportunities for access to education, accomplish state and national goals for college completion rates, and build the image and brand of our university as a technology leader requires comprehensive planning with respect to information technologies. This ranking of priorities accommodates such requirements through closer collaboration and interactions with the university community, buildup of technology infrastructure to support new, more current models of computing, advancement of data environments and capabilities, and new and expanded managed services in support of academic and administrative technology stakeholder needs.

Anne Agee, University of Massachusetts Boston


Because of the implementation of a master plan for campus facilities, we are in the enviable, but rather scary position of ripping out and replacing our entire technology infrastructure--network, data center, and telephone system. This involves not only work on the infrastructure itself, but also work on virtualization and cloud services as we rethink how we want to handle technology services and support.

Steve Swartz, Fitchburg State University, Massachusetts


Our core network is due to be refreshed. If that hadn't occurred during this cycle, business analytics and using metrics to manage our business would be #1.
Miguel Ángel del Río, Universidad Rey Juan Carlos, Spain


Budget restrictions on public universities in Spain have driven my University to strongly reduce infrastructure spending for past, current and next year. No new projects are being started.
Juan Carlos Pedral Valencia, Universidad Autónoma Metropolitana Unidad Azcapotzalco, Mexico


Infrastructure is vital for a robust and efficient technology base to provide secure local and cloud-based services for all users regardless of their mobile or wired device.
José Samuel Ordaz Ruiz, Universidad Autónoma de Chiapas, Mexico


Improve access to cloud-based services, as well as digital services offered by our institution to the cloud easily accessible from any device.
David Waldron, St. Edward's University, Texas


We're currently engaged in an ERP implementation and in a wide ranging overhaul/upgrade of our physical infrastructure--hence the #1 ranking. The intent is to provide the necessary foundation to support the business transformation that changing market conditions and technology will necessitate.
Luc Roy, Laurentian University, Canada


Universities must be ready for the new paradigm of electronic learning. To do so, universities need a sound integrated electronic solution for all academic and administrative functions. If you are still stuck in the electronic age, you are at an almost insurmountable disadvantage.

Carlos Juiz, University of the Balearic Islands, Spain


Our focus is IT Governance maturity, so we are readdressing our application portfolio selection process, service catalog deployment, and IT investment prioritization to strengthen the IT value at the core of our business which corresponds to the integration with the European Higher Education Area.
Scott Midkiff, Virginia Tech, Virginia


We are investing in infrastructure not for the sake of infrastructure, but for the services that it will enable for teaching and learning, collaboration, and research computing. We are also in the midst of a major replacement of our phone system.
Phil Komarny, Seton Hill University, Pennsylvania


The cloud as our computing platform has given me the ability to leverage our mobile/social culture to affect our bottom line by re-envisioning our processes and how we use technology to better our product. This needs to be a big focus of CIOs in the higher education space.
Looking ahead to next year, we predict that 2014 will be the year of business transformation for CIOs. But for this year, that goal is taking a back seat to infrastructure investment. What do you think? How do your priorities compare with these? If you are a Higher Education CIO, we would be interested to hear about the top priorities on your list this year.
This post was co-authored by Robert Nilsson, Director of Marketing, Enterasys.
Follow Vala Afshar on Twitter: www.twitter.com/ValaAfshar