The East coast is digging out, California drying out, and the Northwest basking in a spring so early that the Winter Olympics are bereft of snow. No matter the weather, gardeners are busy perusing catalogs and planning their gardens for the coming season.
Have you ever thought about how remarkable it is that in our quickly changing world we still garden much as our parents and grandparents did? There's both comfort and wisdom in age-old gardening traditions. But with the time and environmental pressures of the modern world, we need to re-think some of our more wasteful and labor-intensive practices.
Take for example these artful, practical raised beds built of repurposed steel, designed by Cameron Scott for Seattle management consultant and foodie Joan Caine.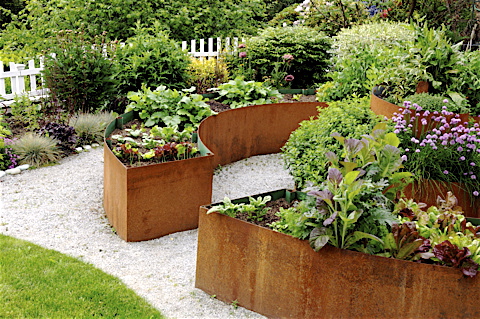 Caine wanted a garden crafted of sustainable materials in which to grow herbs, lettuces, and vegetables to use in her daily cooking. Cameron came up with a solution so sculptural that the front garden looks great even in the dead of winter. He used Corten, or oxidized steel, which starts out black when it's raw, then turns rusty, but never rusts through. Scott coated the inside of the beds with a natural rubber product to protect the metal from leaching into the soil. The steel is so thin it doesn't take up much space, and it heats the soil up in springtime, getting Joan's vegetables off to a good start. "Her vegetables have just jumped right out of the beds," says Cameron, "the tomatoes love the extra heat."
As curvaceous as a Richard Serra sculpture, these serpentine beds wind through Caine's front garden, replacing an old lawn and shrubbery. "Friends see my garden and ask how I do it, because I have my own business and work all the time," says Joan. "I tell them it's tremendously easy to care for. I have great affection for my garden."
The piece de resistance is the smaller bed in the center, which spirals around like a snail's shell, curling four feet high, and filled with herbs. Efficient in its utilization of space, this herbal centerpiece sprouts oregano, thyme, sorrel, lovage, coriander, marjoram, chives and more chives in a footprint not much bigger than a hatbox.
Designers Withey and Price chose an unexpectedly handsome and organic looking repurposed material to build a curved swoop of a retaining wall on Bainbridge Island in Puget Sound. Instead of the expected (and much more expensive) stone, the designers chose Richlite, a partially recycled paper product more often seen on kitchen countertops. They turned the wall into a bench as well as modernized its look by topping it off with a shiny, modern-looking aluminum seat. After several years in this exposed seaside location, the Richlite is weathering to a rich warm brown that echoes the bark of nearby madrona trees.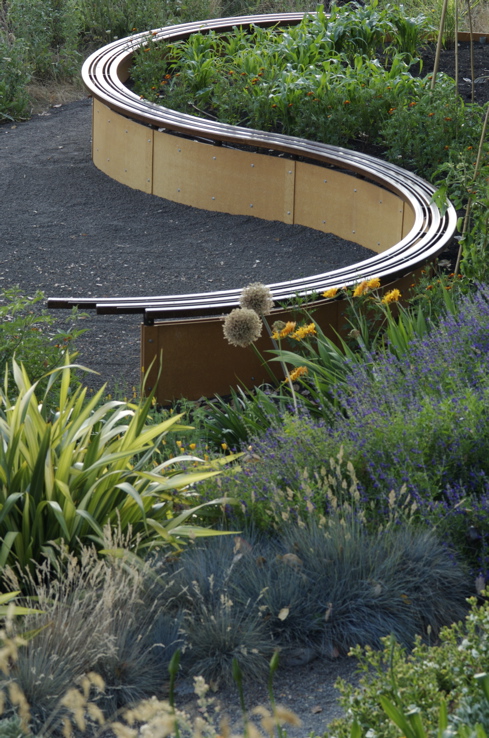 When writing my new book The New Low Maintenance Garden, I searched out inspired gardeners and designers around the country to learn their tricks and tips on how to keep the joys of gardening while saving time, money, energy and the environment. Spiritual writer Satish Kumar has coined the lovely phrase "ecological reverence" and there's no better place to begin practicing it than in our own gardens.

Photos by Jacqueline Koch
SUBSCRIBE TO & FOLLOW THE MORNING EMAIL
The Morning Email helps you start your workday with everything you need to know: breaking news, entertainment and a dash of fun. Learn more