If you've spent any time checking out street art, then surely you've noticed the work of Skullphone. Most famous for his bold, black and white, sort of eerie, yet smart image of a skull using a cell phone, the artist has been installing his work on LA streets since 1999.
In 2008, Skullphone created controversy and definitely conversation amongst locals and online audiences when he successfully "hacked" his skull image into the first digital billboards in LA.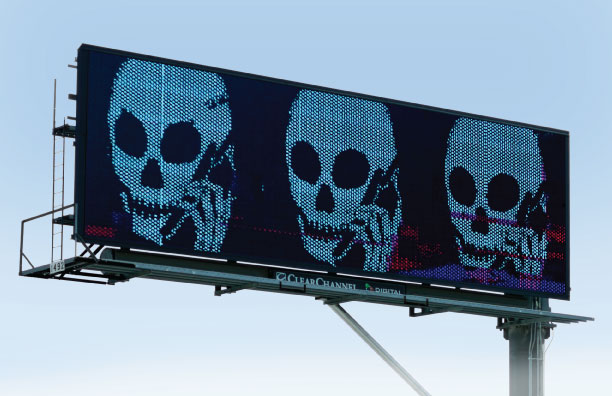 This weekend, Subliminal Projects in Silverlake brings Skullphone's work into the gallery for a new exhibition: Digital Media. The show also marks a transition for the artist as he goes from street installations, to painting on mirror-polished, black-painted aluminum panels, employing a dot grid system and a palette limited to red, green and blue.
About the show from Subliminal Projects:
Digital Media, the new solo exhibition by Skullphone, brings the play- fulness, obsession, irony and anxiety of the Los Angeles-based artists's renowned street installations into the Subliminal Projects gallery space. In Digital Media, Skullphone examines the contradictions inher- ent in outdoor digital signage, demonstrating cause for both wonder and concern over the increasingly ubiquitous medium. The artist explores advertising, government and private enterprise signage, and the California landscape on which outdoor media proliferate, making permanent on panels what is removable and reprogrammable in outdoor space.
Exhibition Open: June 5th - July 2nd, 2010
Opening Reception: Saturday, June 5th, 2010 / 8-11PM
Where: Subliminal Projects 1331 W. Sunset Blvd Los Angeles, CA 90026 t: 213.213.0078
SUBSCRIBE TO & FOLLOW THE MORNING EMAIL
The Morning Email helps you start your workday with everything you need to know: breaking news, entertainment and a dash of fun. Learn more