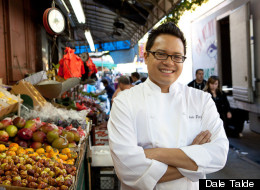 by Alyssa Bereznak, Vanity Fair; photographs and captions by Dale Talde
You may know Dale Talde as the lovable two-time cheftestant who didn't quite make it to the finish line on Bravo's Top Chef. But the ambitious Asian-fusion connoisseur is now making a local name for himself in Park Slope, Brooklyn, where he presides over Talde -- a nearly year-old restaurant that's serving up pretzel, pork, and chive dumplings for the Seventh Avenue set -- and, as of August, Pork Slope. The offbeat bar is inspired by Patrick Swayze's 1989 action film, Road House, offering St. Louis-style ribs and house-smoked meats to go with a bevy of American whiskies. Herewith, a collection of Talde's latest culinary pursuits, including action shots from an epic Governer's Island cook-off and Mario Batali-inspired grilled corn.
See more food porn photos from today's culinary celebrities at VanityFair.com.
We did the Pig Island event on Governor's Island for Talde and Pork Slope. This was from the ingredient pickup the day before in Union Square—and, yes, that's a pig over my shoulder.

Working the grill at Pig Island with my chef de cuisine, Andrew Del Vecchio.

Bratwurst patties and onions hot on the griddle! We make our "porky melt" at Pork Slope with Swiss cheese and mustard on rye bread.

Porky melts and pork terrine. For the pork terrine we did a pressed whole pig with crispy pork chips, pickled vegetables, and sesame mustard.

This was at David Massoni's sister's house this past weekend. (David is one of my partners at Talde and Pork Slope.) She lives in Asbury Park, New Jersey, so we all went to the beach and then they cooked dinner. This Mexican-style pork loin was amazing.

They also made this grilled kale salad with ricotta and plums.

An heirloom-tomato salad from dinner.

This grilled corn is a Mario Batali recipe—Parmigiano-Reggiano, hot red-pepper flakes, olive oil, and balsamic vinegar.

Vegetable pakoras, samosas, and the best lamb biryani I've ever had. My food runner at Talde, Zakar, is Muslim and eats halal food, so he brought this to me.

This was an epic feast at Danny Bowien's Mission Chinese Food on the Lower East Side.
More from Vanity Fair:
The 2012 Vanity Fair International Best Dressed List
Kristen Stewart Gets Glamorous for Vanity Fair
Lady Gaga, Angelina Jolie and Jennifer Aniston: Vanity Fair's Classic Nude Portraits
5 Things You Don't Know About Kate Middleton
Follow Vanity Fair on Twitter: www.twitter.com/vanityfair