Enrico Miguel Thomas takes his moniker, "The Subway Artist of New York," seriously. He sets his easel on platforms and draws as people rush by and the wind from arriving trains whips his canvas.
Lately, he added a new complexity to his work. Instead of plain paper, he uses the official MTA subway map, the one so familiar to regular riders, as his canvas, placing scenes of the underground commuter world or landmark buildings on the spidery network of tracks.
"It just really speaks New York to me," Thomas said during an interview at the City Reliquary, a museum about all things New York in Williamsburg that is showing an exhibit of his map paintings.
Thomas draws with a black Sharpie marker, precise, angular illustrations (people waiting for trains or a homeless man slumped on a bench) that he fills with soft watercolors. It is a dichotomy not unlike his work -- creating art in the gritty subway system.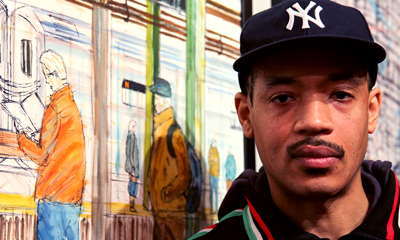 Thomas with one of his paintings on display at the City Reliquary. Photo by Siemond Chan.
Thomas, 40, who has a degree in fine arts from the Pratt Institute, appears somewhat surprised at having built a career out of his subway art. He says he supports himself on money he makes from selling his paintings, many of them commissioned by riders who see him working in and near the subway.  He has a studio in Brooklyn under the Gowanus Expressway and has clients who live in Germany and other places outside the city.
He credits his success to the fact he embraced his identity as a subway artist early on and didn't try to be someone else. Recently, he saw an event about how to create a brand advertised at Pratt's Manhattan campus, and he figured was living that lesson.
"I think that's what it's all about, be about the subway, have your work be about that and don't diverge until it gets catchy," said Thomas, who is also writing a memoir.
And catch on he has. Thomas has been interviewed by Fox television, the newspaper amNewYork and local cable station NY1. He was featured in a documentary, Below New York, by Matt Finlin. The exposure helped build interest in his work.
Thomas started as an unknown artist in 2007, handing out flyers asking for donations as he painted in the Union Square subway stop. He was determined to make a career out of his art and not go back to the type of jobs he had held previously -- selling running shoes, working in fast food restaurants and as a security guard.
He returned to the subway over and over again, even though it wasn't the most welcoming environment. Commuters tripped over his easel, the wind ripped his canvas on occasion and the place was dirty and noisy. Sometimes, random people would stop and criticize his work.
He kept at it, encouraged by commuters who admired his canvases, and his career eventually took off. Asked why the subway serves as his muse, Thomas turns serious and introspective. He says he suffered abuse as a child. He surmises that the physical act of working in a difficult situation allows him to psychologically work through the difficulties he encountered earlier in his life.
"I can somehow heal from the chaotic environment I came from," Thomas said. "It's therapeutic for me just being down there and still producing a piece of art work."
Thomas also had an interest in drawing industrial objects. His thesis exhibit at Pratt was made up of drawings of construction machinery such as tractors and cranes.
That interest in the industrial translated to the subway. He says he saw subway cars as "gigantic sculptures... I saw beauty in their glistening metal exteriors."

SUBSCRIBE TO & FOLLOW THE MORNING EMAIL
Start your workday the right way with the news that matters most. Learn more