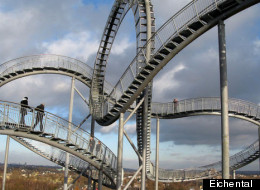 When given the choice between a stress-free elevator ride and a dusty old stairwell, the elevator almost always wins. While there's nothing wrong with trying to save a few minutes on your morning rush to work by riding the elevator, plan on taking the stairs on your next vacation. Most cities are best explored on foot and there are countless hidden gems just waiting to be discovered. From the famous steps at Machu Picchu to Switzerland's suspended bridge over the Traversinertobel, exercising has never felt so thrilling.
Here are 11 fantastic steps worth the climb.
Amazing Staircases (PHOTOS)
Just a few hours from Vienna by train, Graz is one of Austria's most culturally rich cities. One of the city's main touristic attractions is The Burg, a royal castle built between 1438 and 1453 during the Hapsburg rule and now serving as a stunning representation of Gothic stonework. Undoubtedly one of Graz's biggest claims to fame, the building's Double Spiral Staircase, or the "Stairs of Reconciliation" as it's commonly called, are designed to run in opposite directions while conjoining at the end, thus creating a eye-catching and architecturally complex architectural pattern. Photo credit: Michael Stiedl via Wikimedia Commons.

In true Halloween spirit, Washington DC's famous 97 stone steps located at the end of M Street gained some serious attention during the filming of the 1973 hit, The Exorcist. Excited Georgetown University students had quite an entertaining time watching the stuntman fall down the stairs not once but twice, during filming for the spooky film's climatic final scene. During the day, the staircase looks rather ordinary, but come nightfall, the narrow and dimly lit stairs definitely give off an eerie appearance that might make you wish there was an elevator to ride. Photo credit: SarahStierch via Wikimedia Commons.

If you are looking for a truly jaw-dropping view down, Norway has got it covered. Now an abandoned industrial settlement, the Flørli stairs are open to the public and a popular trek for outdoor enthusiasts. The 4,444 wooden steps make up what is often considered to be the longest wooden staircase in the world, reaching 2,428 feet above sea level. Many travelers stop by the old generator hall to browse through the cultural exhibitions in many of the rooms and walk through the small village. The stairs are also part of the Tripp Trap Triathlon as part of the running portion of the race. Make sure you are in good physical condition before attempting the climb, as it takes the average person several hours round trip. Photo courtesy of Megan McDonough.

Brazil is synonymous with bold color and Rio de Janeiro's Escadaria Selarón is a perfect example of Latin pride. The famous steps are a creation by Chilean-born artist Jorge Selarón, who began renovating the worn-down steps in 1990. Choosing to paint the stairs in the bright colors of blue, green and yellow, his simple task soon turned into his greatest artistic passion. Totaling 250 steps and covered in tiles collected from countries around the world, Selarón's ever-changing piece of art runs from Rua Joaquim Silva and Rua Pinto Martins, covering both the Lapa and Santa Teresa neighborhoods. Photo credit: Alex Thomson via Flickr.

Travelers with a fear of heights might find their stomachs doing somersaults in Switzerland. The Traversinertobel Bridge dangles more than 200 feet above the valley of Via Mala. Designed by the talented engineer and architect Jürg Conzett along with Rolf Bachofner, the Traversinertobel solved the question of how to connect two gorges with varying elevations. Before the modern staircase, hikers had to cross from one side to the other with a rope bridge, which was eventually destroyed during a rockslide. Photo credit: Marco Zanoli via Wikimedia Commons.

While Odessa's Potemkin Stairs may be the city's most widely recognized symbol, there is more than meets the eye with this particular staircase. These steps were designed to create an optical illusion where nothing is what it seems. From the bottom of the steps, a person sees only steps but once he reaches the top and looks down, the steps are invisible, leaving him with a view of just the landings. Adding to its complexity comes a second optical illusion in which the steps appear longer when standing at the bottom of the staircase due to the bottom steps being constructed wider than those at the top. Photo credit: Saskia Heijltjes via Flickr.

Any artist in need of inspiration needs look no further than San Francisco's colorfully decorated 16th Avenue Tiled Steps. The innovative project was conceived and executed by Irish ceramicist Aileen Barr and local San Francisco artist, Collette Crutcher. With over 163 steps, the entire process took more than two and a half years to complete and required a grass-roots approach from the local community to raise necessary funds. Their hard work certainly paid off with over 2000 handmade tiles of tile, mirror and stained glass. The public masterpiece is located at 16th Avenue and Moraga in the quiet neighborhood of Golden Gate Heights. Photo credit: lpcmidst0128 via Flickr.

No list including stairs and worthwhile climbs is complete without one of the world's most celebrated wonders. Sometimes mistaken for Machu Picchu, Wayna Picchu is the towering mountain seen in most postcards from the Inca Trail. While the trail in its entirety takes several days, tourists can climb Wayna Picchu in a few hours. The steps wrap around the mountain, offering picturesque viewpoints from every angle. Due to the steep climb and slippery terrain, a maximum of 400 climbers are permitted per day. If hiking during the rainy season, be prepared for thick fog and muddy conditions. Photo credit: Sascha Wenninger via Wikimedia Commons.

Reaching Heaven's gate is a bit trickier than most climbs, but with a name like that travelers know they are in for an extreme adventure. Visitors to this mountain in China must first take a cable car that takes them thousands of feet in the air or hop on a bus that goes along a very narrow mountain road filled with countless twists and turns. Once at the base of the gaping hole, there are exactly 999 steps leading up to a temple. The latest addition to the mountain is the "sky walk," which allows tourists to look down at the massive hole below from clear glass flooring. Photo credit: Huangdan2060 via Wikimedia Commons.

If the door to heaven doesn't satisfy your lust for adventure, maybe the "Stairway to the Sky" will. Located a tropical rainforest in Mexico, Edward James' sculpture garden is a true reflection of the poet's surrealist beliefs. The garden rises to more than 2,000 feet above sea level and includes roughly eighty acres of natural waterfalls, pools and concrete sculptures of various designs. The staircase doesn't lead anywhere in particular, but that's all part of its unique allure. From the last step, visitors can look out at the entire garden before descending back down. Xilitla is about seven hours from Mexico City by car. Photo credit: Rosa Menkman via Flickr.

What may appear from afar as the most thrilling roller coaster of your life is actually an intricate walkable staircase. German designers Heike Mutter and Ulrich Genth unveiled their 249-step masterpiece late last year in Duisburg, Germany, and it's been a local hit ever since. While the upside down loops are blocked off, the curvy staircase offers visitors captivating views of the Rhine, with the highest stair rising to 49 yards above sea level. The sculpture is also open at night and illuminated by led-lights strategically built into the handrails for better visibility. Photo credit: Eichental via Flickr.
Megan McDonough for Viator
Planning a trip? Browse Viator's Germany tours and things to do, Mexico tours and things to do, San Francisco tours and things to do and Machu Picchu tours.
Follow Viator on Twitter: www.twitter.com/ViatorTravel