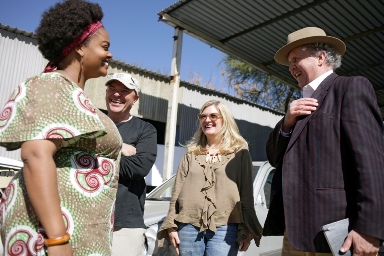 Photo (l to r): Actor Jill Scott, the late director Anthony Minghella, producer Amy Moore, and novelist Alexander McCall Smith on location. Photo courtesy of HBO.
I confess. I never thought about how they teach law in Botswana until I met Alexander McCall Smith, the best-selling novelist of a series of books about Precious Ramotswe, the number one fictional lady detective in that beautiful sub-Saharan country. But McCall Smith's novels have less to do with law than they have to do with justice and well, women's intuition.

A prolific writer of more than 50 books, he's co-authored a text on Botswana criminal law, written children's books with names like The Perfect Hamburger , and is now the best-selling author of several series of novels including The No. 1 Ladies Detective Agency.
Just listen to the names of his No. 1 Ladies novels: The Good Husband of Zebra Drive; In the Company of Cheerful Ladies; The Kalahari Typing School for Men; The Miracle at Speedy Motors; Tea Time for the Traditionally Built. Who could resist?
Born in Zimbabwe and dividing his time between Scotland and Botswana, McCall Smith did not follow the path of America's John Grisham, who put his knowledge of jurisprudence to work in a series of legal thrillers. No. He fell in love. With Botswana. Then fell in love again. With Precious, played to perfection by actor/singer Jill Scott in the upcoming television premiere.
How will Precious fit in to the kickass American world of HBO when The No. 1 Ladies Detective Agency launches as a weekly series this Sunday night? I stopped by to have a very small chat in a very large boardroom with McCall Smith about exactly this.
Third Screen: You were born in Zimbabwe. You spend part of each year in Botswana. You write novels and children's books. You teach law at the University of Edinburgh, or did until recently. And then there's that contra bassoon-playing in the upcoming American debut of your Really Terrible Orchestra at Town Hall on April Fool's Day. How did you wind up doing all this?
McCall Smith: Some interviews are definitely psychoanalysis by another name. Pre-psychotherapy. Perhaps this is going to be one of them.
Third Screen: I'll do be my best.
McCall Smith: What really worries me is when the interviewer starts talking about one's mother.
Third Screen: Well, Precious does make a wonderful maternal figure.
McCall Smith: Ah. Let's not go there.
Third Screen: The writing then?
McCall Smith: I suppose I was always interested in writing. I had another career but while I was doing that, I developed a career as a writer. People usually have to do that. Have to have some way of earning their living. I was a professor of medical law at University of Edinburgh. I started writing short stories in my twenties. And I ended up one day starting to write a short story set in Botswana about a woman who has a private detective agency, never knowing that that would turn into a novel. And then that the novel would turn into a series. And then that I would turn into a full-time novelist, which is what's happened to me.
Third Screen: Why Botswana?
McCall Smith: I was on loan from the University of Edinburgh, in regard to my work in the law, to the University of Swaziland in 1980. Then the following year I went and worked in Botswana in 1981. And I found myself increasingly intrigued by the country. And caught up in it. Taken with it, really. I went back every year. It's an exceptional country. It's been a wonderful success story in Africa. There are also extremely nice people there.
Third Screen: That's part of what comes across in the books.
McCall Smith: It's not just my reaction to the country. People say what a wonderful place. People say that similarly about many sub-Saharan African countries. Without romanticizing the place, people there have great human qualities which really are very very striking. When you see the picture that's presented of Africa, of sub-Saharan Africa, you don't see that. I think this is a terrible pity.
Third Screen: They have diamonds. They have the Kalahari. They suffer from the AIDS epidemic. That's pretty much the summary you read in the press.
McCall Smith: There's that side of it, too, in sub-Saharan Africa. But there are human qualities which are wonderful. Very interesting cultures with a lot to say. Yet all we get is a picture of disasters.
Third Screen: Can you give me an example of what captivated you?
McCall Smith: When I was in Swaziland, back in 1980, I was going stay with friends in Mochudi, north of the capital of Gaborone, for just a weekend. He's a doctor. And he and his wife live in this hospital house. So I went. And I had an extraordinary feeling of, what was it, that this was a good place. There's no other term for it. Sometimes one visits a place where there's a strong spiritual sense and you just feel that this is a spiritual place and I felt that about Botswana. There was an air of goodness, for want of a better term, that was almost tangible. And the reason for that is it's a country that was founded on rather idealistic principles. And there are a lot of people who are quite idealistic still. There's quite a strong and palpable feeling of idealism there.
Third Screen: No nonsense idealism?
McCall Smith: Now the difficulty with that is it's really quite tricky to put across without being accused of romanticizing the place. Or accused of being too sugary. I hope that that's not the impression that people get. If you go to a place like that, you will encounter the full range of human nature, you will encounter all sorts of people, but if you keep your eyes open, you will encounter extraordinary human goodness. And you'll encounter it in odd circumstances. People will have time for you. Somebody who may not have very much will nonetheless give you his or her moral attention. If you're receptive, you'll see a lot of very inspiring examples of the better side of human nature.
Third Screen: Your main characters in the HBO adaptation include a secretary who has two typewriters - one missing an H and the other missing some other letter, a gay hair stylist, a shy car mechanic, a fake father, and of course, some serious criminals.
McCall Smith: I didn't invent the hair stylist. He was invented by the scriptwriters but I'm perfectly happy with him. He's a good character. He's a very good foil. It was good advice. They felt they needed a few more men.
Third Screen: Your main characters are women. How did it feel to have to use your women's intuition?
McCall Smith: Well, what can I say about that? People often say how can you write from a woman's perspective? I would say that's part of being a writer. One must be able to empathize with other people. Women writers write from a male perspective and nobody thinks very much about that.
Third Screen: In Memoirs of a Geisha, the author was a man and he got the same question. But really, what can be more exciting than going far in your understanding of being something else?
Third Screen: What is the story behind establishing that branch of the University of Botswana that concentrates on teaching medical ethics?
McCall Smith: I was involved in setting up the department of law at the university. That's all. I helped get the program started.
Third Screen: Did you teach British law?
McCall Smith: No. It's the Common Law system. Pertaining to Botswana. In civil matters, it's Roman Dutch law which is the received Roman-based law of Southern African countries. That comes from the original Cape Dutch colonies. That's how Roman Dutch law came there. And then the criminal law of Botswana is based on an English criminal code. You find variants of that in many Commonwealth countries.
Third Screen: Did you go on location during the shooting of the series?
McCall Smith: I did. I was pretty struck by the sheer scale of the thing they built, this little village, and just the whole business of making a film. It involved 70 people rushing around in circles. Big catering lorries. And I saw the late Anthony Minghella directing. I was very struck by the gentle way he did this.

Third Screen: I have a special fondness for the passionately restrained secretary of the agency, Grace Makutsi, played by Anika Noni Rose.
McCall Smith: Yes. Miss 97%. The highest grade ever attained at the Botswana Secretarial College.
Third Screen: But as she explains in the film, a useless trophy against Miss 42% with a short skirt.
McCall Smith: Yes, I find her quite poignant. I'm interested in people who've done one thing in their life, whose lives are led within a comparatively narrow compass. And yet at the same time, all of our lives are constrained in one way or another. We have some little thing that is very important to us. Mma. Kutsi, in the beginning, had her little lace handkerchief, which was her only possession of beauty. Everything else was functional. The handkerchief represented, I suppose, a yearning. I'm interested in the idea of yearning and how we yearn for something in our lives. It was her tiny bit of luxury, a bit of beauty, in a very perfunctory life which was filled with functional things. And, of course, she had her 97%.

Third Screen: How do you account for being such a high-functioning writer and nevertheless writing such compelling characters and situations? No writer's block?
McCall Smith: I don't have to sit and say to myself what's going to happen now as long as I set myself up in the appropriate fictional world. If I know that I'm writing about Botswana, I then just almost go into a trance, which is a curious thing. It's almost like being in a disassociated state where what is going on around me is not really impinging too much on my consciousness.
Third Screen: What's next?
McCall Smith: The next No. 1 Ladies Detective Agency, another Isabel Dalhousie in Scotland, and Portugese Irregular Verbs.
Third Screen: That doesn't leave a lot of time for the Really Terrible Orchestra.
McCall Smith: The Really Terrible Orchestra is playing in NYC on April Fool's Day. It's going to be our first and only American tour. We've hired the Town Hall. There will be a sing-along. We're going to play excerpts from Sound of Music, enabling people launching into Edelweiss. We're going to do excerpts from the 1812 Overture and you'll all be given paper bags so you can bang out the cannons.
Third Screen: All 1,500 people banging out the cannons?
McCall Smith: Yes. It's going to be terrific

FOLLOW HUFFPOST