On the field, you may know me as the guy who catches the ball from Eli Manning or as the salsa dancer in the end zone, but off the field I take pride in helping others and giving back to the community. Last month, I had an amazing opportunity to host an event for a cause that's very near to my heart — prostate cancer research &mdahs; when I joined together with Salvatore Ferragamo and GQ to benefit The Society of Memorial Sloan-Kettering Cancer Center's 2011 Annual Appeal for Prostate Cancer Research.
In early 2007, my grandfather, Fernando De Jesus, was diagnosed with prostate cancer. Soon after begin diagnosed, and after a difficult battle with the disease, he passed away. As you can imagine, his sudden death affected me tremendously: after watching him fight the cancer, I promised myself that I would give back to his cause one day.
To help draw attention to and raise money for the cause, I partnered with Ferragamo to debut the Tramezza Special Edition shoe line,specialized in custom artisanal handmade men's shoes and signature Gancino belts. I traded in my New York Giants uniform for a Ferragamo suit, shoes and belt for the event and loved it!
But what I really was most excited for was the opportunity to work with the prestigious Memorial Sloan-Kettering Cancer Center for their 2011 Annual Appeal for Prostate Cancer. The Society is a volunteer organization that is dedicated to patient care programs, cancer research and education on the prevention and treatment of cancer. I plan to continue my relationship with Memorial Sloan-Kettering to raise money towards awareness, education, patient care and a cure for prostate cancer. I'm hoping to visit the hospital to grant a person battling terminal and non-terminal cancer a wish, and I also pledge to give back and help save a life in honorof my grandfather. I encourage everyone to visit Memorial Sloan-Kettering's site to donate to the cause, and you can look forward to hearing more from me as I work to give back to the prostate cancer community.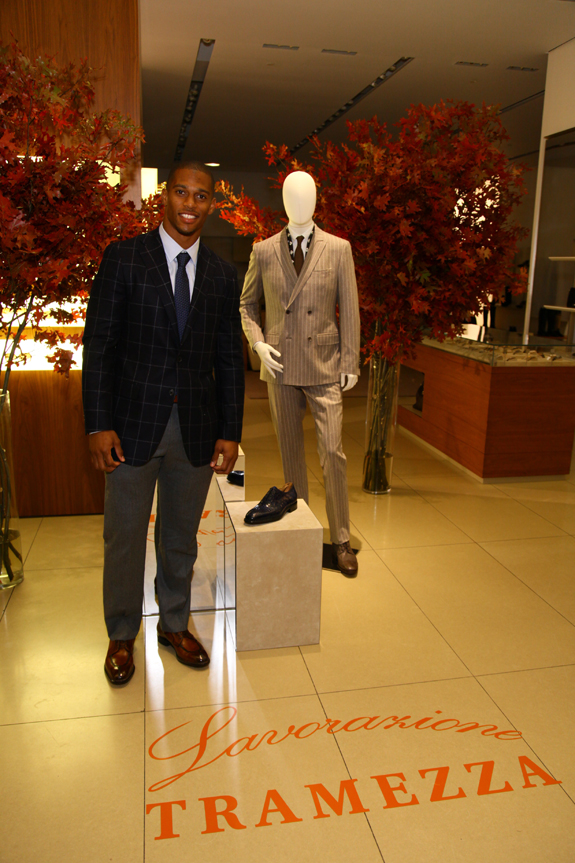 FOLLOW HUFFPOST