Ladies and Gentlemen,
**Before reading this guide please remember to go back and click on each veterans service organizations' hyperlink after reading the guide. Thank you.**
In the interests of remaining as bipartisan and apolitical as possible I am going to keep this short and sweet. There are two competing pieces of legislation poised to change the face of the GI Bill as we know it. These two bills are known in Congress as the "Post 9/11 Veterans Education Assistance Act" and "Enhancement of Recruitment, Retention, and Readjustment Through Education Act of 2008". One has the endorsement of every major veterans service organization, including: Veterans of Foreign Wars, American Legion , AMVETS, Iraq and Afghanistan Veterans of America and Student Veterans of America.
The other does not.
One bill was authored by legislators from both sides of the aisle, Republican and Democrat.
The other was not.
So what bill am I talking about?
The Post 9/11 Veterans Educational Act or 21st Century GI Bill of course. This bill was authored by two Senators: ONE Republican, ONE Democrat, BOTH veterans. Sen. Jim Webb D-VA (Vietnam veteran) and Sen. Chuck Hagel R-NE (Vietnam veteran) crafted the legislation. This bill has been co-sponsored by 57 Senators from both sides of the aisle including Sen. John Warner R-VA and Sen. Frank Lautenberg D-NJ who are both WWII veterans. In a recent vote it passed the Senate with a veto-proof 75-22; including many Republicans who abandoned President Bush's opposition to this bill.
The other bill has not been endorsed by a single veterans service organization, and was crafted by two Republicans: Sen. Lindsey Graham R-SC and Sen. John McCain R-AZ (Vietnam veteran).
The next logical question is: Why would everyone support the 21st Century GI Bill while no one supports the Graham-McCain Bill? Well, I have researched the text of both bills extensively and the results are presented below. Based on most recent statistics from the College Board the average annual cost (tuition, room & board, and miscellaneous costs) of a four-year public university is $17,366. Over the course of an academic year a veteran would receive 8 months of benefits (two-16 week semesters = 8 months). The following is a graph of student loan burden upon degree completion under each bill for various active duty lengths: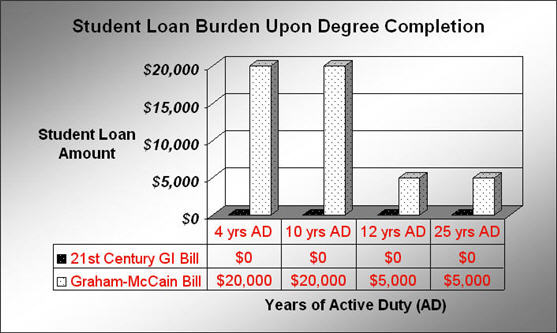 Based on the relevant data it is clear why the 21st Century GI Bill has garnered the support it has. Support our troops and veterans. Support the 21st Century GI Bill!!!
Click the following link for a less bipartisan continuation of this issue: US Military Needs the New GI Bill
SUBSCRIBE TO & FOLLOW POLITICS
How will Trump's administration impact you? Learn more