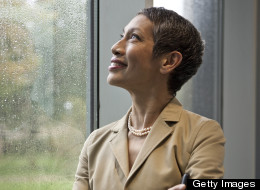 I'll be honest; I wasn't thrilled about turning 70. I've always been youthful, healthy, and extremely active and although nothing had changed suddenly everything seemed different. I felt lost, fearful, and untethered; this was unknown territory. The 50s were fabulous and freeing; there's no other period where you have a wealth of experience, yet still possess the energy and time to do almost anything. The 60s were a total and utter surprise; everything seemed to come together for me; I felt calmer, saner, and for the first time in my life, happy. Plus there are all those wonderful role models; Meryl Streep, Helen Mirren, and Hillary Clinton, to name a few.
But 70? It felt as if I were being thrust on a train to Siberia, my passport confiscated at the border. Or being escorted to the "Siberia" section of a restaurant; the area where they seat people who aren't trendy or relevant. I was concerned others would look at me differently, as if I had a tattoo on my face that screamed "old." Intuitively I sensed that I was on the verge of something; there's an opportunity here if I'm just willing to just hang out in this tender place and not label what I'm feeling. I found myself reading Pema Chodron which was exactly what I needed. In her book When Things Fall Apart, she writes "The healing comes from letting there be room for all of this to happen: room for grief, for relief, for misery, for joy."
It soon dawned on me that my problem wasn't my age; it was my attitude. I was judging myself the way I was afraid others would judge me. Perhaps I should know better; I've been working on a book entitled, You Are Never Too Late, Using Astrology to Thrive in the Second Half of Life. But it's different when you are researching aging and another when you are confronted with it. I realized I still had a great to learn about this subject and in a way I was in the perfect place to do that.
The truth is there has never been a better time to be older. We are living in an aging society; in the United State there are 34 million people are over 65 years old -- and that figure will double by 2030. This has had a huge impact on corporate America. Up until recently businesses ignored senior citizens; now the marketplace is rushing to address their needs. This phenomenon has been driven mainly by the baby boomers; the 76.4 million babies who were born between 1946 and 1964 and who are responsible for more than one half of all consumer spending. It's not surprising given they were the first generation that was raised with television. Many of them grew up on natural foods and holistic medicine; for them living longer and staying healthy is not a fad; it's a way of life.
It's not all about looking young and perfect either. I'm not saying that Botox, plastic surgery, and retouching are going to disappear anytime soon but there's something bigger happening. There's a movement building that has less to do with how you look and more about how you feel. The message is that it's possible to find meaning and purpose at every stage of life although naturally it is going to be different at each one of them. You see evidence of this everywhere; on Ari Seth Cohen's Advanced Style blog and Facebook pages such as Mary Costanza A Woman's Heart and Soul where photographs and stories appear daily about people in their sixties, seventies, eighties and beyond living rich and fulfilling lives. The Huffington Post is the perfect example; its Huff/Post50 section offers guidance on Parenting Post50, Divorce Post50, Love Post50, Reinvention and Retirement. We see it in movies like The Best Exotic Marigold Hotel and in books such as Martha Stewart's Living the Good Long Life: A Practical Guide to Caring for Yourself and Others. And with the youngest boomers turning 49 this year and the oldest 67, this movement is only getting bigger.
I don't want to imply that aging is without challenges, especially in our current economy, but all this interest in living longer and better brings new information and that can lead to new program, policies, options and perhaps renewed respect for the aging population and what they have to offer. One of the greatest gifts we can give is to be example to the younger generations which is why we need genuine elders; fierce, authentic elders. We all age but not everyone who gets older becomes an elder; true elders are not frozen in time; they continue to grow, evolve and deepen. The future may belong to the young but the quality of that future depends to a great extent on the elders in our society. As Michael Meade writes in his book, Fate and Destiny, "Inside the elder the eternal youth remains awake to its life vision. Inside the youth an old sage is beginning to stir and seek for knowledge. Awakened elders are necessary if youth are to awaken to the inner dream of their lives." The different generations need each other more than ever now for we are all pioneers, co-creating this new aging, sage-ing paradigm.
As for me; I still feel a bit unsteady as I tentatively enter this new decade yet I'm also full of wonder; curious, even hopeful about what I will discover, learn, and contribute in the years ahead. Instead of looking for role models, perhaps with enough time and wisdom I can even become one.
Earlier on Huff/Post50:
10 Misconceptions About Aging
Just the opposite, in fact: a 2009 Pew Research Survey found that "the older people get, the younger they feel, relatively speaking." Researchers observed a gap between chronological age and "felt age" that grew wider as people grew older, with nearly half of respondents 50 and older reporting that they felt 10 to 19 years younger than their chronological age.

"The deficiencies of a middle-aged brain have likely been overstated by anecdotal evidence and even by some scientific studies," reports Melissa Lee Phillips in a 2011 article for the American Psychological Association's Monitor on Psychology. In fact, verbal and math abilities and spatial and abstract reasoning all improve in middle age. Phillips also reports that as they age, brains may employ effective techniques to compensate for cognitive decline, such as the use of both hemispheres in solving problems (younger brains, in contrast, often use only one until confronted with a particularly challenging problem). The idea of cognitive reserve has also been getting some buzz lately--that although all brains may atrophy, bilingual brains, for example, seem to be effective at resisting the effects of aging and degenerative conditions such as Alzheimer's, as a result of the workout they've been given over the course of a lifetime.

"Recent studies and surveys show the brains of those well over 60 yeas old want and enjoy sex," observes Judith Horstman in her book, "The Scientific American Healthy Aging Brain." She points to a national survey of men and a women between 75 and 85, where three-quarters of male respondents and half of women respondents said they were still interested in sex and still sexually active.

Making positive lifestyle changes, such as quitting smoking, can still have an impact on health, no matter how late the changes are implemented. For example, older smokers are wrong to believe that "they are too old to quit or too old to benefit from quitting," according to a recent report summarizing a number of studies on the subject. Judith Horstman further asserts in "The Scientific American Healthy Aging Brain" that "starting an exercise regimen later in life can pay off in brain benefits even when some cognitive decline has already set in," citing research conducted in 2010 on the effects of a mild walking routine on previously sedentary adults.

In fact, many people view midlife as their happiest period. Several surveys have found that while happiness dips in the 40s, people start to feel more content with life after the age of 50, and a study recently published in the Journal of Economic Behavior and Organization found that people are "at their happiest at retirement age."

"While getting older is the strongest risk factor for osteoporosis, many elderly individuals never develop the disorder," observes Robert H. Shmerling, M.D. of Harvard Health Publications, in an article for MSN Health.

Several studies have concluded that an empty nest actually allows for increased marital satisfaction, as reported by The New York Times. Far from being lost and depressed, many "empty-nesters" enjoy the uninterrupted quality time they now have the opportunity to share.

Gone are the days when the adult brain was assumed to be a stagnant entity: the idea of neuroplasticity, or "the [adult brain's] ability to change its structure and function in response to experience," has become widely accepted in scientific circles and is seeping into popular culture. Particularly exciting is the idea of "self-directed neuroplasticity," or the power of thought to re-wire the brain, as observed in Buddhist monks. In other words, you can too teach an old dog new tricks.

While social isolation is a serious issue amongst many housebound elderly, they are often more socially adept than younger people. "As we get older, our social intelligence keeps expanding," Dr. Margaret Gatz, professor of psychology, gerontology, and preventive medicine at the University of Southern California, told O magazine. "We get better at sizing up people, at understanding how relationships work--and at not getting into an argument unless we mean to." Not only that, but socializing may well be the best thing to do for an aging brain, according to Horstman, as it decreases stress and the perception of pain, among other health benefits.

"One may have greater personal control over one's biopsychosocial health after retirement than previously recognized," concluded a study conducted over a 60-year period, published in the American Journal of Psychiatry. After studying the lives of more than 500 people, researchers found that "successful aging" was largely dependent on seven factors within an individual's control, to a degree: alcohol use, whether or not they smoke, marital stability, exercise, body mass index, coping mechanisms, and education. Successful aging was defined as including good physical health/absence of irreversible physical disability, longevity, evidence of social supports, and good mental health, as well as subjective assessment of life enjoyment and ability to complete the tasks of daily living. So although aging is inevitable, aging well is not only possible but within our power.