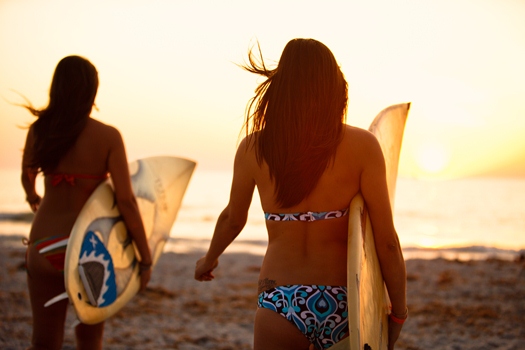 Florida's lifestyle, flavored with picturesque beaches, sugar white sand and clear blue and turquoise waters, is synonymous with coastal living. The shopping in the Sunshine State echoes that - with more than 100 surf shops that are among the state's top shopping hot spots.
Whether you're a serious surfer wanting to catch a wave, a beach bum looking to relax with sand between your toes, searching for a memorable souvenir or just hankering to indulge your fashionable side, surf shops are your one-stop-shopping destination.
They offer a bit of everything - surfboard rentals and lessons, beach must-haves such as sunscreen and towels, the latest trends and styles in men's and women's clothing, and accessories from iconic beach brands like Roxy and Quiksilver.
The surf shops in Florida run the gamut from world-famous to locally owned mom-and-pop shops.
Here's your guide to some of the top surf shops in the Sunshine State - starting with a look at some of the big brand surf shops, followed by an easy-to-use surf shop directory, organized by region/city.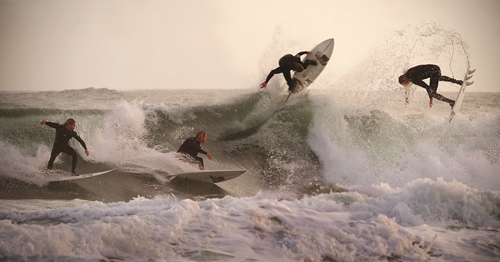 The Big Brands
Several surf shops have multiple locations in Florida. Ron Jon Surf Shop is perhaps the most well-known, with billboards across the state and a strong association with Florida lifestyle that carries an international following. Eight of the 12 Ron Jon stores are located in Florida - in Cocoa Beach, Sunrise, Orlando, Key West, Fort Myers, Panama City Beach, Clearwater Beach and Cape Canaveral.
Next up is Maui Nix, another Florida must-see with eight locations, including three in Daytona Beach and one each in Fort Lauderdale Beach, Destin, Coconut Grove, Pembroke Pines and Clearwater.
Island Pursuit stocks clothing and gear for every kind of adventure, including fishing, and their three Florida locations include Sanibel Island and two stores in Sarasota.
Finally, Innerlight has all of your surf and beach needs covered with four Florida locations, in Pensacola, Pensacola Beach, Destin and Gulf Breeze.
Northwest Florida
Seaside
ONO
2236 East County Highway 30A
850-231-1573
Destin
Maui Nix
4308 Legendary Drive
850-269-1234
Fort Walton Beach
Fluid
191 Miracle Strip Parkway SE
850-244-3554
Pensacola Beach
Innerlight Surf & Skate
655 Pensacola Beach Blvd.
850-934-9004
Panama City Beach
Mr. Surf's Surf Shop
7220 Thomas Drive
850-235-2702
Northeast Florida
Jacksonville Beach
Sunrise Surf Shop
834 Beach Blvd.
904-241-0822
Daytona Beach
Mad Dog
3634 S. Atlantic Ave.
386-761-5999
St. Augustine
PIT
18 A St.
904-471-4700
Central Florida
Tampa Bay Area
Suncoast
9841 Gulf Blvd., Treasure Island
727-367-2483
St. Petersburg
Reno Beach Surf Shop
1031 4th St North
727-896-7873
Sarasota
The Compound
4063 Clark Road
941-923-0430
South Florida
Miami
Liquid Tube
713 71st St., Miami Beach
305-868-1559
Boca Raton
Boca Surf & Sail
3191 N. Federal Highway
561-394-8818
Key West
Fury Surf Shack
800 Duval St.
305-434-6034
Naples
Old Naples Surf Shop
1311 3rd St. South
239-262-1877
Fort Myers
Ron Jon Surf Shop
10045 Gulf Center Drive
239-482-8888
Palm Beach
P.B. Boys Club
307 S. County Road
561-832-9335
Looking for even more Florida surf shops? Check out the directory at www.surfline.com/florida/surf-shops.
-- Jeanette Scott for VISIT FLORIDA
PHOTO GALLERY
BEFORE YOU GO
Florida surf shops
PHOTO GALLERY
Florida surf shops