Before Paul Rodriguez called me yesterday, I expected the interview to be nothing more than a typical publicity plug for his stint this weekend at the Denver Improv. The preparation was minimal. I prepared a lukewarm set of questions, fully ready to receive similarly lackadaisical responses. I imagined the conversation would last maybe 15 minutes - the type of standard script I've followed with countless Hollywood types over the years in advance of a film or record release or upcoming concert. Granted, every once in a while, personalities like Esai Morales, Tony Plana and Dick Gregory surprised me, offering scintillating, even incendiary insights and quotes. But, for the most part, they are the exceptions.
Basically, I planned to ask the comedian, who stands as a legendary talent often credited as preparing the way for Latino comedic superstars like George Lopez and Carlos Mencia, to recap the highlights of his seminal career and tout his latest efforts. The article would write itself. After all, Rodriguez was one of the Original Latin Kings of Comedy and he recently judged the Miss America contest. I even had a title set: "A Latin King and Beauty Queens." The rest of us could only wish to be so fortunate. However, after only a few minutes of speaking with Rodriguez, I realized not only the title, but also the article would be far different than originally imagined.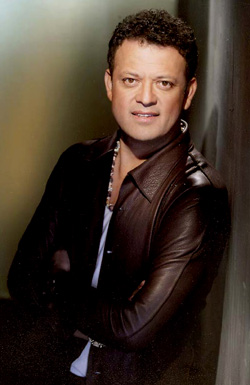 When Rodriguez called, he answered my prepped opening about his professional oeuvre, acknowledging the depth and scope of his career with self-effacing modesty. He described his act - and his career - as mere entertainment. A joke. "My goal is to make people laugh... a conversation of odds and ends of nonsensical stuff," he explained. An invertebrate improviser, Rodriguez lets loose with jokes, gags and puns on a whim. His retinue shifts constantly, leaving him vulnerable to flubs, flaws and flat lines. But he chances it, refusing to even entertain the notion of performing a polished but repetitive road show. And even with off-the-cuff spontaneity, Rodriguez is known as a consistent and consummate entertainer, delivering zingers with uncanny rhythm and timing. He presents audiences with "whatever I feel, whatever is bugging me that day."
However, he wanted to stress that his shows aren't a proselytizing platform. Rodriguez said he wants to entertain, not indoctrinate. Whatever pursuits are occupying his free time don't command his performance. That said, when I do inquire about his extracurricular endeavors, those efforts that have gained him applause from organizations like the Hispanic Scholarship Fund and the Juvenile Diabetes Foundation, Rodriguez hones in on the cause that has consumed his life -- and nearly his career -- the last three years. Chairman of the California Latino Water Coalition, Rodriguez is public spearhead of a cause that has sundered traditional political alliances, not to mention personal and professional relationships. It has even allied political opponents. I was only vaguely aware of the clash between California environmentalists, sports fishermen and area farmers over water allocation in the Golden State's San Joaquin Valley, mainly from scattered Internet reports last year of Sean Hannity in an uproar about liberal activism (nothing new) and his filming on location to prove a point. Seems to me a small fish was involved. I didn't know much else about the fracas. At least not before yesterday when Rodriguez relayed the situation and his involvement. And the fallout. And, according to his recount, the affair is no laughing matter for any of the participants, including himself.
Rodriguez appeared on that Hannity show. He is quick to point out he is not a conservative, not a Republican and certainly not a member of Hannity's base -- the Fox News host trends too far right. "I'm not a fan," he stated. But, Rodriguez said, other media outlets ignored the cause championed by the California Latino Water Coalition, and when Hannity offered a platform, he accepted. As far as Rodriguez is concerned, his approach is bipartisan, even nonpartisan. He is currently applauding Senator Dianne Feinstein's recent proposal to deliver water to Valley farmers even though he worries that political opposition might temper her enthusiasm. For any victories, there is a flipside. Rodriguez also appeared on the news last year, engaged in a confrontation with an opponent who denigrated him as a "coward," an epithet he cannot and will not abide. "I don't like coward... I won't take coward!" he exclaimed.
A quick bit of background: the U.S. Fish and Wildlife Service, in an effort to safeguard an endangered fish, the delta smelt, issued a biological opinion that called for the allocation of some 150 billion gallons for that purpose. Farmers in the San Joaquin Valley, upset that the fish rather than they were the recipients of the water, claimed that their livelihoods were more endangered than the fish and have waged a spirited protest. While not a farmer, Rodriguez claimed his career is also endangered, suffering a backlash created by his position on the issue and on the California Latino Water Coalition Board. As he described it, it sounds like he's swimming upstream and against the tide. Which begs the question - what is a celebrity comedian doing in the middle of this confrontation in the first place? I mean, what happened to the easy premise of the Latino King and those beauty queens that was supposed to compose and comprise this post?
The answer is his mother. They say blood is thicker than water. But in this instance they are about even. She owns a farm in the San Joaquin Valley and he said the water diversion hit close to home. As Rodriguez described it, he didn't go looking for this cause. It came to him. In retrospect, he said, it would've been easier to pay for a well, solving his mother's immediate problem. Instead, with the cause dropped on his mother's (and his) doorstep, so to speak, he charged into the melee, becoming a figurehead for the movement resisting the water diversion, which, he said, earned him the opposition of colleagues, friends and even the United Farm Workers. Of the latter, he said that the group has forgotten what they are all about, claiming that long-time friend Cesar Chavez would support the California Latino Water Coalition's position if he were alive.
Of course, opponents disagree. Arturo Rodriguez, president of the United Farm Workers, published an op-ed in the San Francisco Chronicle that came out against the California Water Bond, which the comedian/activist Rodriguez considers a crowning achievement. The comedian celebrated the bond as a tribute to democracy, not to mention an unprecedented display of unity among Latino lawmakers of all political parties and persuasions. However, the UFW president criticized the bond, asserting that it tends to the interests of well-heeled agricultural interests while the state continues to give shortchange farmworkers with relatively meager allowances for their health care and oversight of working conditions and workers' rights, housing, pesticide regulations and food safety. Other reports charge that the California Latino Water Coalition, rather than a grassroots movement, is "astroturf," a front for the agricultural business and/or a politically convenient and catchy title coined with the inner sanctum of the California Governor's Office. But Rodriguez assertively refutes all the above, as least concerning his involvement and mission.
Rather than a selling out to agriculture behemoths ("We are not puppets of big agriculture"), he charges that the battle is between small farmers against well-funded environmentalists -- "paper tigers" -- and their teams of lawyers. According to him, environmentalists' abstract ideals have real-life repercussions, leaving farming communities dying of thirst - impoverished and unemployed. An article recently published in Mother Jones, examining the devastation residing in the San Joaquin Valley, supports that position. Rodriguez also refuted the claim that he's Schwarzenegger's pawn. "I simply want water to my mother's farm," he explained. "Who in their right mind would cut off the water... water is life." It is difficult to determine Machiavellian undertones in Rodriguez' position, considering the strife it's caused. To further prove the point that he's not under the influence of the governor, agricultural interests or any outside interest (however, an agent, concerned with a client's career, might suspect the influence of alcohol or drugs considering Rodriguez' description of the professional consequences) save his mother and her neighbors, he volunteered to furnish his tax statements, which he said, will show that his efforts haven't reaped rewards.
To the contrary, Rodriguez claimed that the ordeal has left his finances precarious given rising opposition and diminished audiences. His involvement with the California Latino Water Coalition meant an absence from the entertainment circuit for much of the last couple years. He claimed it also resulted in a cold shoulder from colleagues, agents and friends. He offers several examples -- even George Lopez hasn't called lately; other long-time associates are making themselves scarce. But he seems more hurt than worried about the career turn, saying fame is temporal and when opponents lob insults, claiming he is a has-been and a nobody, he counters he is somebody; was long before stardom. Besides, he said, if his career dives, he can return to farming (assuming there is water.) One certainty, Rodriguez emphatically stressed, he would never relinquish the family farm. Besides, he realizes that he's still hilariously, uproariously talented.
Which brings us back to the original intent of the interview -- highlighting the comedic talent coming to Denver this weekend. Even though the conversation centered on water rather than laughs, speaking with Rodriguez, it's impossible for him to resist his nature and talent, no matter the subject's sobriety. When he lamented the reluctance of Latino leaders to engage in causes, he wryly observed, "When a clown like me has to be a voice, we're scratching the bottom." When he recounted his success in convincing Latino lawmakers on both sides of the aisle to join in supporting the California Water Bond, he doesn't toot his horn. Instead, he quotes a Billy Joel lyric -- "It might just be a lunatic you're looking for."
That self-described (in jest, no doubt) "lunatic" might just be what Denver residents are looking for in a side-splitting diversion this weekend. While the focus of this post might've been diverted even more than the water from the San Joaquin Valley, it must be noted that Rodriguez is a towering talent in not only Latino comedy, but American comedy. Come to think of it, despite the altered thrust of the post, "Latin King of Comedy" remains a fitting title even without the blah Q&A and beauty queens I originally planned. And in case I didn't get it the first time, Rodriguez reminded me to inform readers that, despite the content of the interview, he won't use that stage as a platform for anything but fun and jokes. Exactly what the people expect.
Paul Rodriguez will appear at the Denver Improv on March 5 and 6. For ticket information and times, visit http://www.improvdenver.com/ His latest DVD, Comedy Rehab, is available in stores. For more information, visit http://www.paulrodriguez.com.
SUBSCRIBE TO & FOLLOW THE MORNING EMAIL
Start your workday the right way with the news that matters most. Learn more