Are you finally ready to try skinny jeans but wondering if the trend has already passed you by? After all, no less a wit than Oscar Wilde declared "Fashion is ephemeral. Art is eternal," in an 1885 newspaper essay called "The Philosophy of Dress." The famous dandy -- who three years earlier was reported by a Charleston, S.C, paper to have worn a "mouse-colored velveteen shooting jacket" and a "salmon-colored silk neck handkerchief" -- went on to say, "Indeed what is a fashion really? A fashion is merely a form of ugliness so absolutely unbearable that we have to alter it every six months!"
But do we really? It's true that prestige designers present their main Fall/Winter and Spring/Summer collections every six months (with resort and pre-fall in between). And fast-fashion retailers can make twice-a-year style updates seem behind the times: Last year, Slate reported that Zara can get new styles in twice a week. Yet, even as new looks come in, the old looks don't always move out as quickly as we might think.
"The lifespan of trends is just not within a six-month period," says Sheila Aimette, vice president of U.S. content for WGSN, a trend-forecasting company. "Things start slowly on the designer end and it takes several seasons for it to take off."
Red Godfrey, vice president of the fashion office at Nordstrom, says trends can last a particularly long time in certain categories, such as denim, where consumers take a while to adjust to new silhouettes and then want to stick with them. She thinks skinny jeans could have a 10-year run. Valerie Steele, the director and chief curator of The Museum at the Fashion Institute of Technology, says a great name for a style helps: "'Skinny jean' is genius from a marketing point of view -- who wouldn't want to look skinny? It sounds like you wear the jeans, you are!" Actress Katie Holmes was sneered at for wearing baggy, rolled-up (or "pegged") jeans in 2008, but today, the renamed "boyfriend jeans" share space with the skinnies in the denim department.
The footwear category can be similarly slow-moving. Godfrey says the trend for oxford-style flat shoes started on the street with "young girls going to vintage stores and getting old men's brogues, and then before you knew it you've got so many variants for women with prettier colors and detailing." She says, "We're three years into the trend and there's still an excitement about a new sole." The flat, laced shoe might seem like an abrupt change from the ultra-high-heels and platforms taken to the extreme by fashionistas such as Victoria Beckham, Lady Gaga and Daphne Guinness, but FIT's Steele points out that the vertiginous shoe has actually been in favor for 10 years, at times co-existing with micro-trends such as ballet slippers. "The longevity of a trend has to do with it appealing to multiple categories of people," she says. It's not all about denim and shoes, either. Godfrey calls the peplum a "fantastic example" of a trend that spread to all customers at all pricepoints. "You can have a Lanvin dress at $3,500, Topshop at $59.99. It was featured in an enormous number of brands and different fabrications."
Aimette of WGSN says that thanks to tweaks in fabrics, color and styling, "A trend can be for someone who is 70 years old or 17." Judith Boyd, a 70-year-old retired nurse in Denver, Colo., is living proof. Boyd, who has a fashion blog called Style Crone and is working on a line of headwraps called HeadPeace by Style Crone, recently paired a vintage kimono jacket with a pair of cropped, skinny jeans she got several years ago at a Buffalo Exchange used-clothing store. "If I look in the mirror and I like it that's my criterion," she says, adding that the length of the jeans shows off her shoes.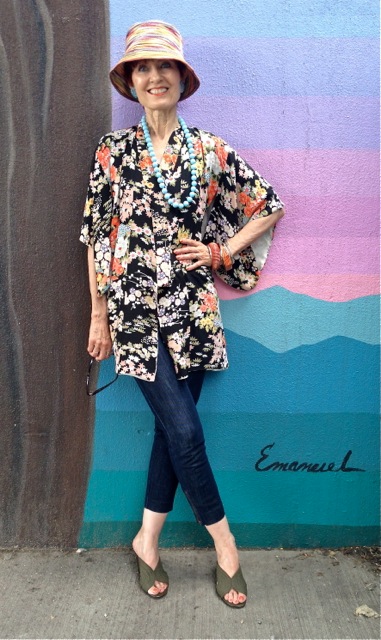 Boyd has the right attitude, according to Samira Nasr, fashion director of Elle magazine. "It comes down to personal style," she says. "It doesn't really matter as long as a woman feels good and feels like that is her." But some women -- and men -- enjoy being the first in their crowd to have a new look, so how can you tell when it's time to move on? FIT's Steele says to look for the extremes: "When you reach the maximum of whatever it is, the height of your mini or the height of your heel, the pendulum will swing and it will move to something else." Trend-setting celebrities are always influential. Stylist Cher Coulter, whose celebrity clients include Rosie Huntington-Whiteley, Kate Bosworth, Nicole Richie and Elizabeth Olsen, is tired of typical red-carpet fashion. "Anything to move away from a tight dress!" she exclaims, enthusing over cropped tops and trousers or, for those who don't want to show midriff, cropped tops over long dresses. "I love that feeling of layers."
Nordstrom's Godfrey says that colored and then patterned pants have been a hot item for over two years. That means the simultaneous trend for monochromatic looks may become more appealing as a palette cleanser of sorts. In other words, for fall, black is the new black.
To get inspired about how to make some of the older trends look fresh, take a look at this slideshow of fashion bloggers wearing peplums, skinny jeans, wedge sneakers, boyfriend jeans, high/low hemlines (aka mullets), and oxford shoes.
As for Oscar Wilde, his mouse-colored velveteen shooting jacket, true to his prediction, was not eternal, but the museum at the Rhode Island School of Design has the one surviving piece from his wardrobe -- a white shirt -- on display in its "Artist/ Rebel/ Dandy: Men of Fashion" exhibit, which runs through August 13.
Trends With Staying Power
Lauren Taylor of Theodora Lexington in a peplum top and boyfriend jeans from Express.

TIffany Ima of Style Honestly in her peplum top from Express. She says, "I tend to look top-heavy whenever I wear slim pants so I love to wear peplum tops. They accentuate the waist and even out my shape, helping me to feel just as feminine in pants as I would a skirt."

Emily Jenny Cholakian of Stiletto Beats says, "I love this look because it combines two summer trends - all-white and peplum." Her peplum top is by Louiza Babouryan.

Raquel Trejo of Moda y Tendencias says, " I find peplums very delicate, smart and feminine so, for me, this pink dress is just perfect!"

Natasha Samuels of One Woman's Style got her textured peplum top and distressed denim shorts from a discount chain called Pretty Woman: "I usually go there when I need something cheap and trendy."

Megan Gann of Megan Mae Daily models a 1960s peplum jacket that she bought from the original owner's daughter.

Tanvii.com's creator notes her colored, skinny jeans can easily be worn as a day-to-night look.

Melanie Kobayashi of Bag and a Beret is wearing low-rise skinny jeans by Bardot.

"Une femme" of Une femme d'un certain age writes of her jeans by NYDJ, "It was a bit outside my comfort zone to opt for light rather than dark wash jeans, but I absolutely love these."

Paula Holmes of The P-Ho Diaries says her grey, skinny jeans from H&M are "so comfortable and easy to wear with anything."

Emma J of My-Style-Blog is wearing a vintage Diane Fres Original top with her H&M jeans.

Eli Perez of Thrift Eye in skinny, white jeans by J Brand.

Zalina Walton of MY PEACE of jewelry paired her skinny Levi's jeans with wedge sneakers from DB Shoes. She writes, "Being 47 years old, I have to be careful how far I can take 'trends.' With sneaker wedges, I want to keep the rest of my outfit simple and clean."

Scarlett of Trends VIP says of her wedge sneakers from Lord & Taylor: "I love to wear them because they provide a few more inches and still make you look casual, comfy or sporty."

Gap's boyfriend jeans are a favorite look at Silk Path Diary: "I love them so much I have seven or eight different pairs now."

Jackline of sincerely miss J says her thrifted boyfriend jeans are "so laid back."

Stephanie Unter of New York Fashion Hunter is wearing Rag & Bone boyfriend jeans in this photo by Lydia Hudgen.

Jessica of Fabcocktail.com says, "This high-low skirt is one of my favorite skirts because it offers so much. There's femininity with the color and the fit hugs my body well. Plus there's little bit of mystery with the sheer material."

Laura of STYLE, SHE WROTE wore her "mullet" dress from Target during her honeymoon in Santorini, Greece. She writes, "...its funky hemline keeps me cool, even when shopping on an 85 degree island!"

Lisa of Amid Privilege says of her shoes from Anniel: "I love the way I look in these because I can wear my usual slightly preppy pencil skirt and tee, in the usual slightly preppy colors of pink and blue, and still feel artsy."

Aiko of Hapy Friends Shoppe writes that her lacy outfit paired with oxford shoes is "great for romance, summer and a perfect picnic with my Prince Charming!"

Eryn Patton of A Proper Fool has several pairs of oxfords.
Follow Wendy Brandes on Twitter: www.twitter.com/WendyBrandes