What a tumultuous past few months it's been for political pet news. It all started when Obama promised his daughters, Sasha and Malia, a new dog in the White House. Everyone in the country had an opinion, and we still think the President should listen to Lucky and I -- they don't call us pet lifestyle experts for nothing. We'll get there in a minute. Then we saw former President George W. Bush's Scottish Terrier, Barney, attack a Reuters reporter. Still no word on if Barney was trained to fend off bad publicity. By those last few months, I wouldn't be surprised if he was (everyone else did). Then the nation watched as Vice President Joe Biden went out and bought a German Shepherd puppy later named Champ by the Biden grandchildren. Jill and Joe quickly faced backlash from various rescue groups, thus the Bidens decided that they will add another adopted dog to the family sometime in the very near future. Jill hopes it will be a Golden. Lucky and I want to remind her you can adopt almost any breed, it just takes a little patience. For example, check out the Golden Retriever Club of America.
But there's no winding down on political pet stories, and now we've reached the crème de la crème (pun definitely intended) of them all... so far. It turns out Former French President Jacque Chirac, 76, has been attacked by his Maltipoo, Sumo. Poor Sumo is so on edge that "the dog went for him for no apparent reason," his wife Bernadette told reporters. Bernadette, 74, is not to be confused with current French First Lady, glamazon Carla Bruni-Sarkozy. Sumo is currently being treated for depression in hopes to curb his erratic attacks. "We were aware the animal was unpredictable and is being treated with pills for depression," says the Former French First Lady, adding, "My husband was bitten quite badly but he is certain to make a full recovery in weeks." Oh Mon dieu! Oops, I mean Oh mon chien (that mean's Oh My Dog! in French)
But dogs aren't just biting former French Presidents. The CDC reports that each year 4.7 million Americans are bitten by dogs, resulting in approximately 800,000 hospital visits. It sounds scary, but dog bites are rarely fatal (0.0002% of the time). But that doesn't mean that you and your family can't be alert and aware of what to do during an attack because who would rather get bitten by a dog than not? Jacques Chirac? Follow Lucky and my tips to help prevent you and your family from getting bit.
1. Never approach an unfamiliar dog.
2. Avoid making direct eye contact with unfamiliar dogs.
3. Never run away from a dog. If you sense danger, calmly walk to a safe distance away from the dog.
4. Remain still in the event that an unfamiliar dog approaches you. No erratic movements.
5. If you are knocked over by a dog, roll into a ball and lie still, covering your ears and face.
6. Never scream in front of a dog, it will encourage them to be more aggressive
7. Do not bother dogs who are sleeping, eating, or caring for puppies.
8. If you wish to pet a dog, let it to see and sniff your hand first.
*Pass these rules on to your children, review them often and remember to teach them not to play with dogs unless supervised by an adult
And just when you thought that the political pet stories were going to dry up, there is still no "Top Dog" in the White House. Dog meaning dog, not President. Sources have revealed that the Obamas have narrowed down their search and now we're looking at a hypoallergenic canine face-off between the Portuguese Water Dog and the Labradoodle. A theoretical face-off of course, this is no Michael Vick situation. I appeared on CNN this week to discuss the two contenders.
In one corner: the Labradoodle. Labradoodles are energetic sophisticates. Since this designer dog is a mix of a Labrador Retriever and Poodle, one can expect a little of both in their personality. Labs are great with children and love to be praised and appreciated -- the more attention they get, the more they give. They also thrive in and around water. Poodles, on the other hand are the pedigrees with pedicures and posses a certain intellectual charm and elegance. The Obamas are in good company if they choose the Labradoodle. Golf superstar Tiger Woods probably doesn't need his Labradoodle, Yogi, to fetch many lost golf balls, but it's probably nice to know that he could. Then there are the thespians -- Jennifer Aniston and Jeremy Irons -- who probably find the glamorous side of these designer pooches fit nicely with a theatrical lifestyle. The trick with owning a Labradoodle is you are never quite sure if you are dealing with the Lab personality traits or Poodle traits. Just when take the Labradoodle for a swim (which Labs usually love) -- the dog gets all Poodle on you, won't go swimming, instead wants to be pampered, hiding from the sun and relaxing in the cabana with water and a fan blowing.
In the other corner: the Portuguese Water Dog. The water dog (also known as Portie) is a favorite amongst Democratic political royalty. Democratic Sen. Ted Kennedy of Massachusetts owns two Porties, Sunny and Splash. The Portie is a playful herder, bred to assist Portuguese coastal fisherman to retrieve and herd fish. The Portuguese Water Dog may be destined to doggie paddle in the White House pools and ponds, they love to swim and dive. Portie's are rambunctious and posses a certain amount of ADD (Attention Doggie Disorder). This breed will definitely need a few training tips to keep on his best behavior when dignitaries visit the President, otherwise it might become a waterlogged affair. The Portuguese Water Dog will definitely make an entertaining and protective watchdog for the two first daughters, Malia and Sasha.
Continue to checkout our website (www.AnimalFair.com) for Presidential dog updates and any other breaking pet news no matter political, entertainment or just plain fun.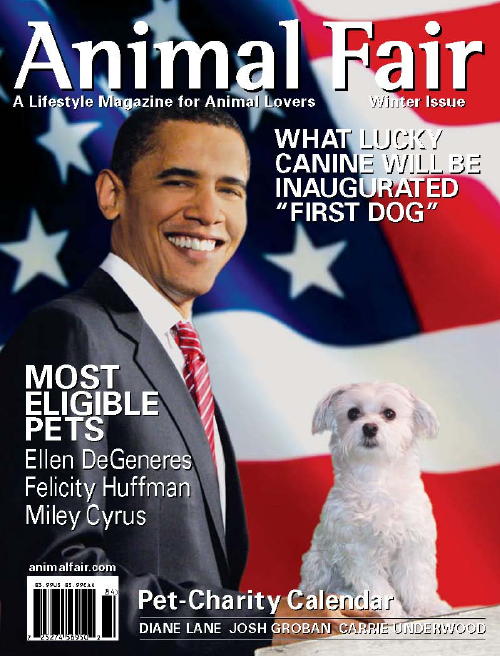 SUBSCRIBE TO & FOLLOW LIFESTYLE
HuffPost Lifestyle is a daily newsletter that will make you happier and healthier — one email at a time. Learn more