Whenever the talk begins about our nation making quality education a priority, it's no surprise that some may be cynical. After all, we have too many children entering school unprepared, too many falling behind early, and too many dropping out before graduation. Why can't we change this story? The truth is, we can - and we are.
Fulfilling tomorrow's promise depends on our nation taking the right steps today. I'm proud that our AmeriCorps members are serving every day to make that possible from the early years before students begin kindergarten until they finish college.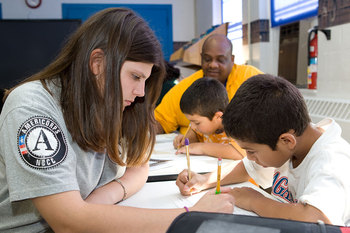 We all can agree that education is the cornerstone upon which any great aspiration, bold plan, or secret wish must be built. The commitment to make this possible begins with the parents cooing around the cradle and continues until that child becomes an adult -- thanks to a supportive community of friends, relatives, and educators.
But what about the children who don't have this kind of support? That's where national service joins with others in communities around the country to change the story for millions of children every year. We bring proven national service initiatives to schools and communities where students lack the attention and support they deserve and help them succeed.

In some cases, this means working with families to help them understand how they can help their children to become better learners. For struggling students, it means extra time with an AmeriCorps tutor who will patiently work with them to connect the dots and understand concepts they never could before. Still others need to know that a concerned adult is looking out for them and making sure they stay on the right path to graduate and pursue their dreams.
But we can't do it alone. We've embraced the guidance from President Obama to expand service opportunities throughout the public and private sectors via the Task Force on Expanding National Service that I co-chair with Cecilia Muñoz, Director of the White House Domestic Policy Council.
And our national service programs are doing just that through partnerships such as our School Turnaround AmeriCorps that places members in some of our nation's lowest-performing schools. Another example is our AmeriCorps VISTAs who serve in STEM AmeriCorps: A program that inspires students and pairs them with professionals in science, technology, engineering, and math -- disciplines that are creating jobs for the future.
Speaking of the future, we are also proud of the fact that we've contributed more than $2.6 billion to help continue the educations of more than 830,000 AmeriCorps members through the Segal AmeriCorps Education Award, which they receive after completing their service. Many of these members will continue to "pay it forward" by becoming teachers, education advocates, and civic leaders.
As I mentioned, it will take the contributions of the entire community to make sure all of our children have access to a quality education. AmeriCorps and other national service members are working to make sure the next chapter of the American education story has a happy ending.
Wendy Spencer is the CEO of the Corporation for National and Community Service, a federal agency that engages more than 5 million Americans in service each year through AmeriCorps, Senior Corps, the Social Innovation Fund, and other programs.