It was a frigid February day as I sat staring at my computer, dreaming of landscapes with no ice or snow, where beaches are pristine and resorts intimate. Where in the world could I run away to, to get lost for a few days, to thaw my chilled extremities and reconnect with my spouse? Cat Island in the Bahamas won my challenge for it's Robinson Crusoe charm and easy proximity to major airports. We tossed a few casual clothes in a bag and flew away on a nonstop flight from Boston to Nassau with a short connecting flight to Cat Island. Ten minutes after stepping off the plane, my toes were sinking into sun warmed sand -- ahhhh ... I'd lost my winter grimace already!
The Fernandez Bay Village was our destination for four nights of total relaxation and romance in a gorgeous beachfront setting. The resort is centered on a stunning one mile stretch of beach which forms a perfect half moon bay. The sun sets directly over the bay providing the ultimate backdrop for your dinner on the veranda each evening. There are 15 rustic (but chic) beach side cottages and villas made of native stone for a quaint and quiet stay. Be forewarned, there are no TVs, VCRs, radios or clocks! It's just you and nature in a stunning setting -- a perfect place to get lost with the one you love.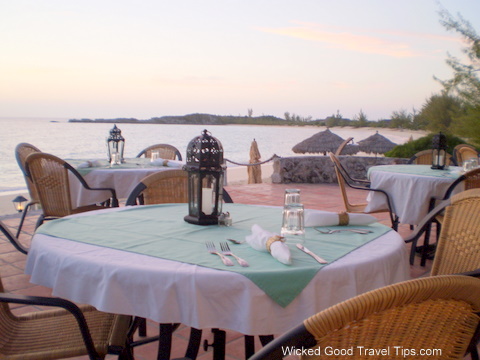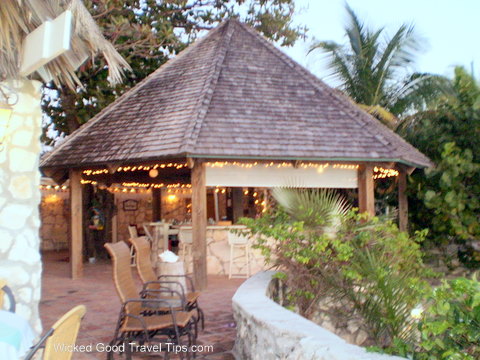 Days are spent beach combing, swimming, snorkeling and kayaking. There are miles and miles of winding mangrove trails just the other side of the bay making for safe and intriguing kayak adventures. Or rent one of the resorts Boston Whalers and venture out to smaller offshore islands and the famous blue hole. Take one of the complimentary bikes out for a spin, or hike to the top of The Hermitage, the highest point in the Bahamas. Trust me, within a few hours you'll even forget you own a computer! (But if you just can't stay unplugged.... there is Wifi in the Club House for those who bring a laptop along.)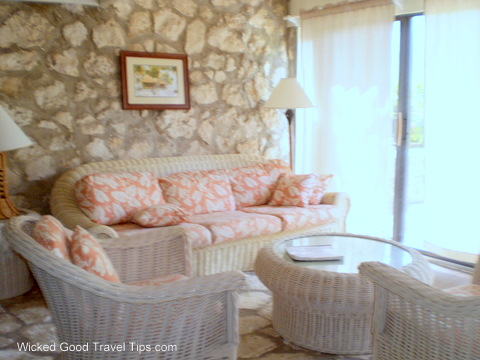 Evenings are spent strolling along the beach or meeting fellow visitors at the 'honor' bar where you prepare your own favorite beverage. I loved the barkeeper's journal with suggested cocktail recipes from hundreds of previous guests. Dinner is delicious! Each evening a varied menu is prepared by the hotel's able and talented kitchen staff and served buffet style in the Club House. The Bahamian lobster and almond encrusted grouper were my favorites. Following dinner, congenial guests gather around the nightly bonfire on the beach and share stories of home -- perfection!
By the end of our stay, we had found a new appreciation for being 'unplugged.' We found it was still possible to spend endless days together enjoying each others company, relaxing and adventuring. We found that we wanted to stay forever gazing at the translucent sea, and that the friendly staff at Fernandez Bay Resort had recharged our spirits.
If you'd like to read more about our stay at Cat island, here is my full trip report, and a video slide show of the resort. And finally, some really great news. The Bahamas Tourist Bureau has announced a companions fly free promotion for reservations made to the Bahamas by September 15th, for travel through December 22nd. There are direct flights to Cat Island from Ft. Lauderdale and Miami, and connecting flights from Nassau. Go enjoy, rekindle, relax and recharge, Cat Island awaits!
FOLLOW HUFFPOST