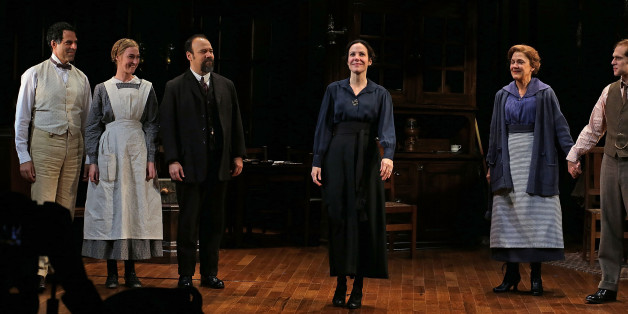 Everybody can't be Chekhov, but that has never stopped other playwrights from trying. Sharr White, who had a solid success with The Other Place on Broadway earlier this year, makes his own lackluster stab with The Snow Geese, a rather dreary mess of a play that opened last night in a Manhattan Theatre Club production with Mary-Louise Parker at center stage.
In Snow Geese, White appears to be aiming at a sort of Cherry Orchard meets Seagull with the Gaesling family's hunting lodge outside Syracuse, N.Y., substituting for the Gayev family's fated cherry trees and the flock of geese of White's title standing in for the dead bird of Chekhov's. The Gaeslings, however, drink coffee instead of samovars of tea.
The action takes place at the aforementioned country house over a 24-hour period beginning on the morning of Nov. 1, 1917. It has been eight weeks since Ted Gaesling died and his widow, Elizabeth, and two sons, Duncan and Arnold, are attempting to carry on dad's tradition of holding a shooting party, complete with champagne breakfast, on the first day of hunting season. It is also the eve of Duncan's departure to join American forces in World War I.
As he showed in The Other Place, a dark yet moving play about a woman losing her grip on reality that earned Laurie Metcalf a Tony nomination, White is adept at trickling out plot details, building suspense as to what will happen next. The main problem with Snow Geese is that nothing much happens next and none of the characters are very interesting, let alone sympathetic, so it is hard to muster much concern over their plight.
Their plight is that Ted left his widow and sons with a pile of debts and nothing in the bank, but no one, least of all his widow, wants to believe it. If the family's financial ruin is the driving force of the play, the main conflict is sibling rivalry -- between the Gaesling sons and between Elizabeth and her older sister, Clarissa, a hymn-singing Methodist who disapproves of the lavish life style Elizabeth pursued with her late husband. Those clashes produce some loud arguments, but not much insight into the characters.
White has tossed in some subplots. There are occasional references to the war that is claiming millions of lives overseas, and there are a couple of scenes in which a suppressed romance comes out of hiding. At times it seems White was working off a Chekhov check list, ticking off themes from the Russian's plays but not exploring any of them very deeply.
Snow Geese is not without its moments, however. As Max, a German-born, laudanum-pushing doctor who is Clarissa's husband, the estimable Danny Burstein is touching as he declares his longstanding "admiration" for his sister-in-law. And he rages with passion at losing both his home and his medical practice to the anti-German hysteria that swept the country during the Great War. Victoria Clark is convincing as the strait-laced Clarissa, providing a counterpoint to the frivolity of her kid sister.
Other performances are problematic. When Parker rhapsodizes about the devil-may-care life she lived with Ted (though the one time the audience meets him in a flashback he is just drunk), she on occasion veers close to nervous hysteria. And as Duncan, the elder son who supposedly inherited his father's flair as a charming, happy-go-lucky bon vivant, Evan Jonigkeit comes across more like a pouting spoiled brat.
Brian Cross is more credible as Arnold, the younger son who was denied the privileges afforded Duncan, though at times he almost relishes the fact that the family is dead broke. And Jessica Love is enigmatically stoic as the new maid, Viktorya, a Ukrainian refugee with a tragic history about which the rest of the family seem singularly uninterested.
Daniel Sullivan directed the play at a brisk pace, even having the characters talk over each other and frequently turning up the volume, possibly just to mask the dullness of the dialogue.