Below an open letter from Candy Elizabeth, administrator for FaceBook's "Hillary Clinton for President - One Million Strong," to "Dori," a FaceBook administrator:
I am deeply disappointed that Facebook has made no progess and has not even provided a timeline for action regarding the glitch in the "Hillary Clinton For President - One Million Strong" Facebook Group. You have been aware of this problem since February and have done nothing.
As you recall, Mitchell Meyle explained to you that the search feature was not working for our group leaving us unable to add moderators, to ban members, or remove bans on members. Your explanation, so far, has been that there is a glitch 'due to the size of the group."
You will also recall that we explained to you that we contacted Ken Stokes, administrator from the "One Million Strong for Barack Obama" Facebook Group. Mr. Stokes has informed us that he is not experiencing this "glitch." For reference, the Barack Obama group has twenty times as many members as ours.
In the time since we first informed you of this problem, Facebook programmers have added the Facebook Chat feature, the Online Friends Feature, and a lovely feature that provides Facebook Users with advertisements for pornography websites and dating services. We are dumbfounded that you cannot find the time to solve what seems to us to be a minor problem. We are dumbfounded still that you cannot even provide us with a timeline despite numerous requests.
The group's primary purpose is to encourage political activism and the exchange of political ideas. Since Facebook admins have taken no action on the numerous reports of abuses of Facebooks' terms of use made by unwanted members in our group; we must be able to put more moderators in place in order to maintain the group's integrity and civility. Spam and offensive messages on our boards and discussion threads run rampant. The Obama group is able to swiftly and efficiently remove them since they have numerous moderators and are able to ban members. We expect equal treatment.
Since we believe that an unacceptable amount of time has passed since we first brought this issue to your attention, we have now CC'd numerous members of the national press as well as both presidential campaigns.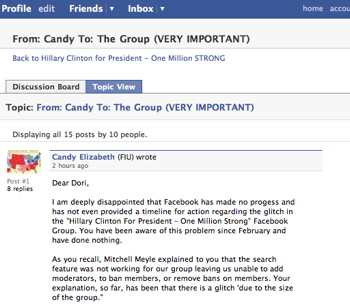 SUBSCRIBE TO & FOLLOW THE MORNING EMAIL
The Morning Email helps you start your workday with everything you need to know: breaking news, entertainment and a dash of fun. Learn more