By Meghan Peters and Will Mari
FRANKFORT, Ind. -- While driving down Clinton Avenue in Clinton County, we thought passing a Clinton lawn sign would be the icing on the cake. It'd make for a catchy title to our first post in Indiana, something like "Clinton in Clinton on Clinton."
The 16,000-person town is the reddest part of the traditionally red state -- and few are concerned with the upcoming Democratic-dominated primary.
"It's such a Republican-dominated county that sometimes there's no Democratic candidate on the (local) ballot," said Janis Thornton, managing editor of The Times, Frankfort's 128-year-old community newspaper, which has a circulation of about 6,000.
Whats more, the campaign signs along Clinton Avenue weren't at all presidential -- they were almost exclusively advertising local candidates for superior court judge (there are four contenders, three of them Republican).
Sidewalks and illegal immigration are the hot issues in town, and many Frankfort residents won't follow the presidential election until the fall, said retired teachers Carla Clemens and Carol Montgomery, who work at a children's clothing store in the historic downtown.
"There aren't many Democrats around here," Montgomery said with a bit of a chuckle.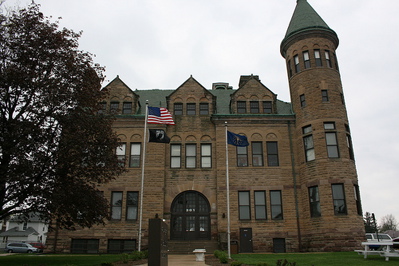 In "Old Stoney," the renovated high school building that serves as offices for local government, Jim Davis and Bev Bush hold the fort at the Clinton County GOP HQ.
Davis, a self-described "old party man," is a retired state representative and former GOP chair. Bush is the current chair.
"Right now, Obama's fair game with his minister," Davis said. His biggest concern, however, is what he calls "crossover" -- Republicans voting Democratic on purpose, in an attempt to shore up whichever candidate they feel would make a weaker opponent come November.
"If you get too much crossover, you might upset the apple cart" and lose Republican votes in critical primary elections in more contested southern counties, Davis said.
Clinton County, and, by extension, big chunks of Indiana, have traditionally voted Republican since Eisenhower. The state went "blue" briefly under FDR and Truman decades ago, Davis said, but has consistently voted red since.
"The Democrats don't get involved in the primary (in Clinton County)," Bush added.
And even if people voted Democrat, they voted (or rather still vote) for "a more conservative brand of Democrat," Davis said.
The ex-Marine said he wishes he could "de-annex" northwest Indiana (i.e. Gary). That's where all the real Democrats are, he said with a smile.

SUBSCRIBE AND FOLLOW
Get top stories and blog posts emailed to me each day. Newsletters may offer personalized content or advertisements.
Learn more