Howard Ruby, Founder and Chairman of Oakwood Worldwide, the leading global temporary housing provider, is an accidental environmentalist. Or perhaps I should say award winning, accidental environmentalist? His long-time passion for photography led him to the Arctic where he quite simply fell in love with the polar bears he encountered. Through the lens of his camera he witnessed the effects of environmental change on those bears, and the arctic glaciers and icebergs that surround them. And as he tells us below, he became a true 'believer' in global warming, and an environmental activist. Tuesday, the National Wildlife Federation named Howard Ruby International Conservation Photographer of the Year. A collection of Mr. Ruby's stunning photographs will be part of an exhibit at the Smithsonian Institution's National Museum of Natural History in Washington, DC.
The "Nature's Best Photography Windland Smith Rice International Awards Exhibition" opened on October 30 (the same evening Mr. Ruby received his photography award from the NWF) and will be on display for approximately six months.
-Willow Bay
WB: How did your long-time hobby, photography, bring you here - to the frontlines of the fight against global warming?
Ruby: I went back into photography with solid work in India and other places around the world about four years ago when I started using digital photography. It was just absolutely a love affair and since then I probably spend two months a year out on the field, photographing. One trip three years ago took me up to Hudson Bay in Northern Canada. I saw the polar bears both from a distance and close up. I saw them when they came right up to our tundra buggy--which is a converted bus that sits about five feet off the ground so the bears can't climb in--and you're able to look them in the eye.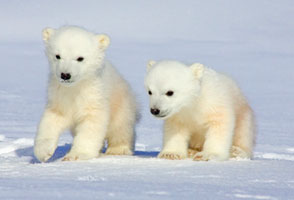 WB: And what did watching and photographing the bears teach you about the environment?
Ruby: The scientists who were there with us said the bear hunting season was a good six weeks later than what it was in years past because the polar bears had to wait that much longer to get out on the ice to hunt for seal. They need the surface ice to hunt for seal rather than the packed ice, which is all crumpled up. They really need ice cover. So if it melts earlier in the spring, they have to get off the ice earlier. And it freezes later in the fall. So the hunting season is shortened by almost two and a half months now each year. This is going on in other parts of the world as well, as the ice cover is melting.
WB: So in essence you saw through your lens, literally and metaphorically, the impact of the earth's warming on these animals?
Ruby: Exactly. And they were so thin. The females were six and seven hundred pounds instead of nine hundred pounds and the males were smaller as well. There were fewer of them too, 1,000 instead of 1,400. So they're facing the winter with a great deal less fat to protect them.
WB: What did you see when you went to photograph the glaciers and icebergs?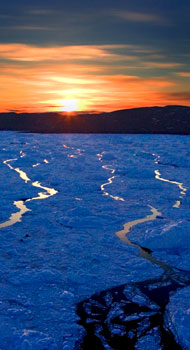 Ruby: I wanted to see what global warming looked like so we went in June and we went to northern Alaska and Greenland. So in June we saw that this bay that had for ages been frozen over until August was now open and there were icebergs floating in it. Melting snow causes glaciers to slide downward. These glaciers are huge; some are half a mile across. The Ilulissat glacier is the vastest in the world. It's also the fastest moving, sliding down at six miles a year now.
WB: Can you describe what seeing these kinds of changes in the glaciers and the polar bears did to you personally to make you feel a sense of urgency about global warming?
Ruby: First of all, it made me a believer in global warming. I had been on the other side of the issue for a long time. I'd ask myself, what are all these scientists talking about? It's a temporary phase it's a year deal or a five-year deal.
And as to whether it's cause by humans, you know the last warming was a thousand years ago and there was a bout a half-billion people on the planet and there's 7 billion now so I tend to believe humans are involved. 2,000 scientists got together and said it is true just the other day. And who won the Nobel Prize? Al Gore. That would tend to indicate it, but I'm still a businessman and I want something to be proven. So when I talked to the Eskimos and they told me their stories of what's happened to the ice and their population and their way of life--which used to be with sled dogs and now is with a Yamaha little skips.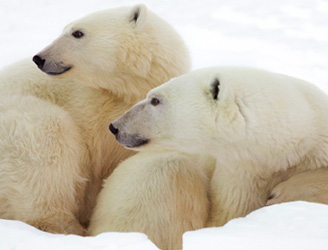 I talked to helicopter pilots, who told me the big white icebergs were 250 miles north in open water from where they had been 10 years ago. And the NASA scientists said that aerial photographs document that the artic ice cap has gone down 20% in the last 12 months. That to me is more telling than 2,000 scientists, its real and its now. So my thought was, I should get involved in this and the way that I can get involved is through my photographs. And I can get involved through my company.
So I said what can we do as a company? What would build on the photography? At my company, I made it very personal because everybody has been seeing my photographs in slideshows at Christmas time or whatever so they tend to believe in it. And what I've been telling them is it's real and I've seen it. I've been to places that you'll probably never get to or want to, at 55 degrees below zero standing all day long to get a polar bear is not a thrilling thing. Except to see the little cubs and then you say, "Wow, this is all worth while." When I started taking pictures of the polar bears I fell in love with them. I decided I wanted to try to make the polar bear the face of global warming.
We use the polar bear as the symbol for global warming because the kids relate to polar bears so enormously. And one of our company programs, which is probably the most exciting, is the outreach program. We created "Polar Cards" a deck of trading cards with some of these photographs that I've taken. Then we got together with the National Wildlife Association and created a teacher's curriculum that would be five lectures long to go with five series of cards. Oakwood's associates act as ambassadors and presenters in the classroom, using the cards and other activities.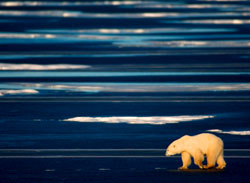 I'll give you one cute story. One of the classrooms that we taught, an eight year old, quite precocious, she really, really believed in it big time and came home that night and took her little tiny pad and notebook--spiral down notebook--and started giving her parents little $2 tickets every time they left the lights on, so if they left them on in the dressing room then she'd rip off a little $2 ticket and come to her parents and say, "ok, now you owe global warming $2." So he called me the next day and said, "now what do you do about this? You've created a monster for me!" And I said, "Why don't you try turning off the lights. Why don't you turn off the water, why don't you try taking a shorter shower, do some of these things that she's being taught at school? And so he left and kind of agreed. And of course, in the Wall Street Journal 2 weeks ago, there was a story about the inconvenient truth for parents and it shows stories about kids that got their parents to buy a $15,000 solar panel and Prius cars and all that.
WB: Right. And that's exactly the right way to go as far as you're concerned.
Ruby: Absolutely! It's going to come from the kids, up to the parents.
WB: So after all that you've seen, what's your message to all of us?
Ruby: It's real. We CAN do something, and we can teach our children. Corporations can help too. It's not just a do gooder type thing. You can do well by doing good.
To view the Global Warming Crusade's polar bear card collection and for more information, you can visit their official Web site at globalwarmingcrusade.org.
SUBSCRIBE TO & FOLLOW LIFESTYLE
We're basically your best friend… with better taste. Learn more